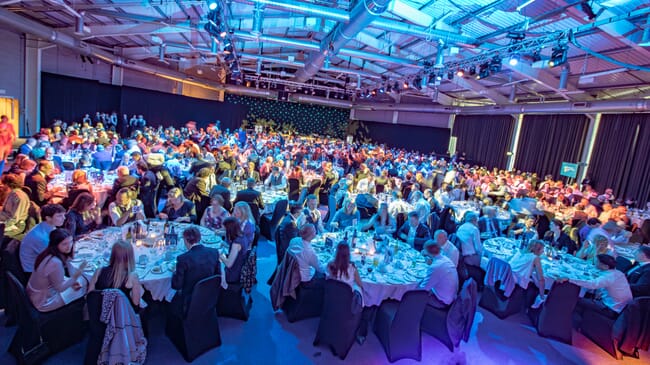 The exhibition has been expanded, both indoors and outside, to accommodate more exhibitors than ever, and over 2,500 visitors are expected from 45 countries, according to show organisers Diversified Communications UK.

Due to be opened by Scotland's Cabinet Secretary for Rural Affairs and Islands, Mairi Gougeon, the event brings together the entire sector - from key suppliers, feed companies, technical innovators and startups, to research institutions and investment platforms.
Taking place from Tuesday May 3 to Thursday May 5,it is the first time in four years that the normally biennial show is being staged in person, following the Covid pandemic, and industry professionals are looking forward to getting reacquainted with colleagues and friends, as one leading supplier said.
Highlighting the increasing significance of aquaculture in Scotland and the wealth of technical developments since the last trade fair, the exhibition will showcase products, equipment and services from across the supply chain.
Among the big-name suppliers returning to Aquaculture UK is Gael Force, which will be displaying its SeaQurePen 500 at its outdoor stand, along with mooring components and netting. The company's Meet the Expert sessions indoors will explore new approaches to containment, as well as focusing on maximising feed barge energy efficiencies and reducing costs with advances in hybrid power.
Also exhibiting outside is Fluggaboats, which plans to bring one of its workboats to Aviemore, showing how farms can reduce emissions from diesel or petrol on farm sites.
Shetland based engineering and fabrication specialist Ocean Kinetics will be presenting examples of industry innovations, including the installation of a Thermolicer treatment system and also technology to electrify fish farm barges.
Managing director John Henderson said he sees the exhibition as an ideal opportunity to demonstrate how the company can solve a range of technological issues and he is looking forward to discussing a collaborative initiative to develop a clean energy system for the industry.
European exhibitors include ground-breaking Danish suppliers, who will be offering hospitality at the Denmark pavilion, along with insights into their long-standing expertise in the aquaculture industry.
The spotlight in the conference tent will be on the developments that have been driving change since the last in-person Aquaculture UK event, held in 2018.
The three-day programme will include presentations from Ally Dingwall of the Aquaculture Stewardship Council, Professor Simon MacKenzie, head of Stirling's Institute of Aquaculture, and Sarah Riddle of the Sustainable Aquaculture Innovation Centre, which is hosting a Funding Surgery introducing some of the key organisations financing sustainable projects in aquaculture.
A focus on feed, led by Dutch group DSM and marine algal oil pioneer Veramaris, the day one session's sponsors, will investigate how alternative ingredients can contribute to the sustainable growth of aquaculture.
Aquaculture UK also hosts the Aquaculture Awards, which will be presented at a gala dinner on May 4, presided over by TV and radio star Dougie Vipond. A total of 14 prizes will be awarded on the night, celebrating those projects, businesses or individuals making an exceptional contribution to global aquaculture.
As the final countdown begins, industry insiders have been giving a snapshot of the importance of Aquaculture UK to their businesses.
Gael Force marketing manager Marc Wilson said: "Aquaculture UK is a social trade show and the whole occasion manages to strike a balance between professional exhibits and the laid-back atmosphere required to enable people to feel like they can catch up informally."
Peter Kersh, managing director of World Feeds, agreed: "Not being able to visit or see our customers for the last two years has been painful and we long to get back to being able to talk face to face again to discuss the problems and issues facing the industry."
And speaking for everyone, Ashleigh Currie, FiiZK business development manager for Scotland and Ireland, said: "In-person events are always a great way to catch up, have a laugh and discuss potential partnerships… attendees also get a better idea of the quality of our products and we get the chance to build relationships."
The Aquaculture UK exhibition and conference, both free to attend, will be held at the Macdonald Resort in Aviemore, Scotland, from 3-5 May 2022. Show opening times are: Tuesday 3 May 12pm – 5pm; Wednesday 4 May 9am – 5pm; Thursday 5 May 9am – 3pm.
To find out more visit www.aquacultureuk.com