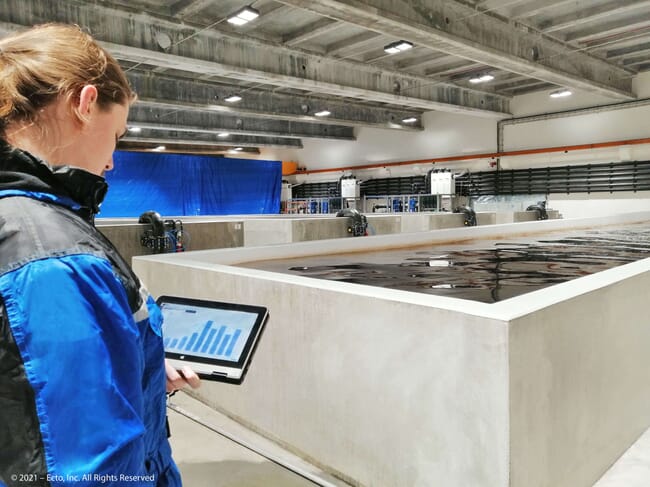 Aquaculture data analytics disrupter Ecto has raised $7 million in financing, led by the Rabo Food & Agri Innovation Fund and Aqua-Spark.
Over the past two years, the Ecto team have been developing infrastructure to break down data silos across the entire spectrum of aquaculture production to make farming more predictable and sustainable.
"By connecting disparate data, we're discovering patterns previously invisible to producers," said Gary Livshin, company CTO, in a press release. "For example, we have discovered that the concentration of ash in feed is strongly correlated with high mortality at a specific growth stage of fish. This information can be used by producers for purchasing decisions that can also be monitored."
As Ecto infrastructure grows, more patterns can be discovered and predictions should become more accurate. "We're using data from dozens of sources – such as water quality labs, feeding equipment and sensors – to build models leveraging more than almost a decade of historical data," comments CEO, Dmitry Kozachenok. "One of our predictive models successfully provided early alerts for algae-related mortality outbreaks last summer for a salmon farming company. It proved that predictions work."

Widespread support
Seventure Partners also participated in the latest round, joined by existing investors Yield Lab and Vodia Ventures. Ecto plans to use the investment to advance in the market for digital decision support tools for aquaculture, enabling farmers to make production more efficient and sustainable.
Ecto's digital infrastructure supports deep integrations with over 100 data sources throughout the aquaculture value chain. Its platform uses producers' multi-generational data to automatically build models for the early detection of patterns associated with biological risks. Highly granular parameters related to individual populations and sites are used to generate more accurate performance forecasts than previously possible.
"The future of sustainable aquaculture is in data and analytics to reduce preventable issues and human error," says Kozachenok. "Over the past 15 years the industry has seen a lot of innovation in hardware, sensors, vaccines, genetics and feed engineering, but the majority of industry data is locked on paper, spreadsheets, and disparate software systems. Our goal is to build analytical connective tissue between all parts of production to drive evidence-based insights that improve habitat welfare, reduce economic losses for producers, and further advance the sustainability profile of the industry."
Livshin, a veteran software executive, added: "Aquaculture today is where banking software was 20 years ago — large companies are debating build versus buy decisions with integrations and interoperability still in their infancy."
"Ecto provides the aquaculture industry the long-awaited data platform enabling cost reductions and risk mitigation previously not possible," said Gorjan Nikolik, Rabobank senior global seafood analyst.
"We're very glad to support Ecto in bringing cutting-edge software to the aquaculture industry. Sustainable protein is one of the key challenges for the global 21st century food supply and we believe aquaculture will play a huge role in that story" added Kieran Furlong, Venture Partner at Rabo Food & Agri Innovation Fund, who has joined Ecto's Board of Directors.
"We're excited to be a part of the progress Ecto is making to improve aquaculture with the power of technology," announced Mike Velings and Amy Novogratz, managing partners of Aqua-Spark. "We believe sustainable farming requires rigorous management practices. Ecto's decision support platform will increase output, reduce environmental degradation, improve animal welfare, and increase transparency and traceability in the supply chain."
Background
Ecto grew out of a project for low temperature preservation technology for salmon eggs. By 2018, the firm - which was then called Cryoocyte - was handling nearly 10 percent of all Atlantic salmon eggs produced globally for grow-out.
"Our customers wanted to see data showing that the fish our breeding service provided wouldn't be swimming upside down in two years," says Kozachenok.
The company dived deeply into this question and transformed itself into a data analytics specialist, breaking down data silos across the aquaculture industry.
"We understood that our grip on industry data was probably more valuable in terms of its predictive power for optimisation," Kozachenok adds. "As a high-tech service provider handling fish eggs, we faced the same issues that every aquaculture supplier and producer faces – with so many factors affecting the outcome - environment, feed formulas, feeding regimen, vaccines and health additives, handling, etc. – how can we validate that any particular improvement has a positive impact, or at least doesn't have a negative impact at the end?"
As the Ecto team became more familiar with the various data silos in aquaculture, they began to make connections.
"Each production aspect provides a degree of variability and has an associated data set," says Kozachenok. "The raw materials for each feed batch are different, due to commodity price fluctuations, resulting in variable portions of proteins and lipids in feeds. The feed company has that data, but the feeding equipment has other data related to, for example, the frequency and duration of feeding times. Labs have results of tested water quality, and so on. Even fundamental things such as oxygen levels are hard to include into multi-factor assessment because a single aquaculture producer with many sites would often use four to five different oxygen hardware suppliers. The range and means of measuring the variables snowballs into a storm pretty quickly."
"While others saw an unsolvable puzzle," adds Livshin, "we saw untapped data and potential insights. We realized there was an opportunity to reduce preventable losses and increase industry output by collecting raw data existing in disparate silos and generating insights from previously disconnected streams of information that could answer serious questions."