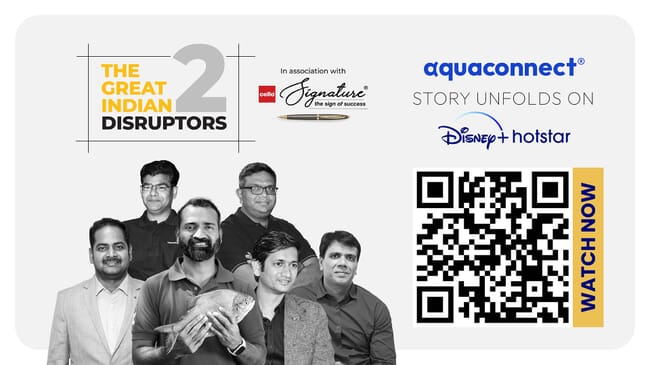 The Great Indian Disruptors, which is now in its second season, covers the stories of the founders of five new startups that are rewriting the rules of how business is done across various sectors while creating impact. The acclaimed series started streaming on 8 August 2023 and showcases the inspiring stories of five innovative startups doing groundbreaking work, including Aquaconnect*, which is disrupting the aquaculture ecosystem and the business of seafood.

Featured in the series Rajamanohar Somasundaram, founder and CEO of Aquaconnect, said: "The great Indian Disruptors (TGID) presents an exceptional platform that embodies the narrative of a rising India. We are thrilled to join Season 2, in the company of four inspiring startups that are redefining the dynamics of business and innovation. At Aquaconnect, we are pioneering AI and satellite remote sensing to bring efficiency and transparency to the aquaculture value chain. Through this show, we aim to bring our journey to life and demonstrate how technology serves as an enabler for the bigger change in aquaculture we envision."
On the launch of season 2 of the series, Barin Mukherjee, co-founder and CEO, Digital Refresh Networks said: "The Great Indian Disruptors show was conceptualized with the objective of weaving together stories of ambitious Indians reshaping industries through their extraordinary endeavours. With the second season of this successful show, we have taken this thought ahead to not only showcase the disruptive forces at play but also bring forth the profound passion that propels each of these disruptors forward. Through the show, we are forging a new paradigm that will redefine the art of crafting brand narratives."
*Aquaconnect is part of Hatch's investment portfolio, but The Fish Site retains editorial independence.