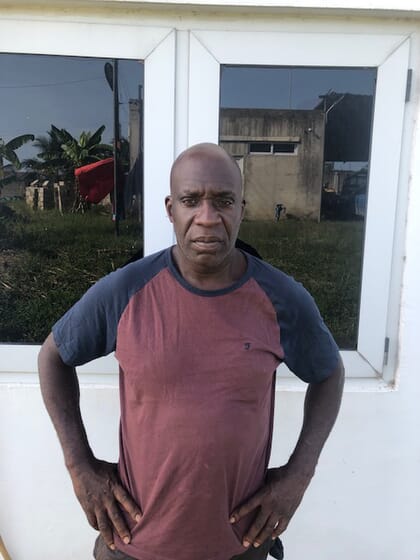 Maize and soya meal prices have continued to rise in Africa, a process accelerated by the Russian invasion of the Ukraine. This has been further exacerbated by the drastic slump in the value of West African currencies, which has fuelled feed crises in the poultry and aquaculture industry in Ghana and Nigeria.
Rising feed prices is an issue that Adade had feared for several years but – fortunately for him – it is also an issue he sought to tackle preemptively – by seeing whether he can create some of his own feed ingredients on his 100-acre plot of land.
"I realised that the cost of feed would be a major challenge, so I started experimenting with using duckweed and water cabbage (Pistia stratiotes), which grow well in the dams that we use for growing out the fish. The fish eat the root systems naturally but can't reach the leaves, so we harvest it, grind it down and then feed it back to the fish," he reflects.
Adade is also producing black soldier flies (BSF), which are fed on paw-paw that grows naturally on his farm. He says that producing the BSF is easier than growing corn. Once grown, the BSF larvae are dried, then ground down and fed to the tilapia and catfish fry in his hatchery. He also feeds the husks of the flies to the catfish and says these have helped to improve the water quality in the hatchery.
"Commercial feed tends to include wheat and corn, which will eventually ferment. But this is not the case with BSF powder, so a lower rate of water exchange is needed," Adade explains.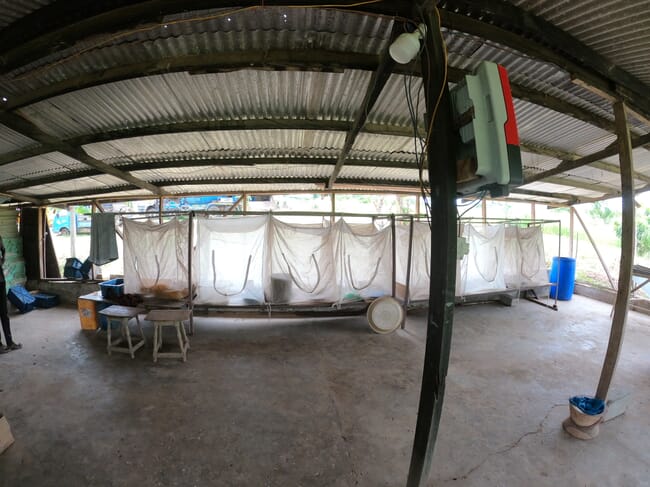 Adade is currently producing around 500kg of BSF a month and he hopes that – along with the water cabbage – this will help to reduce his feed costs. However, while he hoped to reduce these by 50 percent, he says that it's only been a saving of around 10 percent so far, so he aims to fine-tune his feed production.
As Habib Angelo, CEO of Volta Rapids Fish Farm, who recently visited Windmill, explains: "The cost of commercial feed makes fish farming difficult, so I think we should explore alternative ingredients. I am in the process of installing a feed facility on my farm, and I am starting an arrangement with Kwame for regular supplies of BSF larvae."
Adade is also looking towards developing other soldier fly-derived products.
"I am studying the interesting developments on the international market for chitin and chitosan, which are byproducts of BSF production. Hopefully, we can get even more value from this effort," he explains.

A two-step production process
Adade thinks that the farm will soon have the capacity to produce a combined total of 30 tonnes of catfish and tilapia a year, although harvest levels were closer to 100kg a week in 2022.
Inspired by a trip to Europe he decided to split production between a hatchery unit on his own farm and grow-out on a nearby dam. While the tilapia are on-grown in cages on the dam, the catfish occupy the rest of it, relying on natural feed.
"I do not give the catfish anything, but I notice that they are growing very well on the tilapia eggs and plankton. In a trial they went from 200g to 1.8kg in about six weeks. I am trying to be careful with monitoring water temperature and quality, their health and general biosecurity. I am now scaling up gradually," he reflects.

After suffering from high mortality levels soon after transferring the catfish from the hatchery to the dam he has decided to keep them in the hatchery for longer before transferring them.
The catfish are currently held in lined wooden boxes, as he says that the juveniles were heavily predated in the concrete tanks where they were previously held, while the tilapia are in concrete tanks. After 3-4 months they're transferred to the dam.

Stepping up technology
Given that Adade's previous career was in IT, it's little surprise that he is keen to embrace new technology – fuelled by solar power – on his farm. Because all the equipment in the farm is now solar-powered Adade has dodged the huge rise in energy costs that have hit many farmers in recent years and he advises other farmers to follow suit.

Equipment includes webrelay products, such as motion sensors that control lighting and sound alarms to enhance the farm's security, automatic feeders for the juvenile fish and water heaters for the tilapia fry. His system allows him to control and monitor various devices remotely, including pumps, water level sensors and aerators.
While he thinks these are a worthwhile investment he does admit that they are not suitable for every farmer.
"They help reduce equipment failure, due to equipment being left on, and less manpower is required, as more of the work is centrally controlled and automated. But on the downside it requires an electrician for continual monitoring and maintenance and further training of staff," Adade explains.
"We don't have the problems associated with the lakes. It's generally easier to control external security in land rather than on the lakes. With the cage system that we are using, growing tilapia and catfish side by side, can result in reduced feed bills and resolve a number of related issues," he adds.