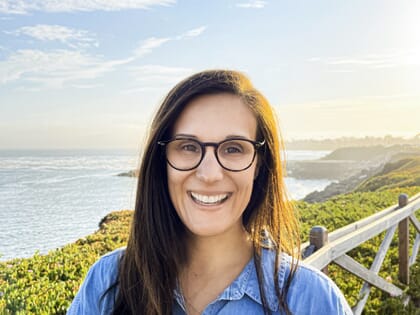 This move follows the launch of the startup's plant-based tuna product, an addition that they say "furthers the group's mission to create a future for seafood where the ocean thrives and provide options for diverse palates and dietary needs".

Over 18 months Cosentino-Roush has guided Finless Foods* through critical and strategic conversations internally and with stakeholders in the ocean and policy space, including seafood industry representatives, the Food and Drug Administration, ocean conservationists, Congress, and strategic partners like the Alliance for Meat, Poultry, and Seafood Innovation (AMPS Innovation). She helped lead important conversations regarding cell-cultured terminology, working alongside key industry decision-makers and stakeholders to advocate for the labelling phrase "cell-cultured," ensuring consistency and a level playing field for conventional and cell-cultured products alike.
Cosentino-Roush also advocated for the inclusion of alternative seafood in ocean innovation and impact policy discussions with the US Congress, federal agencies, and international environmental NGOs.
A graduate of Santa Clara University and Vermont Law School, Cosentino-Roush joined the Finless Foods team after notable positions working with the Food and Agriculture Organization of the United Nations, the National Oceanic and Atmospheric Administration, Ocean Outcomes, and Sustainable Ocean Alliance, among other research, fieldwork, and consulting positions, both within the US and internationally.
Cosentino-Roush's long standing passion to ensure a sustainable future for bluefin tuna (and other species-at-risk) so that our ocean thrives, combined with her strategic policy and coalition-building expertise, make her the perfect advocate for Finless Foods' impact-driven growth for cell-cultured and plant-based seafood.
"With Shannon's expert guidance, Finless Foods has been able to maintain a growth strategy focused on impact and the ultimate vision of limiting stress on our ocean" said CEO Michael Selden. "In her next chapter, we trust her to continue to build momentum and excitement for alternative seafood while still considering the nuanced needs of the industry at-large."

Cosentino-Roush's new role will include a continued focus on collaboration with other industry actors, from both the conventional and expanding alternatives landscape, and civil society groups focused on ocean health, sustainable fisheries and seafood, and consumer safety. Importantly, she also will be developing forward-looking plans for Finless Foods' growth with foodservice operators. She also aims to develop strategies to further integrate impact into the core of Finless' operations and decision-making and establish methods to measure impact, including ways to track the alternative seafood movement's effect in reducing pressure on global fisheries and the world's ocean.
*Finless Foods is part of Hatch's investment portfolio, but The Fish Site maintains editorial independence.