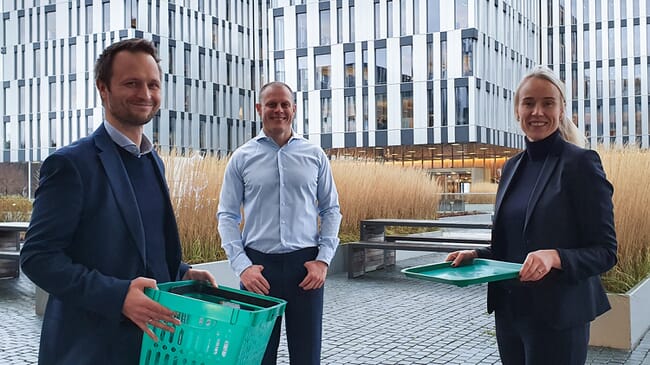 Called AION (from the Greek for eternity), it will offer products and services to companies with a desire to recycle waste and re-use materials and stems from circular initiatives focused on plastic waste and production residues from within Aker BioMarine.
The new company will initially use Aker BioMarine's own streams of plastic and biological production residues will be recycled into new products, allowing the company to reach its zero-waste vision.
It will also work through Aker BioMarine's network to receive other companies' plastic and biowaste streams. In the long run, AION aims to manage production residues globally and will work to scale its business model with an ambition for listing.
"There is no waste, only resources astray. These resources need to find their way into new value chains, contributing to increased resource efficiency while creating value. AION is well positioned to play a key role in unleashing these commercial opportunities," says Matts Johansen, CEO of Aker BioMarine's.
A $60 billion opportunity
260 million tonnes of plastic waste is generated annually worldwide. The EU has set a target of 55 percent recycling of plastic packaging waste within 2030. According to McKinsey, only 16 percent of plastic packaging waste is recycled today, but additional regulatory tightening is expected. During 2021, the technical specifications of the EU Taxonomy objective on circular economy will be defined. This is likely to create a pull in the market for recycled products. In order to reach the target of 55 percent recycling rate in 2030, McKinsey predicts a market size potential of $60 billion. In this context, Aker BioMarine sees large opportunities for AION.
"Technology development in this segment is rapid, therefore AION's business model is technology diagnostic. We will not make large investments in fixed assets but will rather base ourselves on a value chain of solid and innovative subcontractors. Through our American subsidiary, Lang Pharma Nutrition, we have thirty years of experience in operating such a model," says Johansen.
Certified value chain and customers in place
The establishment of AION takes place through the acquisition of a startup company built by Lasse Johansen, an employee at Aker BioMarine. AION is built on an existing value chain and is one of three Norwegian companies certified B-Corp, which is recognised as one of the most important sustainability certifications in American retail. Lasse Johansen will continue to play an active role as working chairman of AION.
"What Lasse has achieved alongside a very demanding responsibility in Aker BioMarine says a lot about the opportunity-oriented culture in our company," says Johansen.
McDonald's is one of several companies already on AION's customer, uses serving trays of recycled marine plastic.
"Our ambition is to run McDonald's in a sustainable way both in terms of packaging and our other business. This means trying new things and constantly being on the lookout for new solutions. The recycled serving trays of sea plastic are one example of this. We developed these together with AION and we have taken another step towards reducing our footprint. We look forward to continuing the collaboration to achieve full circularity for our serving trays," says Hilde Øverby, Nordic QA and supplier sustainability lead at McDonald's.