The presence of Marine Harvest on the global aquaculture industry cannot be missed. The company turned over 13.5 billion Kroner in 2008, producing 327,000 tonnes of salmon, with over 7,500 staff worldwide. It operates in 18 countries and has a global market share of 22 per cent. According to a recent Marine Harvest report, the company is the market leader in Norway, Chile, Canada, Scotland, Ireland and the Faroe Islands - the most successful salmon farming areas in the world.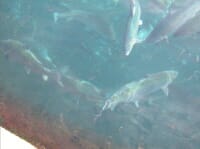 Future of Chile's salmon farms remains murky
The notion that such a high profile, diverse company can be so severely impacted by problems almost entirely attributed to the presence of the Infectious Salmon Anaemia (ISA) virus lurking in Chilean waters serves as a warning to the whole industry, whilst the implications of this financial damage to Marine Harvest and the rest of the market are yet to be revealed.

Despite of the huge losses, the toll owed to the ISA virus is yet to be paid in full. According to a Marine Harvest report, the company says it has a "large number of sites confirmed with ISA to be harvested out in the first and second quarter of this year". "Previous break even targets are no longer available", said the report, adding that further significant losses are to be realised in this period due to "high cost and low cost achievement."

Whilst ISA has been lurking in Chilean waters since mid 2007, efforts to alleviate the problem have made little progress resulting in an industry wide escalation of the problem in the fourth quarter of 2008. Whilst maintaining that they remain confident of the long term potential in Chile, Marine Harvest has also announced a massive down-size operation in the area. Undoubtedly, this will bing further woe to the 17,000 salmon workers that are reported to have been laid off from this once booming industry. Whilst this get-out plan may put plans for rapid regeneration in jeopardy, many are left to question if there is any viable alternative.
The Situation
Marine Harvest is certainly not the only company to have been severely affected by the current crisis. A recent presentation by Geir Isaksen for Cermaq showed how the number of salmon smolts released in 2008 was far short of that number released in 2007. In December of 2008, the total number was less than 3,000, whereas the same month of 2007 saw almost 20,000 smolts released.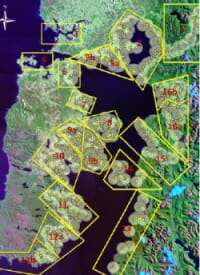 Region X neighborhoods
Image: Cermaq
The total number of fish was down from 152.6 million to 58.4 million, meaning that overall sales would be down by more than 50 per cent over the same 12 month period. Mr Isaksen puts the reduction down to an "unstable" "sanitary situation". "All areas are infected", says the report. "Transmission of the ISA virus believed to take place in both freshwater and sea", it continues. "Transferring Atlantic smolts under these circumstances implies high risk."

The reduction is also in part due to new, and necessary, governmental regulations. The Cermaq report says that under these regulations all sites will have to be fallowed within the next eighteen months. Area are now managed in "neighbourhoods", in which there are currently 53. These neighbourhoods must now be fallowed in a coordinated way for at least three months after a maximum of 24 months of production. Based on this current situation, production will remain low throughout 2010.

Another Cermaq presentaion, this time prepared by Steven Rafferty CFO Cermaq ASA, asks what impact these reductions in produce will have on global markets. This hole in the market will not be easily stitched up. In 2008 380 thousand tonnes of salmon were produced in Chile, Cermaq expects less than 200 thousand tonnes will be produced in 2009, down to 100-140 thousand by 2010.

According to Mr Rafferty, this will bring about the first ever decrease in global supply of farmed salmon. Ever since 1992 the global market supply has grown form between two and 22 per cent, but 2009 is predicted to see a fall in supply of five per cent. "The next years will be a major test of whether salmon is truly global", says the presentation. The question this problem poses is: will the other salmon producing countries be able to fill the gap?
The Possibilities
It is expected that the Norwegian salmon industry will pick up the brunt of this shortfall. Mr Rafferty says that the global share of the farmed salmon market could jump to 60 per cent over the course of 2009, a 10 per cent increase on 2008. Coincidentally, the global economic recession will bring about a drop in demand that will coincide with this period of falling supply. However, this trend will only soften the effects of the supply shortage. According to Mr Rafferty, where salmon prices rise the European market is expected to crack first.
---
*
"A potential worry could be that shortage of supply to USA can do some damage to consumption and future demand"
Mr Rafferty
---
"A potential worry could be that shortage of supply to USA can do some damage to consumption and future demand," says the report. "However, if Norway and others can allocate product outside the EU to fill the holes left by Chile, then we should have a good period for pricing coming up".

These market changes will be potentially harmful to the future of the Chilean industry which has long fought against US dependence to emerge as a truly global supplier of farmed salmon. To alleviate this threat it will need to recuperate fast, but its timeline to recovery is uncertain. Transfers will not increase until the sanitary situation has improved and this requires that the Governmental regulations are put in place. However, restricted capital puts the whole process in slow-motion, whilst the new regulations promise to restrict the capacity of the industry.

Marine Harvest recently said that it is time to adapt to a "new reality". One which amounts to significant capacity reductions, strict biosecurity measures, risk evaluations and continued restructuring for companies. For the Chilean government it will come in the form of new regulations, coordinated production methods, government enforcement and constant situation analysis.

Mr Isaksen finishes his presentation by asserting his belief that Chile needs to develop a new kind of business, combining coordinated insight between government, companies and scientific departments. Chile has taken a blow, of that there is no doubt. From an annual profit of 555 million Kroner in 2006, to an annual loss of 332 million Kroner in 2008, it has been a truly damaging lesson, but also one that will not be so easily forgotten. When the time is right for the Chilean industry to rear its head once more, expect to see a very different face.
April 2009