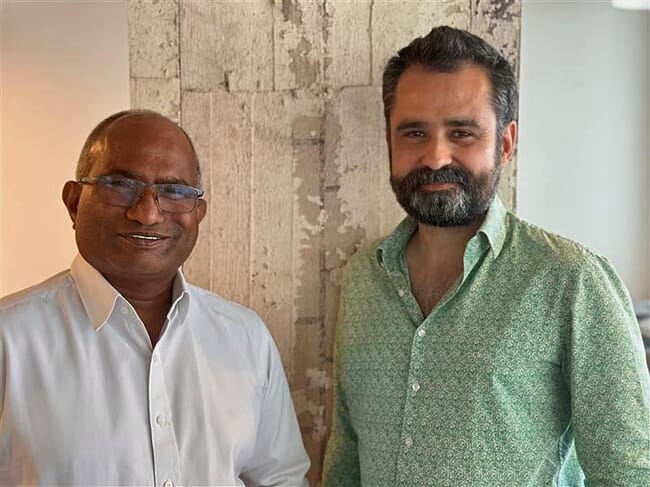 Antoine Hubert steps down as CEO in favour Shankar Krishnamoorthy – a former member of Engie's executive committee, who joined Ÿnsect in 2021 to lead international development and the construction of the company's Amiens site.
The reshuffle follows the first tranche of €160 million in Series D funding announced in April, and aims to support its expansion process.

Hubert, who co-founded the company in 2011, will now focus on innovation, science, influence and impact, in the roles of executive vice-president and CŸO.
''In 12 years, together with our shareholders and our teams, we have risen to immense challenges to make Ÿnsect a leading company in the production of insect proteins for food, pets and plants. Today, and while our flagship site in Amiens is achieving a major milestone in its start-up phase, Ÿnsect has reached a point that requires us to adapt our organisation. Therefore, I am handing over the operational reins of the company to Shankar, a seasoned professional that I fully trust and who has demonstrated his great qualities within Ÿnsect over the past two years, thus ensuring the best possible continuity for our teams and our stakeholders,"' said Hubert in a press release.
''I am honoured by the trust the board has placed in me and am thrilled to lead Ÿnsect into its next stage of growth. I wish to thank Antoine for his dedication and commend his vision in launching Ÿnsect and in leading the company through its formative years. I look forward to working with all Ÿnsectors to tackle our challenges collectively and to relentlessly work to accomplish our mission,'' added Shankar Krishnamoorthy, CEO of Ÿnsect.
From startup to scale-up
''Ynsect is on the cusp of transitioning from a late-stage startup to a commercially viable company scaling up to meet its strategic objectives. At this important juncture of the company's transition, the Board of Directors is pleased to appoint Shankar Krishnamoorthy as the CEO of Ynsect. Shankar has a proven track record as a CEO leading sustained, profitable growth in the competitive and challenging energy sector, has led culturally diverse teams across business development, technology and plant operations, finance and human resources and prior to Ÿnsect, was on the executive committee of Engie, a CAC 40 company,'' added Hans Wackwitz, Ÿnsect board member. '
Ÿnsect claims to have the largest intellectual property portfolio in the fledgling insect industry, with two research centres in France and the Netherlands, production sites in France and the United States, and plans for new sites on every continent.