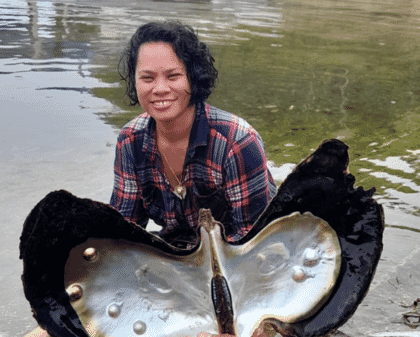 The Tongan pearl farming industry differentiates itself from other Pacific nations by producing mabé or half pearl, which grows in the winged pearl oyster (Pteria penguin). We talked to Naua about her journey into pearl farming.

Can you briefly describe your aquaculture career?
I have been a Pearl farmer for two years now. I participated in a training programme conducted by the University of the Sunshine Coast USC under the Australian Centre for International Agricultural Research (ACIAR) pearl project in Tonga. I am very grateful to have been a part of this; it was a very effective and advantageous programme for me. I learned a lot about pearl aquaculture techniques. Before training, I did not know anything about oyster and pearl farming. Moreover, I learnt skills in marketing and business and now I have the skills to market our products.
What drew you to pearl farming in the first place?
As an unemployed woman, I used to weave mats and make Tongan waist belts with coconuts and shells. I loved to work with pearl shells and that is when I first started thinking of becoming a pearl farmer. Dreaming about using my own shells and not the ones from a local Chinese store.
What are the main activities for a pearl farmer in Tonga?
We receive spat (baby oyster) from the Ministry of Fisheries that we put into wire cages to protect them from predators. Once they reach 14 cm, we attach them to ropes. Once the oysters are 18 months old, we implant nuclei into the oyster and put them back into the sea for another year before harvest. Oysters are cleaned every six weeks. A few months ago, we have harvested our first oysters.
What does a typical day in your current role consist of?
Other than taking care of my oysters, I work mainly in the Vavaú Pearl Centre, as I was hired by ACIAR to manage the local pearl association. The centre provides information on the farming of Tongan mabé pearls. It also has a workshop and shop where artists make and sell jewellery using the pearls and shells.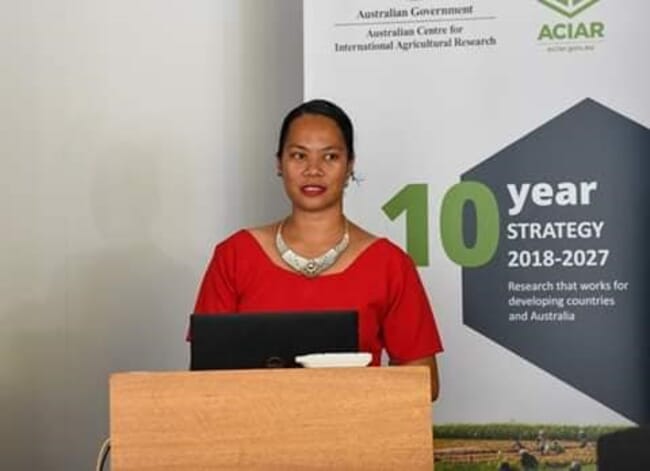 I serve customers and do the communications for the Pearl Centre, answer emails, attend meetings and events and communicate with the members of the Pearl Farmers Association. Furthermore, I train new farmers and supervise artists in the workshop. Finally, I am responsible for the work reports and administration.

Can you tell us a bit more about the team you are supervising?
The association consists of 14 farmers, of whom three are female and nine male. We all have our own line of oysters and are supported by the fisheries office of the ministry. Most farmers also work as artists, making products with the shells.

What work-related achievement are you most proud of?

I was chosen to travel to Australia in December 2019 and share my story for a women's employment workshop organised by ACIAR in Canberra. I took our products to promote them there. I am also one of the first farmers to export pearls from Tonga. With our association, we transported 200 pearls to Hawaii.

What's your favourite part of working at the pearl farm?
I enjoy going out to sea, looking at these gorgeous creatures and cleaning them. It's like magic, first it smells like fish, is wet and has seaweed growing on it. But, once you have cleaned it, it's stunning – like a star. However, my favourite part is the harvest, the flesh is so good to eat and, when you open an oyster, it is like a Christmas present, you never know what is inside.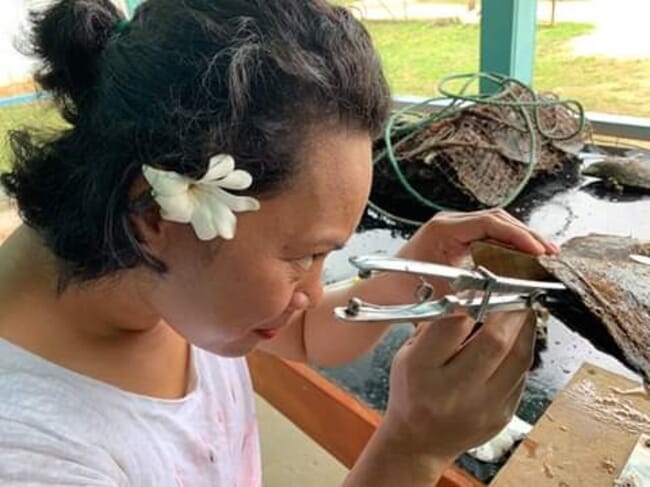 What challenges have you encountered in the sector?
Due to Covid-19, we have no customers to buy the pearls and jewellery we make. Most of our buyers are tourists and they are visiting us now, due to the pandemic. We have no security on the farm and I have heard from other farmers that sometimes oysters are missing. Luckily, I've had no such experience.
Have you ever encountered any gender-related challenges?
It is hard being a woman that supervises men. There are also rumours going around that I am doing a man's work. I was thinking of giving up, but these people do not give me bread to eat, so I hang on and continue to earn money for my family. By now, I'm used to the comments. I take photos so people can see the work I do and enjoy; I am proud that I can dress like a man, drive in a boat at sea and do this job.
Are there any individuals or organisations in aquaculture that you've found particularly inspirational?
Yes, the volunteers from Australia that came to train us, they helped me and inspired me. When I was giving tours to tourists, I thought I was not good enough, but they were very encouraging.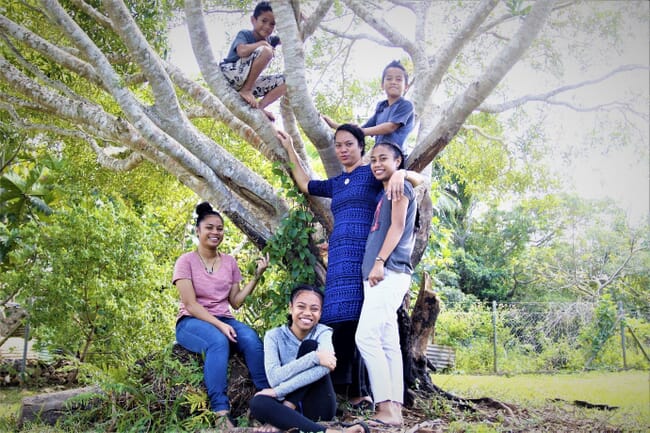 What advice would you give to women who are considering joining the aquaculture sector?
I would encourage them. Pearl farming can provide women with an income, so they can be independent. Pearl farming is easy to do, fun and fulfilling. As a single mother of five, I can provide for my kids, feed and educate them. Being a pearl farmer helps me personally too; it's stress-free and keeps me busy, so I am not thinking about my problems.

If you could solve one issue in aquaculture, what would it be?
I wish there was a fisheries and aquaculture law established in Tonga. Currently, there is no law to stop people from collecting shellfish and fish from the area where we have our farm. The area should be protected and no fishing or collection should be allowed.
What you would like to be doing in 10 years' time?
Running my own business, I would like to be the owner of a pearl company and hire people to do the cleaning, diving and other activities.