Briefly describe your aquaculture career
My background is originally in marketing and languages. I came to Ireland from France in the 1990s with Erasmus, the university transfer scheme. I planned to stay for a couple of years but have never left. Out of college I was first employed by a group of shellfish growers in the north-west of Ireland. They were farming clams (Tapes philippinarum) and oysters (Crassostrea gigas), and wanted me to market their product, to France mainly.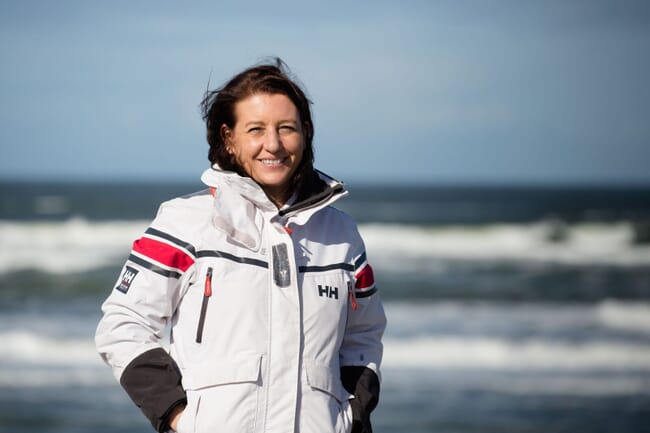 I quickly saw that there was an opportunity as the industry was growing and so set up Triskell Seafood in 1999 to trade live shellfish. The business has grown over the years to trading across Europe and has also diversified. These days we distribute oyster seed sourced from reliable hatcheries and a large range of specialised equipment to growers and fishermen. I also do consultation work as well as being involved in a couple of oyster farms in Ireland. The mission for Triskell Seafood is to provide a complete service to the oyster industry, encompassing all facets of the business.

What drew you to shellfish farming?
A love of the product. It is farmed in some of the most remote and beautiful corners of Europe. I appreciate the sustainability side of it too, and of course the profile of some of the people involved. I get to meet some real characters in this job.
Describe a typical day in your current role
Every day begins with an early start. The growers follow the tides so that means there is no such thing as a regular nine to five. Every day is very varied. I spend time first with the team making sure everything is running smoothly and am on the phone a lot talking to suppliers and customers. It's the best way to stay up to date with what they're experiencing on the ground.
I also get out on site as often as possible. It's important to see the oysters myself so that I can make a good match between customer and grower. It's such a pleasure to get out of the office and spend time with the growers, and it's useful to see the issues they face as this informs my plans for future product development and the directions that the equipment side of the business might take.
What has been the most memorable experience you've had in your job to date?
On day one, swapping my skirt suit from my previous executive job and pulling on waders to head down to the beach rather than to some anonymous industrial estate – that was the start of it all.
A supplier who once came over in his four-seater aircraft to visit the west of Ireland gave me the opportunity to fly with him over the oyster beds. It was beautiful to see them from a totally different perspective.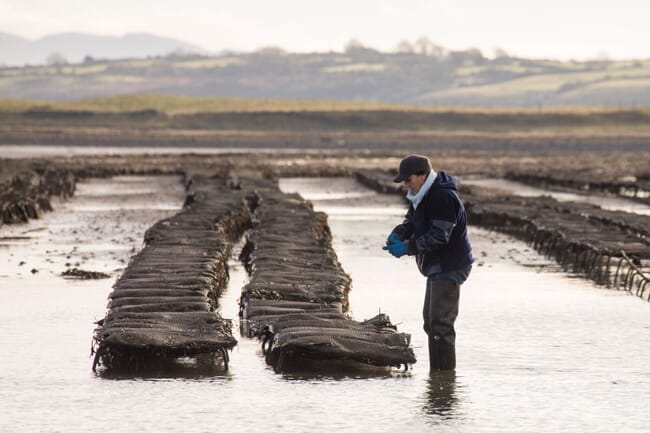 How do the French and Irish oyster industries compare?
The Irish oyster industry is small in terms of tonnage produced in comparison to France (10,000 tonnes vs 140,000 tonnes) but Irish waters and lower densities often result in higher-quality products.
Also, while French producers have more traditional farming methods with businesses often going back several generations, in Ireland it is a relatively new industry and growers are curious and innovative. Irish growers are also ambitious and even though they have been highly dependent on the French market for years they are rapidly developing alternative markets, particularly Asia.
How did you find the opportunity in Ireland to sell shellfish to France?
When I started out the demand for clams was strong in France. I was lucky in that the timing was just right – clam production in France had been decimated by disease so they were looking for an alternative supply. The production of oysters was at a reasonably early stage when I started, so my business grew along with it.
Where are your main markets now?
For seafood: France, the Netherlands, UK and Ireland. We can sell equipment anywhere – the furthest we have reached so far is the US.
What is the key to attracting consumers to shellfish? What marketing strategies do you use to promote your produce?
As traders we do not sell directly to the consumer. Rather we have long-standing relationships with our clients. They are known as "expéditeurs" and are based mainly in France but also Spain, the Netherlands and the UK. They buy the oysters and other shellfish from us and sell on to the end consumer.
Our expertise is in knowing the specific requirements of each expéditeur and matching them to the right grower so that the oysters they receive have the right meat content, the right shape and the right grade, and are available at the right price. That's why it's so important for me to get out on site regularly and see what is coming out of the bags.
How did you expand the business to sell across Europe?
I travel to trade shows every year to meet suppliers and growers, mainly in France but also in Ireland and the UK. We have a website and social media that give us visibility to clients outside Europe, and we have had sales from America come to us through both those channels. I do a lot of networking as well, but in fact we get a lot of referrals from existing and past customers. We put a lot of effort into maintaining our reputation for being efficient and reliable, and that pays off in the long run. A satisfied customer is always going to be your best salesperson.
How has your knowledge of the French market and French language helped in your work?
Immeasurably. Being able to understand subtleties of tone and language are key to negotiating. It's not just the language either. It's an innate understanding of culture too.
When I started out in this industry, French people didn't generally speak any English, so it was essential to be able to speak the language to conduct business. That is changing now. The younger generation of growers and buyers coming through have some English ability and find it fairly easy to communicate directly.
How do you address sustainability concerns in your work?
The beauty of oyster farming is that it has a positive impact, which is unusual in food production, I think. Oysters are filter feeders and actually purify the water they are growing in. They are farmed without adding chemicals or antibiotics and therefore do not have any harmful impact on the surrounding environment. In Ireland we have a government initiative called the Origin Green programme, which works to encourage all levels of food suppliers and producers to work in a more sustainable way. More and more oyster farms are committing to the programme, which is so positive.
There are issues around the lifecycle of the materials used in the farming, of course – for example, the bags that the oysters grow in. I'm currently involved in a project to investigate methodologies to address this by collecting and recycling the bags here in Ireland. The project is still in its infancy, but it is very important to me to help growers keep as much waste out of landfill as they can.
What the key issues facing shellfish growers in Ireland today?
Mortalities (for example due to red tides) are unpredictable and can be devastating. We had a red tide here in the autumn and some growers lost almost all their stock. Apart from environmental elements outside of our control, the biggest challenge for growers is the slow process of the licensing system in Ireland and the uncertainties surrounding it. It isn't unusual for a grower to wait years for a licence to be approved to make changes or extensions to their farms. It makes it very difficult for them to make long-term plans for their operation.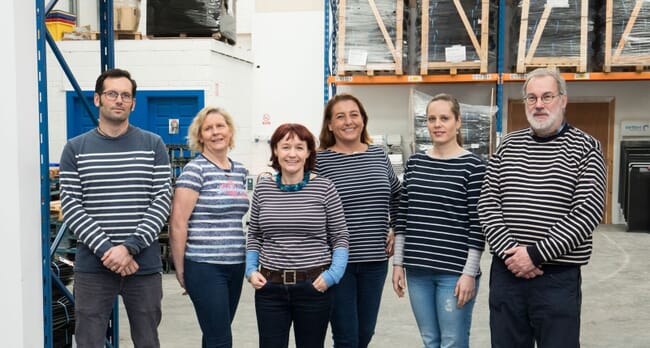 How did the shellfish growers take to you at the start?
Being a young lady, new and French, arriving in a very male-orientated business, I did witness varied reactions at the start. But I think I established trust with the suppliers pretty quickly. The fact that I always pay on time helped a lot. They could tell I was passionate about what I do and that helped a lot to develop relationships both in business and friendship.What innovation do you think has the most potential to change aquaculture?There is research going on all the time into new products and new ways of working, and they are all ultimately focused on the same three goals: improving the quality of the oysters grown, reducing the labour involved in farming the oysters and being more competitive in terms of price.As part of our own green ethos we have developed a line of stainless steel hooks that we manufacture here in Ireland to replace the ones containing plastic that have been traditionally used. Our hooks have a much longer lifespan and are part of us doing our bit to reduce the amount of plastics in the sea.
Are there any individuals or organisations in aquaculture who you've found particularly inspirational?
My very first client taught me a lot. The first time we met, after a lengthy discussion, he said, "You're hooked, you'll do well in this industry." Over the years, I keep meeting inspirational people from all over the world who share my passion for oysters.
Another woman in the industry who I have always found inspirational is Corinne Raguenel, who runs YAD Marine in France. What is most impressive about her company is that they do everything from growing the oyster seed right through to producing top-quality oysters, which they package and market themselves to niche markets. Their final product is perfection in my eyes. But not only that, they constantly design and develop new aquaculture equipment which they test thoroughly on their own sites and then they distribute this innovative equipment to the industry. It is truly unique as a set-up for anyone involved in oyster growing to cover all aspects of the business. I value Corinne's passion for quality but also her friendship and support very highly.
As one of the very few women working in Ireland's oyster industry, have you faced any challenges?
There were some "interesting" events in the beginning. In particular, some growers did try to see how far they could push things, but I will write a book about all of that when I retire! Nowadays I have to say that - in general - most of the customers I deal with are respectful, pleasant and fun to work with.
What advice would you give to women looking to start a career in aquaculture?
If you are passionate, just do it. Don't count the hours – it's a rewarding, fascinating and ever-changing industry.
What's been the industry's greatest accomplishment in recent years?
The Irish oyster industry has progressed remarkably in terms of product quality, branding and growing new markets. It is fabulous to see a small country so globally recognised.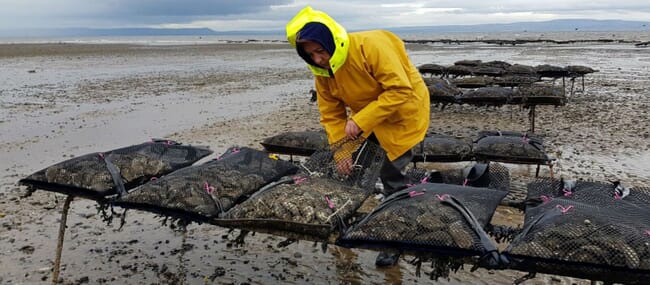 What challenge would you most like to be solved?
I'd really like to see reliable and accurate numerical norovirus testing being developed, and an acceptable common European level being agreed. The industry has been testing regularly for many years now and it is frustrating to still be uncertain of the results.
How do you see Triskell Seafood evolving in the years to come?
I trust that we will continue to go from strength to strength, delivering even better service and products to the industry. We are definitely planning to diversify into new areas and products. We are open to partnerships to conduct research and develop new cultivation methods that will better the quality and reduce the labour involved in oyster production.
What hopes do you have for Ireland's oyster industry?
There are many ways this industry can continue to grow and improve. I would really like to see an easier and quicker process introduced for licensing, to enable the industry to continue to grow in a sustainable manner. I'd like to educate people on the sustainability of this type of farming. Finally, I'd like to see Irish people eating more oysters. They don't know what they're missing!