It was aquaculture's contribution towards stabilising the world's food supply that inspired Dr Wilder to combine her background in chemistry with the development of new aquaculture technology. In 2004, after receiving a government grant, she took over a Japanese project on indoor shrimp production systems (ISPSs) – operations that optimise shrimp growth based on the control of water temperature, salinity and flow rates and use low-salinity rearing methods for commercial large-scale production. Today, she is recognised as the pre-eminent authority on growing whiteleg shrimp (Litopenaeus vannamei) in these systems.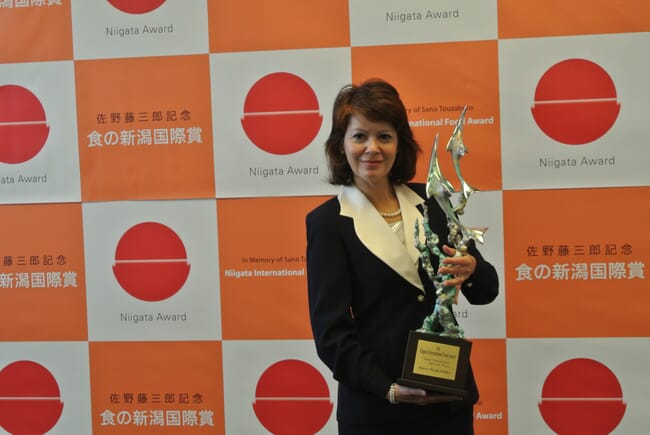 Briefly describe your aquaculture career
I studied chemistry at Harvard University, and came to Japan for graduate study at the University of Tokyo. I was interested in studying basic the physiology and chemistry of aquatic species used in aquaculture and engaging in aquaculture and international development. For my doctorate, I investigated the roles of ecdysteroids [hormones involved in the moulting process] and juvenile hormone-like substances in shrimp reproduction.
During my graduate school years, I did mostly basic research in the laboratory but got to know Japan's varied aquaculture industry and did some practical training in the seed production of the swimming crab at one of the former Japan Sea-Farming Association's stations.
After receiving my doctorate and briefly continuing the same research as a post-doc, I started working at the Japan International Research Center for Agricultural Sciences (JIRCAS), where I am based today. Between 1995 and 2003, I conducted an Overseas Development Assistance (ODA) project with Can Tho University in Vietnam to develop hatchery technology for the giant freshwater prawn (Macrobrachium rosenbergii) and help impoverished rice farmers raise this prawn in their rice fields to increase their income. Since 2000, I've been working with the private sector (principally the aquaculture engineering company IMT Engineering, Inc) and we've developed the indoor shrimp production system (ISPS), which operates commercially in Myoko, Japan, and Ulaanbaatar in Mongolia.
Can you tell us about the indoor shrimp production system?
In developing it, first we obtained basic physiological data on osmoregulation, oxygen demand and ammonia excretion levels of L. vannamei under recirculating culture, and used this information to optimise shrimp growth based on the control of water temperature, salinity and flow rates. For example, in a small-scale experiment, we found that shrimp growth in low-salinity and high-hardness water was equivalent to, or better than, in full-strength seawater. We used this result to develop low-salinity rearing methods, and applied this successfully to commercial large-scale production using a prototype facility in Tsukuba, Ibaraki Prefecture.
Our first commercial facility was established in Myoko City, Niigata Prefecture, and has been operating since September 2007. With two production lanes containing 600 tonnes of water each, it produces up to 40 tonnes of shrimp per year, and the product is marketed under the trade name "Myoko Snow Shrimp". An ISPS pilot plant was established in Mongolia a couple of years ago, and is now under commercial production. Since this system is based entirely on the use of recirculating water, there are virtually no environmental impacts. Furthermore, an ISPS facility can be established inland without depending on the use of fresh seawater, and can be operated using a manual.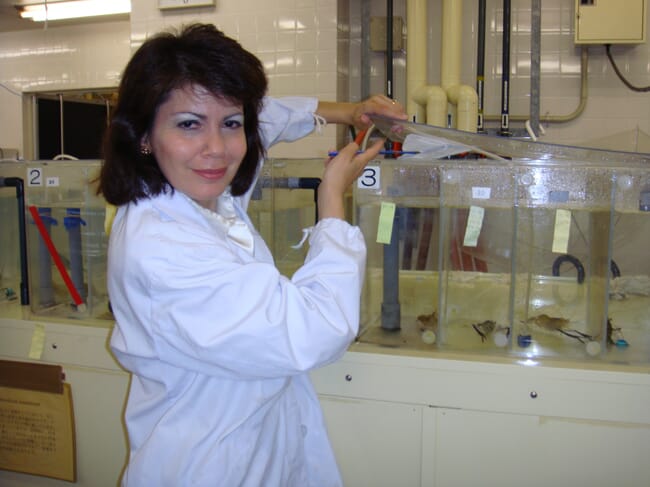 What inspired you to start in aquaculture?
As a child, I loved going to the beach to collect shells and to see what kind of marine life was present. It was easy to get to beaches in the Boston area where I come from and sometimes we went to Cape Cod. Because I'd studied chemistry at college, I originally planned to go to medical school but a trip to Japan before my graduate studies gave me other ideas. At that time (the late 1980s), I realised that aquaculture would be necessary to stabilise the world's food supply, and became interested in combining my chemistry background with the development of new aquaculture technology.
Describe a typical day in your current role
I'm currently overseeing a laboratory that is devoted to basic research on moulting and reproduction in crustacea. We're focusing on ongoing experiments using the whiteleg shrimp and giant freshwater prawn. There are eight or nine of us. A typical day consists of looking at people's experiments, attending to paperwork and holding discussions. We need to ensure that lab operations comply with institute regulations and Japanese law in terms of safety, handling of intellectual property or accountability of results, so I spend a lot of time attending to such matters as well. The ISPS plant is under commercial operation by its owners so it's no longer necessary for me to visit frequently, but sometimes I do, for example when we have visitors, or when I want to review the technology myself and perform tasks with the other workers.
What's the most inspirational experience you've had working in aquaculture to date?
When I worked in Vietnam, I felt inspired when we visited local farmers and they showed us their rice fields and the freshwater prawns growing in them. These people could improve their lives by growing and selling these prawns, and I felt very happy to think that our research and development was helping them.
Another inspiring moment was our very first harvest of L. vannamei from our prototype indoor facility in Tsukuba, before the commercial facility in Myoko was built. It was then that I realised that land-based recirculating aquaculture is completely possible. We celebrated at a local restaurant and the proprietor used our shrimp to make sushi for dinner. It was delicious!
How do you think the rest of the world sees aquaculture in Japan, and does Japan do much to promote itself?
People recognise Japan as advanced in certain fields like aquaculture technology, and it is a country that others would like to work with, but it's only 60 percent self-sufficient in fisheries products in general and less than 10 percent self-sufficient in shrimp. Having said that, some areas of aquaculture, such as scallops, yellowtail, oysters or nori seaweed, have reached a level where they could be exported more to other countries. This is currently not the case for shrimp culture, as production levels for the Japanese kuruma prawn (Marsupenaeus japonicus), which has traditionally been the predominantly cultured species, remain at 1,500 tonnes a year. But I'm hopeful this could change.
As far as promotion is concerned, I think more could be done. Part of this may be related to language barriers and an inclination to be humble about one's achievements. I sometimes feel that other organisations and countries are probably better than Japan at self-promotion and speaking up for their work.
How important are sustainability concerns to you and how do you address them in your work?
Aquaculture is often criticised for not being environmentally friendly and for taking more away from the environment than giving back to it – for example when wild trash fish are used to feed carnivorous cultured fish. But we need aquaculture in order to meet the world's protein demands. It's important to me that people see the good side of aquaculture and appreciate it. Our institute is primarily concerned with addressing the research needs of our partners in developing regions; therefore, any technology we develop must be useful from that standpoint – it must be sustainable and good for society.
In my own field, eyestalk ablation is often used to induce maturation in female shrimp. This is considered cruel in some quarters – at the very least, it is somewhat inefficient, so we are focusing on developing alternatives based on our understanding of the shrimp's reproductive physiology.
What innovation do you think has the greatest potential to change aquaculture?
Recirculating aquaculture systems have great potential to contribute to the advancement of aquaculture, for both fish and shrimp species. Many people now recognise that the technology is feasible, but there is still a problem with costs – both in terms of investment to set up RAS facilities and the costs to run them. Unless these can be addressed, investors will be wary of promoting such technologies. I am hopeful, however, that creative uses of heating sources and realising economies of scale will help bring down running costs.
Are there any individuals or organisations in aquaculture who you've found particularly inspirational?
I'm definitely inspired by Dr Motosaku Hudinaga, the father of modern shrimp farming. There are numerous anecdotes about him, but in the early 1960s, through patient observation of the Japanese kuruma prawn, he was the first to discover what larval prawns really eat (micro-algae such as Chaetoceros spp., and Skeletonema costatum). His work enabled hatcheries to be set up, and led the way for the modern shrimp culture industry to develop. He was even featured in Time magazine in 1963 for putting an icon of Japanese food culture back on the table – even then, wild resources were dwindling.
Have you faced any particular challenges as a woman in aquaculture?
I've spent a lot of time in the laboratory and adjusting to the demands of being a Japanese government employee – more than being on-site (although I have done that a lot too) so my challenges as a woman per se do not relate directly to aquaculture; they're more general in nature. However, I remember being the main speaker at a civic lecture in Tokyo and not being referred to by my title of "Dr", although all the men were being referred to correctly. I had to point it out to the moderator, who felt bad and apologised. I think things are getting better in Japan. Many men appreciate having things pointed out to them in a calm, rational way. Usually they don't realise what they have done and are more than happy to change for the better.
Do you feel that it's hard for women to reach leadership positions in aquaculture?
Possibly. In aquaculture – as in many fields – we need more female leaders and role models. I've been asked this question before, and it's not just a question of being able to look after children or having regular working hours. It's a question of not giving up. I think some women are just happy to have something to do and aren't going to try and go forward because it's unpleasant to encounter resistance. When you're young, especially, it's hard to be a woman and take initiatives that others haven't. If you're quiet and do as you're told things are easy, but when you have to tell a man what to do, especially one that is older, it can be difficult. What I want to say is that women shouldn't give up in the face of resistance.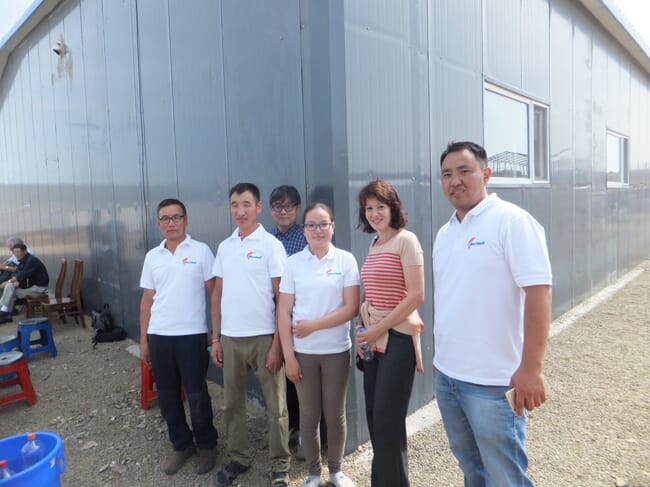 How are women addressing inequalities in aquaculture in your region and have you seen the opportunities improve in recent years?
I have been observing changes in Japanese research institutes over the past few years, especially in the Ministry of Agriculture, Forestry and Fisheries (MAFF), to which my institute is affiliated. More women are being hired as new recruits; many organisations are pursuing diversity projects; many are trying to demonstrate how women can contribute their talents to society. It is a part of Prime Minister Abe's policies, and I find it very encouraging.
What advice would you give to women looking to start a career in the aquaculture sector?
Identify an area you're interested in, read as much as possible about it to develop your own cache of expertise and create opportunities for making your interests known to others. For example, if attending a scientific or trade conference you should talk to people there about your future career goals.
What would be your dream role in aquaculture and do you think it's realistic to achieve?
My dream would be to have more recirculating aquaculture systems for all sorts of things throughout the world, and to find a replacement for eyestalk ablation in shrimp. For the first item, I think that we are getting there through the efforts of many people; for the second item, I think it's feasible, but more research is required.