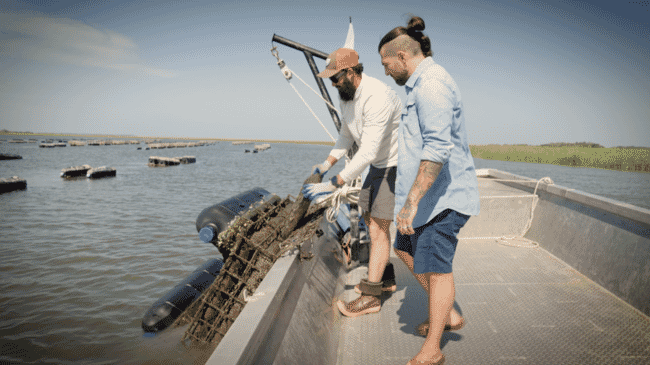 Aquaculture is the fastest growing food production system in the world. In fact, by 2030, it's predicted that 62 percent of all global seafood will be produced through aquaculture, according to the United Nations' Food and Agriculture Organization. Already, countries like India and China are ramping up deepwater seafood farming as they seek to feed a growing population and increase food security.

It's a different story here in the United States. Instead of leading the way and developing a sustainable, local offshore aquaculture industry — growing more seafood and the jobs that come along with it — we import 90 percent of the seafood we eat, half of which is farmed. We know Americans would eat more seafood if it was caught or raised in the US. It's what people want to see in their grocery stores and on menus in restaurants. We also know wild-caught fisheries alone can't meet the current — much less the increasing — demand for sustainably-sourced seafood. After a summer of record heat and lower-than-average catch rates, it's clear we need to explore the potential for offshore aquaculture to increase seafood production and improve economic resilience for the coastal communities that rely on a working waterfront.
That's why we — a chef from California and a DC environmental policy expert — have joined others concerned about a secure seafood future to support a new bipartisan bill that will explore how to sustainably and equitably pursue offshore aquaculture in US waters. The bill, the Science-based Equitable Aquaculture Food (SEAfood) Act, was introduced by Nancy Mace (R-SC) with Jimmy Panetta (D-CA) and Chellie Pingree (D-ME) as co-sponsors.

Offshore aquaculture in the US is not a question of if — but where and how. And the US has the opportunity to lead the development of this new industry in a way that is sustainable and equitable. Our country is already a leader in fishery management. When our wild fisheries were collapsing, the bipartisan Magnuson-Stevens Fishery Conservation and Management Act set new standards for science-based policies and sustainable practices, helping to secure American fishing for generations. We have an immediate opportunity to do it again with offshore aquaculture: creating jobs, economic opportunity, and high-quality, local, sustainable seafood for communities from coast to coast.
Fortunately, we aren't starting from scratch. While there isn't an offshore aquaculture industry in the US, there is a robust nearshore aquaculture industry, which includes our fellow members of the Coalition for Sustainable Aquaculture. There are plenty of lessons we can learn from sustainable advancements in nearshore aquaculture, but there are also a lot of unknowns and risks when farming in deeper, open-ocean waters of the offshore environment.
That's where the SEAfood Act comes in. It will catalyse the necessary studies and an assessment of on-the-water projects to identify best practices and collect the data needed to address remaining uncertainties. It will also provide an opportunity for constituents, stakeholders and policy leaders to weigh in, ensuring diverse voices have a seat at the table alongside science. It's a thoughtful, necessary way to close knowledge gaps, so we can protect the ocean and lay the groundwork for a sustainable offshore aquaculture industry that complements wild-caught fisheries and produces the most benefits for the most people.
We have an untapped opportunity to produce more US-grown seafood, increasing food security and economic opportunity for generations to come. But we have to do it right. With the SEAfood Act, we can collect the data and knowledge needed to build a sustainable, equitable offshore industry from the start.