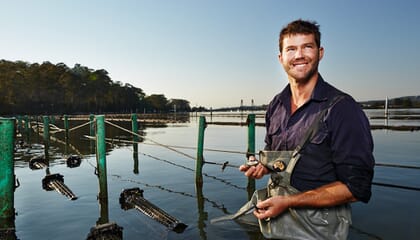 Ask most battle-scarred oyster farmers where the best place to store their oysters is, and they'll tell you the same water that they're grown in. Obviously. But younger farmers are changing their tune.

Four years ago, Ewan McAsh, the co-founder of SmartOysters*, wouldn't have dreamt of keeping his stock anywhere but the river. But after installing his first live tank in 2016 he became a convert. There are now three tanks in operation on his farm and he plans on adding seven more in the next 12 months.
"It's been so successful for restaurant and online sales that we are now planning to tank store all our sales. At the moment we're only able to tank store 30 per cent of our oysters. Once we add the extra tanks, we'll be able to store a lot more," he says.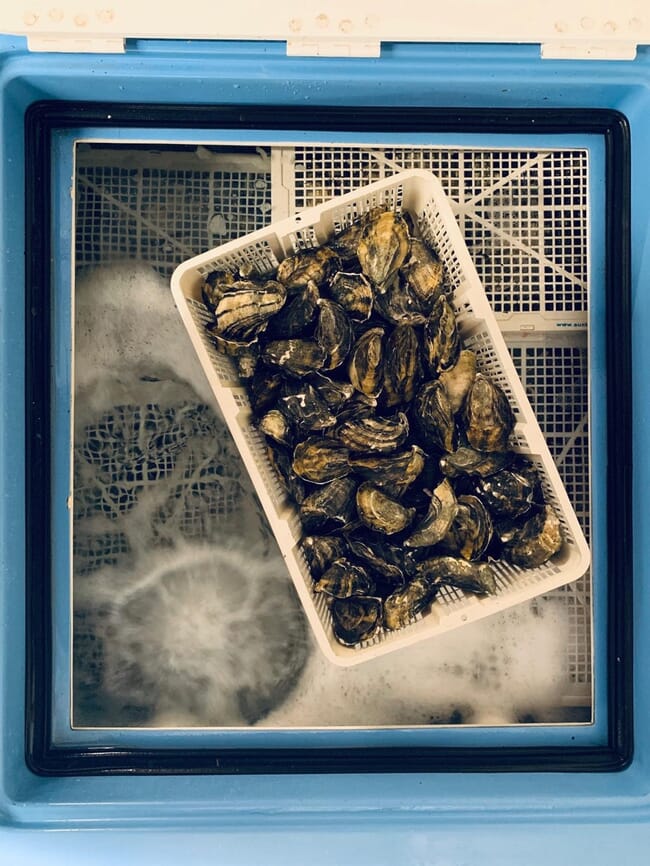 "I was sceptical at first, but what eventually made me get one was when it dawned me that if these tanks are good enough for high value species such as lobster and abalone, and they are what it takes to deliver a high value seafood product, then it's worth giving them a punt."

Each tank holds 1,000 dozen oysters and uses UV light and carbon filters to keep the water clean. The system also keeps the temperature at a pre-determined level. For Ewan's oysters that's around 12 °C. At that temperature, the oysters are still breathing, but not feeding, so are essentially having a rest after being harvested and can be kept there for 8-12 weeks without impacting their quality.
The biggest advantage is that oysters can be harvested when the conditions are right, rather than to order. Other advantages include giving farmers sales-ready inventory when a weather event shuts down the river, saving time by removing double-handling and making smaller, retail orders a possibility. Challenges include the capital outlay and having the right infrastructure in place so that the tanks end up being a good investment for your business.
Wet storage capacity
"When you're farming and dealing with the natural environment, wet storage is a way of having a lot more control over the harvest and sales. You harvest in the right conditions and store the oysters to have a sale-ready inventory, which leads to better cash flow, less handling and easier farming," McAsh explains.
"Farming, especially on the water, is challenging. Being able to harvest and store stock just makes life easier. We have more quality, sale-ready product, which allows us to consistently supply our customers and also be more responsive to customer orders.
"During the recent floods we would have lost $20,000 in revenue and risked losing our market position. Originally, I would have thought, 'It's OK, the oysters are still safe in the water. When we reopen, we'll be able to sell them,' but if you lose those weeks you don't ever get them back. Having the oysters on hand minimises revenue loss and creates far more stable cash flow.
"At the end of the day, the aim of the game is to sell oysters. Wet storage gets them that much closer to the customer. The tanks retain their quality, if we can't sell them that day, we can store them in premium condition. It's money in the bank."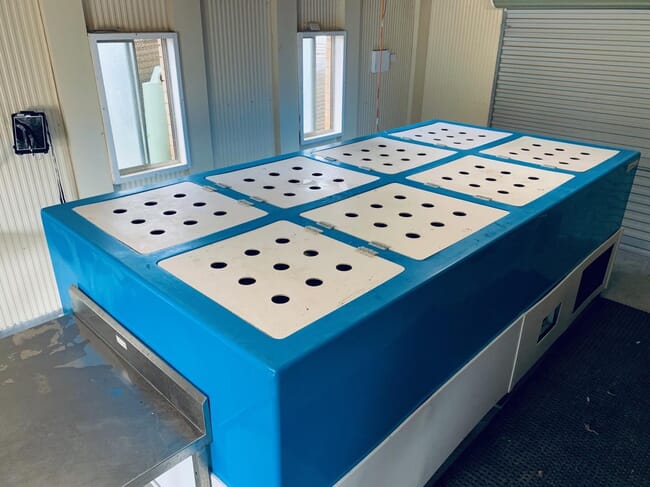 Inventory of sale-ready stock
The traditional business model is harvesting to order. Live tanks created a new business model for McAsh's farm.
"We are able to capture something at a certain quality and size, and then find a market for it. Often, you won't have a sale for a certain size oyster and you put it back in the river, but then it has to be processed again. The tanks mean you can keep them until you have a sale," he points out.
"The other strategy is to harvest and try and sell what you harvest, but then you risk becoming a price taker. If you are less reliant on selling that day, then you can find a premium market for it.
"Without wet storage you're either harvesting to order or selling what you harvest. You're choosing between doing more work or taking less for your work."
Creating a new market
Pre-Covid, McAsh's business was supplying oysters to restaurants. When restaurants closed, he suddenly lost his customers, so he had to pivot hard. Having the tanks full meant he could go after the retail customer who only wanted three dozen rather than a hessian sack full of product.
"It was as simple as selling them in a box with a flyer, oyster knife and lemon. Before live storage, we couldn't see how it would be cost-effective but then Covid happened. It was life changing in that we very quickly created a new market for our oysters, one that was more profitable than the original market," he reveals.
"We went from 0 per cent online sales and 100 per cent restaurants to 60 per cent online. The business is selling oysters and having them in the tanks and ready to go is the final step before you get paid."
Capital outlay
A live tank costs about AUS$40,000 and, while it sounds expensive, McAsh puts it in perspective.

"It's no more than the ute [pick-up truck] you use on your farm. You spend years growing oysters and this helps you turn that time and energy into dollars. A tank can hold up to $15,000 worth of oysters, 1,000 dozen, so if you get an extra dollar a dozen it quickly pays itself off," he explains.
*Smart Oysters is part of Hatch's portfolio, but The Fish Site retains editorial independence.