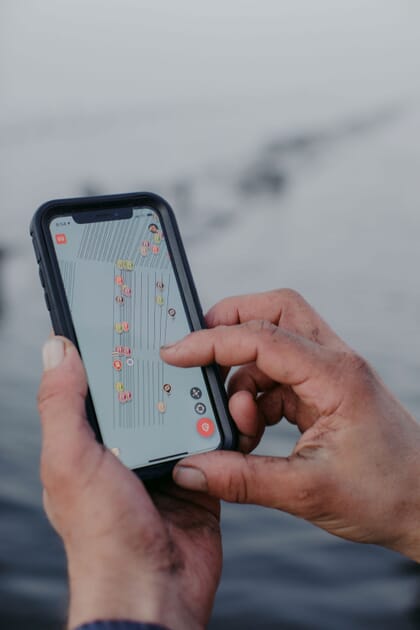 When it comes to AgTech, there is a myriad programmes and tools available to help farmers. If you can think of a problem, chances are someone has come up with a solution. And, generally, that someone is a farmer.
That was how SmartOysters* was born: oyster farmer Ewan McAsh was looking for a way to manage his farm remotely and could not find the service he needed. That same challenge also inspired grape grower Oli Madgett to create Platfarm.
Apart from both being Australian companies, the similarities aren't immediately obvious. But both platforms are championing a new way of precision agriculture, a mobile-first perspective which Madgett has dubbed "farming SatNav".
SmartOysters uses a GPS-enabled dashboard to create a real-time farm management system so it's easy to see what needs to be done, where it needs to be done and when it was done. Platfarm works on the same premise. If you think about a vineyard, it's similar to an oyster lease, in that it is comprised of rows, and Platfarm enables farmers to direct where work needs to be done.
"In viticulture, we get all this satellite imagery of our blocks and quite accurate GPS positioning, but if I want a contractor to work on a specific part of the block, I end up having to print out maps or physically put up flagging tape to tell them where to stop and start work," he says.
"I wanted to be able to easily tap out where I need work doing on my vineyard and share it with a tractor operator. The satellite navigation in their phone tells them when to stop and start work, which makes precision agriculture as straightforward as possible."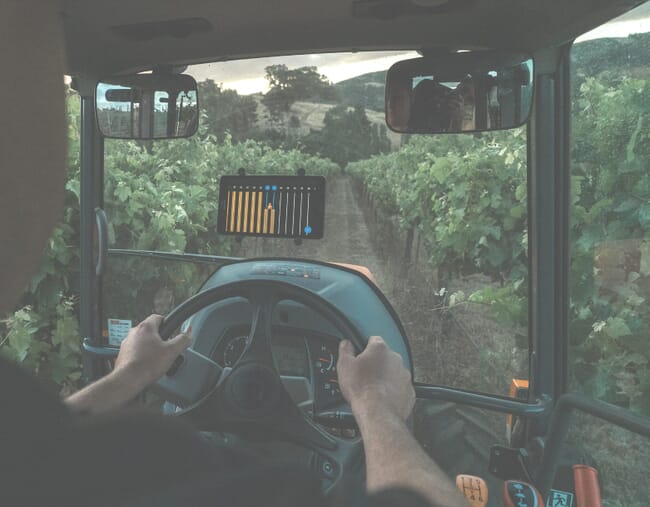 Both McAsh and Madgett set out to solve a problem on their own farms, but the products they built were so successful that other farmers wanted to use them.

"I needed a way to delegate and scale my farm, which was the 'why' behind SmartOysters," McAsh says.
"An oyster farm isn't standard across the board, which is why a standard database system wouldn't work. Each farm has a different cultivation method and scheduling priorities, depending on its infrastructure and location," he says.
"By using a geolocation system, the app lends itself to having a map-based navigation. It is intuitive and simple enough to capture information right there and then, so you don't have to remember it.
"It seemed crazy to me that I could do everything on my phone, from paying bills to checking emails, so why not use it to run the farm?"
The next agricultural revolution
Madgett believes that technology and data will dive the next wave of improvements in agriculture.
"We have all these data that give us loads of insights and you can do it with your mobile phone. Farmers are realising the opportunity that data bring," he says.
"Oyster leases and vineyards are made of rows. There are structural similarities. From a software perspective, we are actually turning each vine row into a road because we are using the same software that's used to create open street maps.

"An open street map will have data – such as parking restrictions and speed zones – so we take a similar approach in how we break up vine rows into segments, so you know which segments need work done to them. We are trying to get to the per vine level, similar to how Ewan and the SmartOysters team are trying to get to the lowest common denominator of a lease, the basket."
McAsh agrees that data is essential for optimising farm operations, allowing producers to work smarter, not harder.

"SmartOysters is a personalised app. It uses the language and scheduling of each individual farm, whether that's volume or counts, to capture what farmers are doing and that data creates more value for the farmer," he says.
"Data can make it easier for them to access finance, certify sustainability and create market differentiation, ultimately it will help them sell their oysters and create a smarter business model."

Industry feedback
When it comes to SatNav farming, SmartOysters is already a leader in the field. It launched in late 2017 and has been steadily growing across the globe.
While Platfarm is still in the Beta stage, with plans to launch in the App Store early this year, its test users include some of Australia's biggest wineries, including Taylors and Brown Brothers. Madgett says their feedback has helped shape the app.
"It's been feedback and insights from beta tester growers that's directly led to functionality, such as dropping pins along the row to flag broken posts and irrigation," he says.
"From our experience, it's been farmers who are often best positioned see the potential utility that technology can deliver."
McAsh believes feedback from users is important. Yes, he's a farmer and he created the app to solve his own operational issues, but he's also aware that each customer will use it differently.
"SmartOysters is being used all over the world for all types of farming methods and that's a huge plus. We've been super responsive to farmer feedback and our beneficial features have come from that," he says.
"For example, at the request of farmers, we have recently developed methods to manage the new FlipFarm systems through our platform. Our service is continually being refined as we work directly with the farmers who use it, and they tell us what kind of functionality they need from us."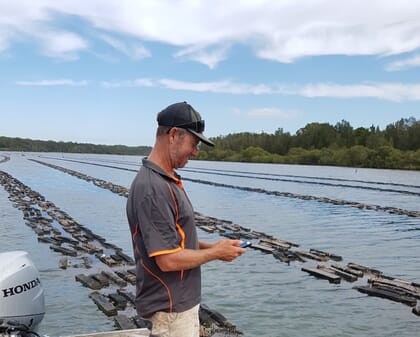 He believes that the app's geolocation system is one of its strengths and allows it to be responsive. When hurricanes swept across the Gulf of Mexico in 2019, the team created a new free to use feature in the app – farmers could mark their gear, so it could be easily found after the storm had passed, even if it had washed up next to another farmer's lease.
"Lost gear can cause huge financial losses to a farmer, by marking it on a map it allowed farmers to easily retrieve valuable gear. Using maps works. It's instantly relatable to anyone and you don't have to be technically savvy, all we're doing is transferring the paper-based maps online," McAsh says.
"Half the challenge of farming is knowing where to go and what to do when you get there. The maps in the SmartOysters programme were initially designed to help you farm and delegate tasks to employees, but they can also assist you in ad-hoc farming situations, such as chasing lost gear."
*SmartOysters is part of Hatch's portfolio, but The Fish Site retains editorial independence