On a global stage, the oyster industries in Australia and New Zealand are small fry compared to their US and French counterparts. But what these countries lack in scale, they more than make up for in innovation.
Whether it's changing the way live oysters are handled and stored, or new ways to keep track of inventory, some of the most exciting oyster-farming technology is coming out of the Antipodes.
These new advances in marine technology have the potential to change the way oyster farmers work, helping them scale their farms and increase the quality of their product.
Some have been created by farmers for farmers, some have been developed in collaboration with farmers while others came about because someone saw a gap in the market.
Here are some of the AgTech companies making big moves in the bivalve industry.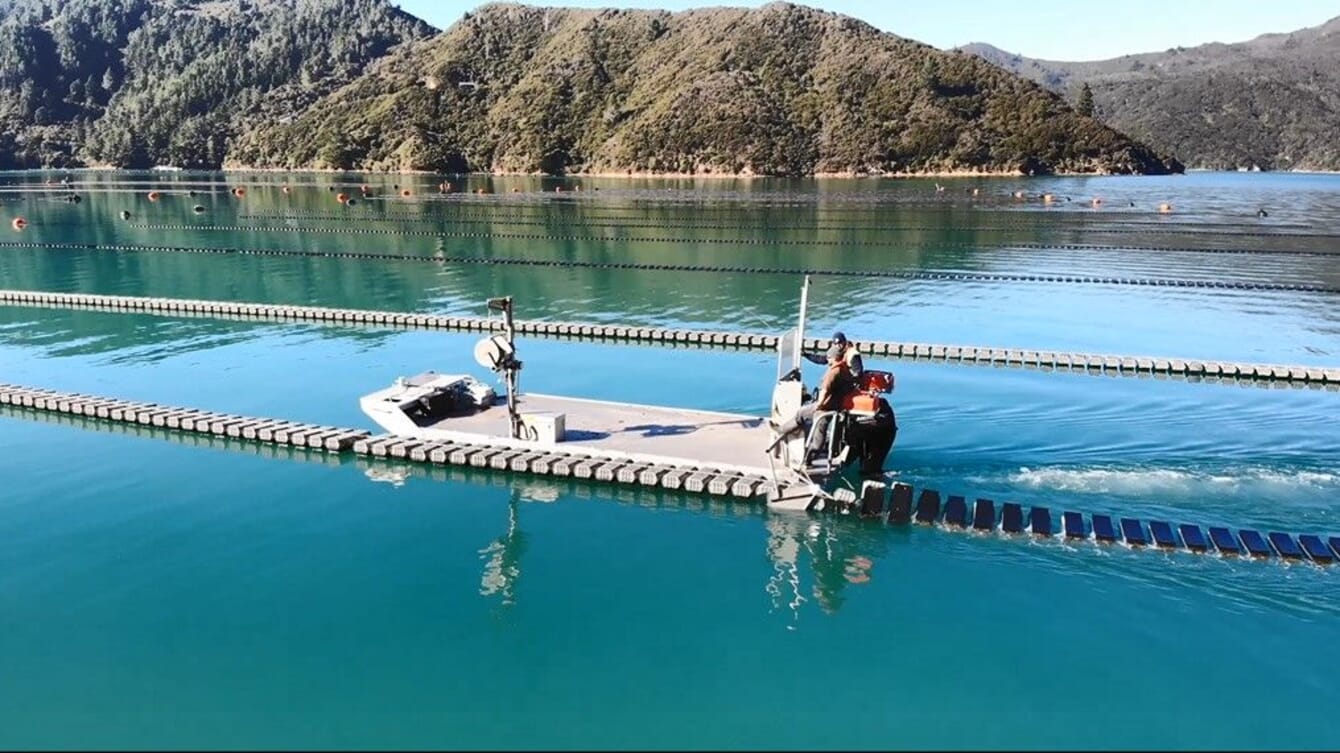 FlipFarm

This patent-pending basket system from New Zealand was developed in 2017 as an alternative to oyster bags. It boasts handling efficiency, helps reduce labour costs and creates a better growing environment for oysters, but all of this was an unexpected bonus for its creators.
The original aim was to develop a system that wouldn't fail in a storm, because the farmers were two hours away from their site in Marlborough, New Zealand.
"We started playing around with the concept due to us being in quite a rough growing area. We get a lot of high winds and damage with the bag system we were using," oyster farmer and FlipFarm managing director, Aaron Pannell says.
"We had a removable system which we had to unclip off the line. To make it efficient, we needed a method to allow them to be removed easily and stay on the lines. We decided to make something that would permanently stay on-line, even if it would be quite slow, as at least we wouldn't lose gear."
It turns out the new system was faster than the old one – six Hexcyl Pro oyster baskets can be flipped in a second.
"They're a blur as you go down the line. Because they're held in a nice line, you can treat them as one long object and manipulate them that way. We learnt all these things as we went along," Pannell says.
The speed and efficiencies meant that Pannell's farm, which handles 20 million oysters, slashed its staff from 13 staff to just four.
Soft mesh bags are typically used in Australia and New Zealand, but Pannell had the baskets on hand and thought they would be worth a try.
"We threaded a line through the middle of the basket, put on a float and when I lifted the line, they all flipped over. When you lift the baskets out of the water, gravity takes over and spins them around, but in water buoyancy takes over and flips them the other way," he says.
"We used that and developed it."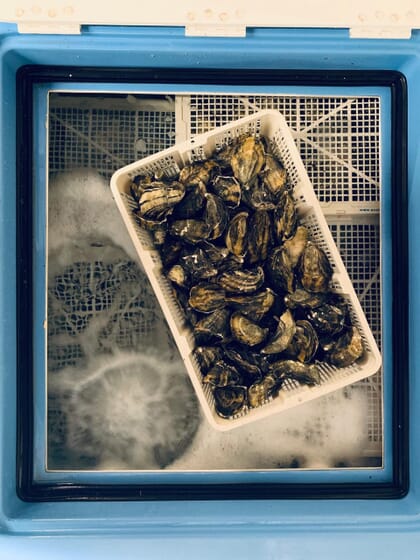 Austmarine
Traditionally, farmers keep their oysters in the farm water until they are ready to be sold. But younger farmers are embracing high-tech live tanks as a means to store their oysters for up to six months, which improves their overall quality.
Austmarine founder, Michael Hanrahan, is a refrigeration engineer by trade, who found himself designing live tank systems for restaurants and live export in 1982. His internationally patented design was unique, in that the water didn't need to be changed. This meant he had a consistent zero mortality rate for fish, shellfish and crustaceans.
"It was created for all live species. With oysters in 1985, I put them into the dirtiest part of the filtration system for three months then had them tested by DPI (Department of Primary Industries) for quality – they were perfect. Our technology controls their metabolic state, with zero loss of condition," Hanrahan says.
"Put an oyster in a bucket of water in ambient conditions, and it will tense up because it's stressed out. When it's tensed, you can't get rid of the ammonia taste. Oysters stay alive for several days out of the water, but the ammonia waste is trapped inside the shell, so it's sitting in its own pollution which can often be tasted. In our tanks, within about 10 seconds, they pop the shell slightly, and you start to see all the organic and inorganic matter expelled, and it collects on the bottom."
When Hanrahan displays his tanks at trade shows, he says that chefs are amazed at the taste difference.
He put his live tank storage to the test again when a weather event threatened the oysters in the water.
"In Tasmania, there was a tidal situation which wiped all the oyster farms out, it changed the conditions of the water in the ocean. I got a million juvenile oysters and put them in the Austmarine MC1000 – scientists said you couldn't do it – and the other half in the bay. Six months later, the ones in the MC1000 tank were all in perfect condition, in the bay they lost 80 percent," he says.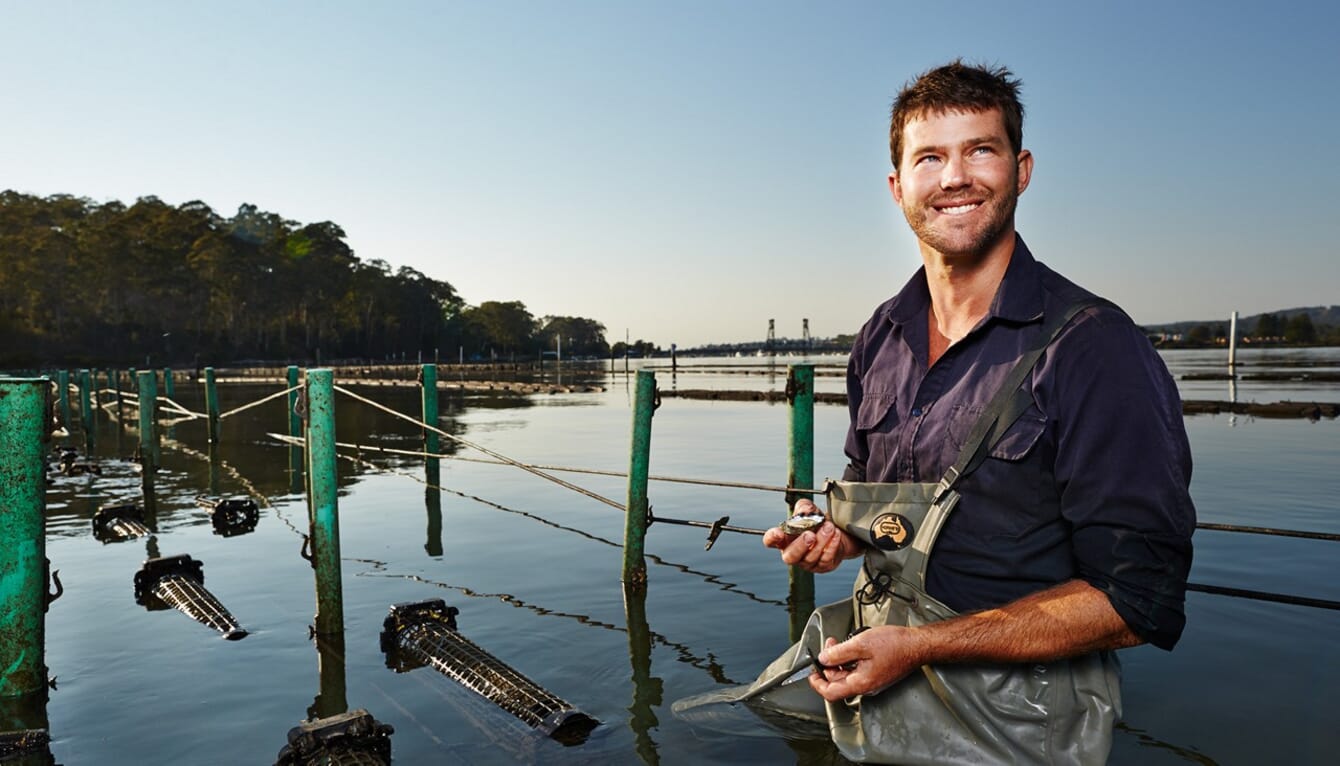 SmartOysters

This farm management system was born out of frustration. Australian oyster farmer Ewan McAsh was looking for a way to manage his farm remotely and couldn't believe there was nothing out there to help him. So he built his own.
SmartOysters is a real-time, GPS-enabled system that allows farmers to drop a pin when they're out on the lease, so they know what they've done, where they've done it and, more importantly, what needs to be done next.
It officially launched in 2018, the week McAsh's first daughter was born, and he knew he was onto a winner.
"I was sitting on the couch feeding my newborn and directing my brother-in-law on the farm using the app on my iPad," he says.
"The app is agile enough to change the language and scheduling to each individual farm, whether you use volumes or counts, and capture what farmers are doing rather than having to conform to an inflexible database."
From a farm management point of view, SmartOysters allows farmers to record what is happening on the farm in real time, rather than rely on the old whiteboard system. From a business perspective, it had another advantage.
"I needed something to help me get control of the farm as we scaled up. The biggest challenge for the oyster industry, and the reason no one had solved it, is that it's not a big market like the agriculture industry where you can download the systems for free. We asked ourselves, how do we create an app that solves the farmer's problems and make their business bigger?" McAsh says.
"The data we were capturing would create more value for the farmer. Our vision is to create more value in terms of being able to access finance, certify sustainability, create market differentiation using data and ultimately help them sell their oysters using data to create a smarter business model."
SED Water Graders
The first SED Vision Grader started development in 2000 after Tasmanian farmers asked for a way to automate the process of grading oysters. Today, the technology can grade over 18,000 market-sized oysters an hour – something that would've needed a dozen workers when done manually.
"The Vision Grader came about because farmers couldn't get enough workers, and farm profitability was low due to labour costs," product manager, Rob Deed, says.
Designed by Matthew Brown, it was a slow process as he tweaked it until he got it right and the first one was sold in July 2003.
SED exports globally, with keen interest from USA, Canada and Mexican farmers. A typical grading line (including bulk handling, washing and inspection) is around $145,000 USD once you account for delivery.
"In a lot of places, when we deliver a grader, the workers become worried, thinking 'there goes my job', but in practice this doesn't happen, they're out growing oysters instead of grading them. The farm's production levels rise to feed the machine," Deed says.
"If you can sort all your oysters in hours instead of days, you can grow a lot more oysters. Automation is great for farmers who want to scale and grow."
The SED Vision Grader was the original machine, and sizes, counts and automatically bags oysters. The Water Grader came along later and is better for separating seed and juveniles. It's much faster and gentler but not quite as accurate and needs to be combined with a bagging machine to refill baskets.
With the single seed system of growing, farmers need to grade or size the oysters as they grow. Australian farmers found the traditional "dry" barrel and shaker graders used were creating very high mortality rates, so there was a need for something gentler.
"A large hatchery in Tasmania growing seed and juveniles reported that their mortality rate dropped from 20 percent down to less than 1.5 percent after installing a water grader," Deed says.
"Although the Vision Grader will process juveniles as well, a lot of larger farms use a Water Grader for small stock and a Vision Grader for sales, they work really well together."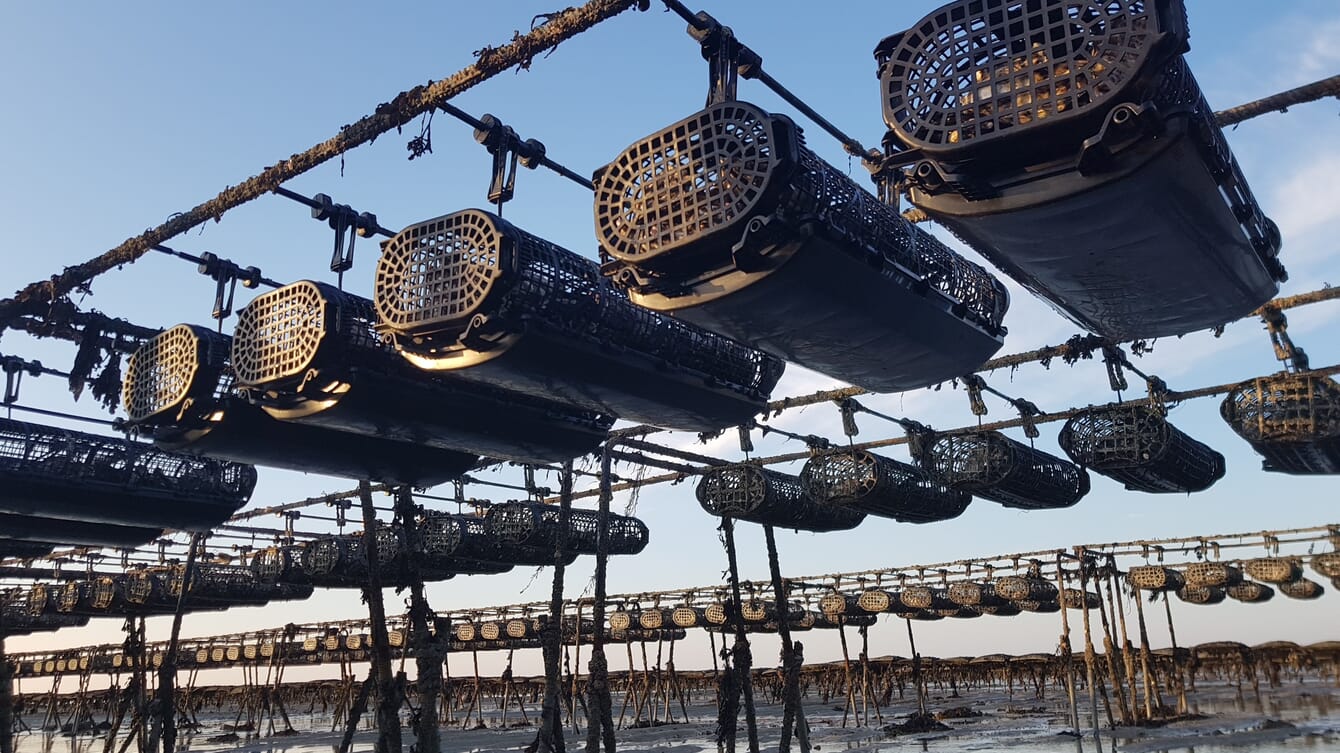 SEAPA
Haven't heard of it? Probably because it's more commonly referred to as "the Australian basket system". While there are other brands, SEAPA has the predominant market share worldwide and has become synonymous with it.
According to farm success and implementation manager Erik Schlagenhauf, it's because SEAPA works with farmers to solve their pain-points.

"It's more than just a basket. Farmers are involved in the design of the whole system, from the clips used, to how they attach to the line and how the doors open up," Schlagenhauf says.
For example, SEAPA's StormBreaker clips and bearings system came about because of an Australian farmer whose clips kept wearing on the line.
"They had trouble with an extreme amount of wind and wave action on their farm and a lot of sand in the water column, so we developed the StormBreaker system so that a clamp bearing goes over the line and the clip goes around that. It's a more robust, much stronger and bigger clip compared to the standard ones on the market," Schlagenhauf says.
Before Schlagenhauf started working with SEAPA, he was one of their customers.
"I've been an oyster farmer for over 15 years. When I started, baskets weren't generally used in the US. I heard about the Australian methods and started to explore them," he says.
"The US uses a lot of different systems, from bottom planting to mesh bags and wire cages because you have a really broad range of growing areas, from bays freezing over in winter to different tide ranges.
"The great advantage of SEAPA is we are actively engaged with farmers around the world to develop systems that work in a variety of environments. We go out to the farm, see what's working and what can be better so we can adapt our baskets, accessories, and systems to work for different conditions and farmers' needs.
"One of our current development projects is a float case for our baskets, to take advantage of the wind and wave action at a farm, to help oysters rumble and develop better shell and meat quality."