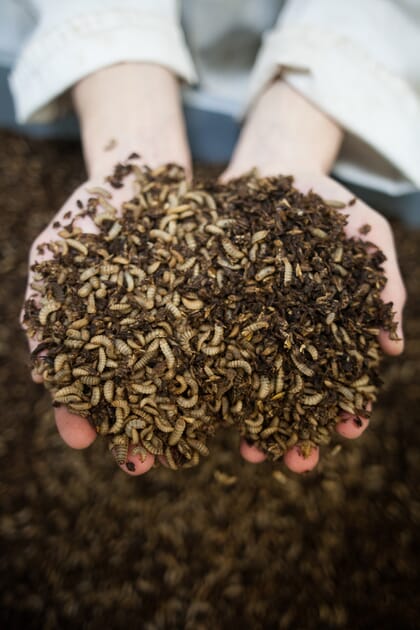 So notes a new report by Rabobank, which suggests that, while investing in insect protein production looks promising, the overall impact that the sector is likely to have on the sustainability of the global aquaculture industry is going to be limited by the relatively low volumes of insects produced.
On a more positive note, it argues that developing functional feeds from insect ingredients could help to improve performance, reduce FCRs and lower mortalities in the the aquaculture sector.
Background
The report notes that as little is 10,000 tonnes of insect protein is currently produced globally, due to limited production capacity, high production costs and legislative constraints.
Despite this, however, there has been a flurry of investments in the sector, with over €1 billion currently invested, most of which took place in late 2020, in deals relating to Ynsect and by InnovaFeed, companies that "stand out for their business models, partnerships, or rapid geographical and product suite expansion".
These companies links to aquafeed producers - for instance InnovaFeed's strategic partnership for salmon and shrimp feed with Cargill, and Skretting's commitment to insect proteins with several companies, including Protix and Ynsect - have helped to fuel the sector's growth plans.
Prices
The currently price of insect protein ranges between €3,500 €5,500 per tonne, compared to fishmeal which ranges from $1,200 to $2,000 per tonne. But, the report notes, that the "sustainability benefits that insects can offer seafood products – such as decreasing the dependency on marine ingredients – combined with marketing of the final product, can justify relatively high prices".
"If there are also well-understood functional benefits in addition to the nutritional benefits, their use in aquafeed would increase. Largely proven functionalities, such as supporting the gut and immune health of fish and antioxidant features, can help insects to achieve a price premium," the authors add.

According to the report this price will remain similar throughout the scale-up phase, before dropping by €1,000 per tonne, and by another €1,000 per tonne when the sector reaches maturity.
Aquafeed and insect protein
They estimate that 500,000 tonnes of insect protein will be produced by 2030, of which aquafeed will utilise 200,000 tonnes, petfood 150,000 tonnes, poultry 120,000 tonnes and piglets 30,000 tonnes.
While 200,000 tonnes may sound like a lot, it represents less than 1 percent of the global aquafeed market in today's volumes.
"It is true that current volumes of insect protein are small, and although growing, the future volumes in the next 10 years will still be minor in comparison to other feed ingredients. However, we can't ignore the circularity and sustainability impact insects can bring - not only to aquafeed but to all feed industries. Insects can play a crucial role in upcycling low value waste into a high value ingredient. In addition to that shorter supply chains and local feed production systems can be created. A number of large companies like Mowi have already made commitments on sustainable soy, so it looks like sourcing sustainable feed ingredients will get more attention in the aquaculture world," the report's authors told The Fish Site.
During the current scale-up phase they argue that the growth in demand from the aquafeed sector will be based on the nutritional qualities and sustainability credentials of insect feed. The second phase meanwhile will be based on the improved palatability of insect-based feeds as well as their nutritional impact – making them ideal for high-value freshwater species, such as eels and sturgeon, as well as juvenile salmonids.
In the third phase, states the report: "insect proteins will be used alongside fishmeal and soybean meal but in relatively small inclusion rates, sufficient to achieve their functional properties. As such, their price will not be a reflection on what they replace but what they contribute to the overall value proposition of the feed. This should allow profitable scale-up."

"However, it is clear that not only is more research needed, but the functional properties will need to be demonstrated to the aquafeed industry in a commercial setting. Although there are some very promising indications, this will take time," the report adds as a caveat.
Beyond 2030
Looking beyond 2030 the authors believe that the possibility to increase insect protein production to up to 1 million tonnes a year is likely. At this stage "insect proteins and oils will be new raw material categories, which, in combination with fishmeal, soybean meal, or other novel ingredients, will create better performing aquatic feeds with lower environmental footprints," they state.
As long as aquafeed trials continue to suggest that insects can have a positive impact on gut and immune health, improve feed palatability and reduce FCRs then they will be used in premium feeds for broodstock, juveniles and high-value species in particular.

"Sustainability and high protein content are not the only benefits insects can bring to aquaculture world. A number functional benefits - eg decreasing mortality and FCRs, and improving fish health - are key for most aquaculture companies. As these functionalities are further proven, the interest for insect protein will increase. To benefit from these functionalities, bulk volumes of insect ingredients in feed formulae will not be necessary. Relatively small inclusion rates would be also sufficient to achieve the functional properties," the report's authors emphasised to The Fish Site.
Looking even further ahead they see R&D helping to realise the potential to develop specialised insect-based ingredients for feed, human food and beyond as being "potentially the most profitable part of this new industry".