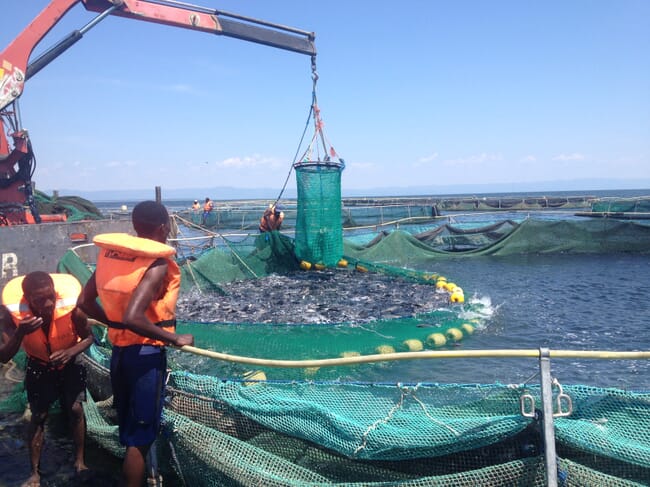 "Everyone gets excited about aquaculture – it attracts impact investment as it relates to producing food, it's connected to natural resources, and ties into the green / blue movement," reflects de la Fargue.
"We were generally considered as the largest aquaculture producer in Africa, producing around 10,000 tonnes in a fully integrated system when I joined. But the bigger the better is not always the most suitable goal; while appropriate scale in essential, a viable platform is more important than size," he adds.
Lake Harvest operates three farms – the largest is on the Zimbabwean side of Lake Kariba and produces both fresh and frozen tilapia (whole, gutted and filleted) for the domestic and export markets. While this operation once produced 7,000 tonnes of tilapia per year, it has since been scaled back to 4,000 tonnes – this was a function of a declining market in Zambia for exports and the need to get the basics right.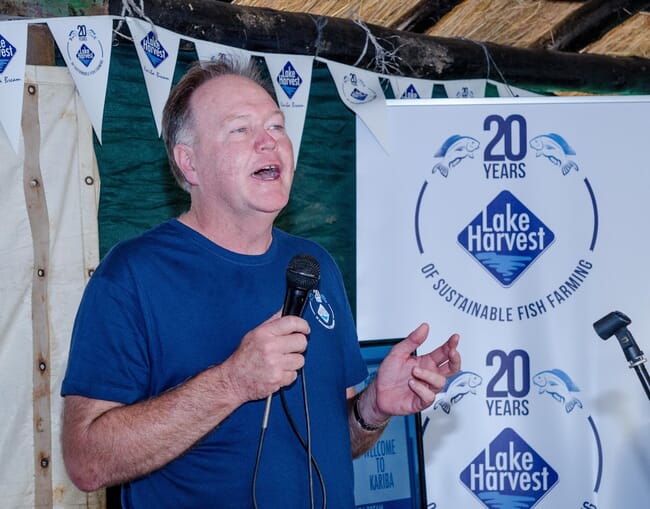 Their farm in the Zambian side of Lake Kariba produces fresh fish only domestic consumption – at its peak it produced 2,000 tonnes a year now this is closer to 1,500. Their third farm is in the Ugandan section of Lake Victoria and produces 2,000 tonnes a year, largely for the Ugandan and Kenyan markets.
"Reducing the volumes of fish we produce has meant that we can find a route to market at viable prices. Future growth has to find demand first and huge increases in production supply have reduced prices in the past – we need to be cautious for the future. We have the flexibility to choose our own market timing and routes to market, as we have frozen fish and a range of value-added products. Increasing production as an end in itself has proved counterproductive and costly," he explains.
The company's original investors have supported his plans for rightsizing the business, and all three retained their faith through trying times. Notably in 2020-21.
The largest of these was African Century, a UK-based investment company that took his name from Kofi Annan's prediction that the 21st century would be "the African century". In the late 1990s Annan's optimism was shared by many commentators, who predicted that population growth would be matched by a significant increase in the GDPs of many African countries.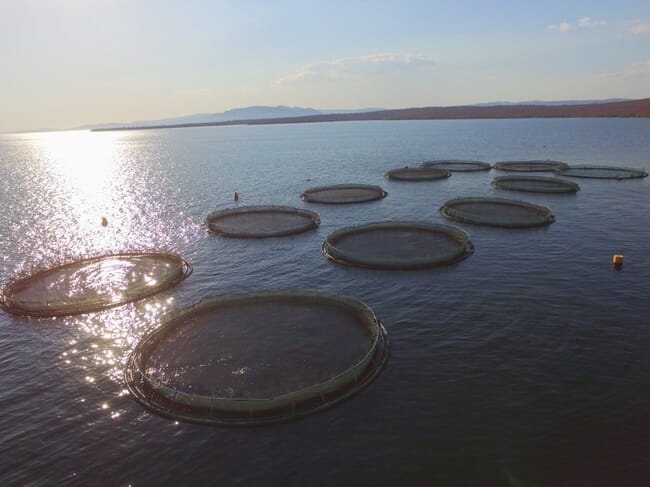 A rise in prosperity tends to be accompanied by an increase in demand for quality animal protein and this prompted African Century to invest in fish and poultry production, hence the birth of Lake Harvest in 1997.
Unfortunately, as de la Fargue points out, by the second decade of the 21st Century, Annan's prediction was looking a little off-target, in particular in Zimbabwe, which was suffering from huge currency devaluations, underpinned by political volatility.
Despite these challenging circumstances, de la Fargue – who was born and raised in Zimbabwe, worked in finance in Europe for much of his early career, before running a poultry operation in Mozambique for African Century – decided to rise to the challenge when offered the CEO's position in Lake Harvest in 2016.
"I didn't think there would be the opportunity for any super profits and I knew it would be a challenge, but I like a challenge," he reflects.
Under his leadership the company has gradually evolved, with an emphasis on becoming increasingly professional and on nurturing home-grown talent – elements that de la Fargue's local knowledge and time in corporations were well placed to promote.

"It was important to have top management based in the region, allowing me to get to know the underlying principles of the companies and countries. I tried to introduce a more corporate culture by setting more rigorous performance benchmarks, standard operating procedures and more nimble reporting structures. I also got to know the general managers of the farms and distribution companies in the first few years before Covid-19 struck – this helped establish a sense of trust, which would be critical in later years," he explains.
The culture fostered by the new CEO allowed talented people from the 600-strong company to rise through the ranks. "I've only ever brought in one person from outside the business, all other promotions have been internal, which has inspired a good reaction," de la Fargue reflects.
Despite these successes, de la Fargue was soon faced with another, unforeseen, challenge – the Covid-19 pandemic.
"It was clear we needed a huge investment just to carry us through the crisis of 2020 and 2021.
Covid created a number of problems, including travel restrictions, logistical issues in the factories and cross-border restrictions. The drop in GDP per capita led to people moving down the food chain and buying more vegetable-based products," he explains.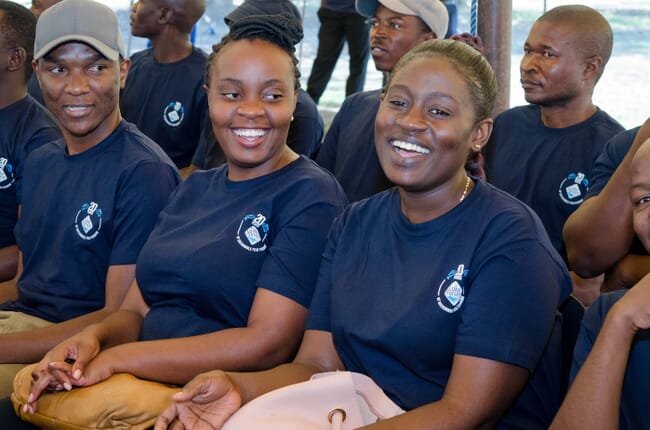 Thankfully, however, the company's investors have kept the faith and de la Fargue believes that they're now set for a period of more sustainable viability, based on solid foundations rather than a blinkered focus on growth.
"I also believe in our multi-farm and pan-African strategy. For example, the Zambian market collapsed in the last two to three years but thankfully we have spread our risk across several markets – including Zimbabwe, Botswana, Malawi, South Africa, Uganda, Kenya and Democratic Republic of Congo (DRC)," he reflects.
De la Fargue is also committed to ensuring that quality takes precedence over quantity.
"We try to be the best in class. We need to replicate the best things from each of our farms and be in the top 10 percent in terms of quality and market presence. The danger is that our tilapia will become a commodity which needs to compete with terrestrial proteins, wild-caught fish and Chinese tilapia imports. As a result, we differentiate our products, providing a range of premium products 52 weeks a year," he explains.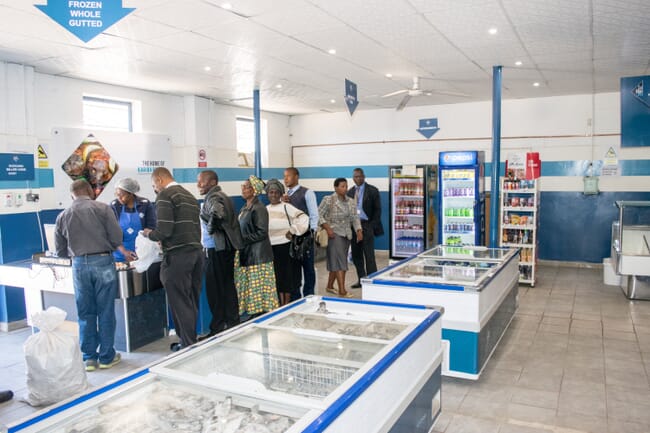 The bigger picture
While de la Fargue believes that Lake Harvest is in as good a position as any aquaculture producer in sub-Saharan Africa, he is also acutely aware of the challenges that the whole industry faces in the region.
"It's expensive and time consuming to establish a fish farm. You have to construct the site, establish a breeding programme, source feed, manage disease and theft. And the working capital risk turnaround time is six to nine months – this is a risky business, no doubt," he reflects.
He adds that even established farms like Lake Harvest have ongoing issues to contend with.
"Genetics is the biggest limitation – we don't have the capacity to develop this dimension ourselves alone. Whilst we can use GIFT strains, producers in Southeast Asia and the US are making huge genetic leaps forward, while we face limitations in terms of importing new strains into the country. Thankfully, however, we have recently been given the green light to import fry into Zimbabwe from Spring Genetics in the US, if we can prove they have no health issues. This would help to improve our growth rates and reduce our FCRs. We then need to replicate this in our broodstock here," he explains.
Lake Harvest is also working with genetics companies to optimise its existing broodstock, but this will only pay dividends in the longer term. "It takes three to five generations to make the necessary improvements," he notes.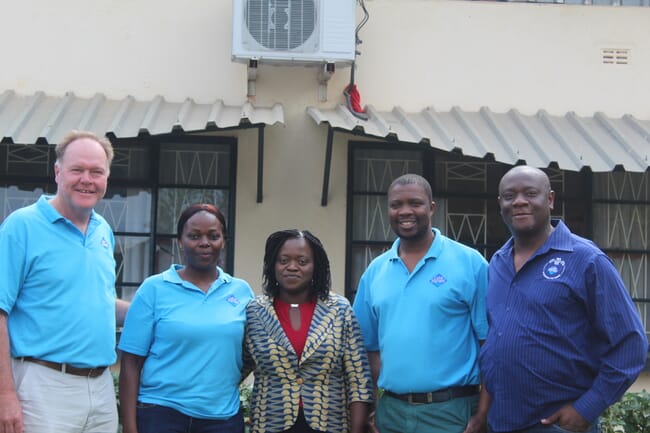 Aqua-Spark's investment
Lake Harvest was recently in the news for landing a $7 million investment from Aqua-Spark* and Norfund. This makes these two investors the largest two in the group shareholder structure, alongside African Century.
"Aqua-Spark has added another dimension and the development of aquaculture in Africa is their primary goal, which will make them a lot more patient and broader thinking," reflects de la Fargue.
"They liked the spread of our farms, our local knowledge and the fact that we have a track record of strong institutional knowledge, but also work closely with other farmers. They'd like to see us become a successful lighthouse operation to inspire others to invest in this sector in Africa. They also see us as a solid platform with scope for growth."
This should be seen as good news for sub-Saharan Africa's entire aquaculture sector, according to de la Fargue. As any corporate tombstone in the sector hurts all aquaculture businesses, each success gives the sector renewed confidence.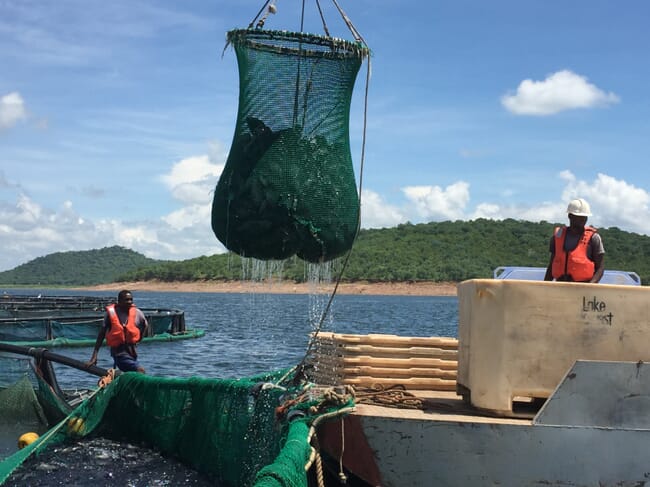 "It's a welcome addition after 10 to 15 years of few investments and even some of our competitors have thanked us," he says.
He adds that the stakes are high, and the success of multiple fish farming companies is vital.
"It's still a very small sector and the failure of any fish farming operation in the region will be detrimental to all of us. It's imperative that no one trips up or defaults on loans," he notes.
Despite the risk of investing in the region, de la Fargue emphasises the importance of being honest with potential investors.
"You need to be totally open about the macroeconomics, the conditions of business and where you have gone wrong in the past (and learnt from it). The reality is that fish feed prices have increased by 15 or 20 percent in the last two years – as raw materials such as soy and maize have reached all time high spot prices, logistics costs have gone up and local currencies have devalued – but it's important to put this on the table and work together how to overcome challenges like this. Improvements in genetics, for example, can reduce FCRs significantly," he explains.

"We need to understand and appreciate local politics and we need to have our fingers on the pulse. We need to reduce our exposure and ensure that no single region accounts for over 35 percent of our sales. We also need to grow more in stable states, like South Africa and Botswana. We believe we can grow our market to include any region of Africa to which we can deliver our fish for less than $0.15 per kilo in terms of freight cost," he adds.
"This is a patience game – we need investors who understand the risks and are able to look at the longer term view," he concludes.
*Hatch is part of Aqua-Spark's investment portfolio, but The Fish Site retains editorial independence.