Using sonar to help farmers solve the biomass problem
Suzan Shahrestani, CEO of Baltimore-based growth company Minnowtech, wants to use sonar to help shrimp farmers optimise their process – and has developed a tool that will let shrimp farmers leverage their biomass data to become more sustainable and efficient.
Sonar has huge potential for the shrimp industry – giving farmers a non-invasive way to assess their stocks, conduct image analysis and monitor their progress. Though the technology has been around for decades, its use in the sector has been relatively limited. But a new cohort of innovators are using sonar to develop precision technologies for shrimp aquaculture.
The Fish Site recently sat down with Suzan Shahrestani, CEO of Maryland-based growth company Minnowtech to discuss how the BRS-1, their sonar biomass detector, can help shrimp farmers get control of their production data and maximise their outputs.

Can you tell me a bit about your background and how Minnowtech got started?
I have a degree in fisheries science from the University of Maryland Centre for Environmental Science (UMCES) and I wanted to learn more about food sustainability. Eight years ago, I had done a master's degree at Hashemite University that focused on olive tree farms in Jordan – I learned how challenging it was for farmers to grow food when they had to contend with major gaps in their data. I knew that there was a scientific solution to the problem, but nothing seemed to be improving. It felt like no one was approaching farm problems with an innovative mindset.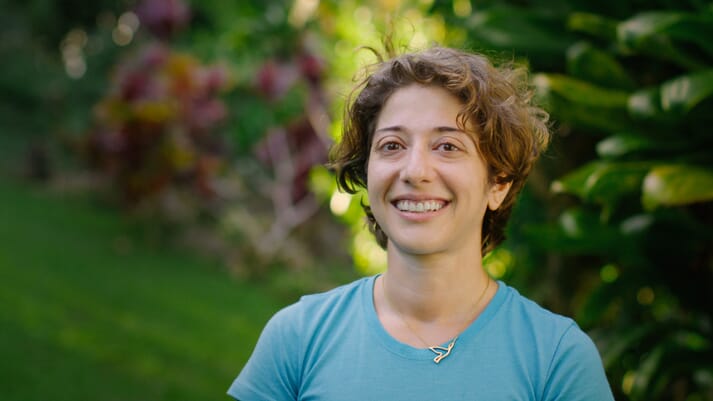 When I went back Stateside after my time in the Middle East, I was determined to find a way to use technology to fill those data gaps. My central question became, "how can we use science to grow better food?". Even though I was passionate about the idea, I didn't really have a species model – I just wanted to learn what tools I needed to use to fill in the data gaps.
When I started my PhD at the University of Maryland, I was using sonar instruments developed by the US Navy to look beneath the surface of murky water in the Chesapeake Bay. Because people are essentially blindfolded when it comes to what's in murky water, we were seeing things in that ecosystem for the first time. We were using these high-resolution sonar cameras and seeing things like jellyfish. We had generated so much data when before, there wasn't any.
During the fourth year of my PhD, I met my co-founding partner Ken Malone during my entrepreneur fellowship. When I told him about using the sonar cameras, he asked if I had thought about using those sensors to count farmed fish and shrimp instead of jellyfish. Ken really understands the challenges shrimp farmers face when they try to count biomass in their ponds – and I had the solution! We founded Minnowtech basically overnight and three months later, we were off to the Hatch Accelerator programme.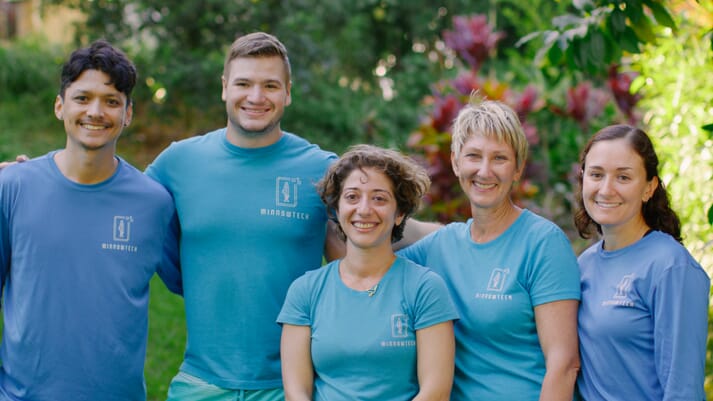 Why is estimating biomass such a challenge in shrimp aquaculture?
Estimating shrimp biomass hasn't improved much since the industry's inception. Usually, farmers throw a net out into the water to collect a sample of shrimp from the pond, and then they use that inaccurate sample to estimate the total number of shrimps in their ponds. But with sonar, you can see the animals in their individual locations in the water column. It gives you a picture through time of what's actually occurring in the water.
How is Minnowtech using sonar?
The sonar tool I had previously used during my PhD was overengineered for aquaculture. We decided to pare down that device and design something that was specific for shrimp production, was durable under farm conditions and that was cost-effective. That's how we came up with our concept for the BRS-1. Our manufacturing partnership with OTAQ was also instrumental in this. OTAQ were already developing sonar technology for aquaculture, so now that we've teamed up, we can produce our devices at cost for what we want to achieve.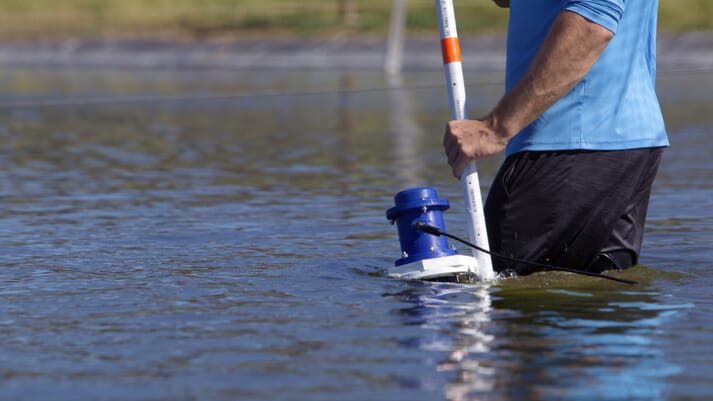 That's the secret sauce of what we do. We use the sonar as a tool and then pair it with mathematics and statistics that can track the shrimp population. We pull from different scientific disciplines to explain what we see with the device and then predict what will happen next during the farm cycle.
It was important for us to keep a producer's price point in mind – at the end of the day, you could have a fancy machine that counts shrimp, but if a farmer can't afford it, they aren't going to adopt the technology. Our next step is engaging in customer discovery to learn more about challenges on-farm and then develop the technology in parallel.
What are the BRS-1's capabilities and why is it unique?
The BRS-1 counts individual shrimp and can extrapolate that information to biomass with 95 percent accuracy. The device can be deployed in any size pond and generate reliable biomass counts that can be accessed via an online portal. Since biomass is probably the biggest data blind spot in farm operations, if we can provide this number, farmers' day-to-day activities can be more efficient and strategic. Estimating biomass with 95 percent accuracy means that when shrimp farmers wake up in the morning, they can see if their shrimp population has remained stable from the night before. Along with tracking survival, it also lets producers adjust their feeding schedules and predict harvest dates – which leads to a huge cost savings for farm inputs.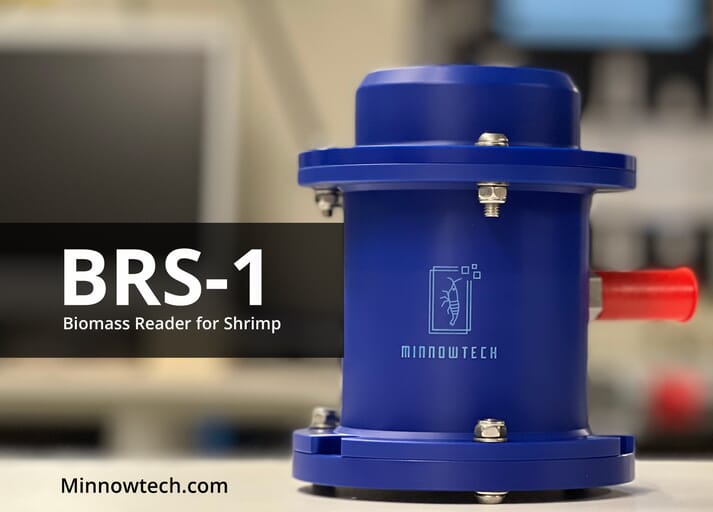 As we collect more farm data, we can go back and conduct additional analytics on the high-quality visuals and dataset. In the future, this will let us design more features and let us analyse shrimp behaviours like foraging and satiation.
The hardware itself isn't unique – sonar has been around for decades. Minnowtech's understanding of marine science, shrimp ecology, behaviour and how we process data is what makes us stand out. The BRS-1 isn't computationally demanding and doesn't require a lot to work on-farm. We've developed the device so anyone can operate it – once it's installed, farmers are good to go. It's a merger of a simple and elegant technology that provides accurate and meaningful data to farmers and managers.
How can shrimp farmers learn more about Minnowtech and the BRS-1?
We're hosting a #FakeLiveStream on 21 April at 9PM Est where we will showcase the device, how it's deployed and what it can do. We've interviewed farmers who are using the device and have input from our manufacturing partner OTAQ that explains how the device works. We want to show Minnowtech's potential and what the BRS-1 can do – and answer any questions from potential users. We want to talk to as many farmers as we can and see if we can bring them on as trial partners.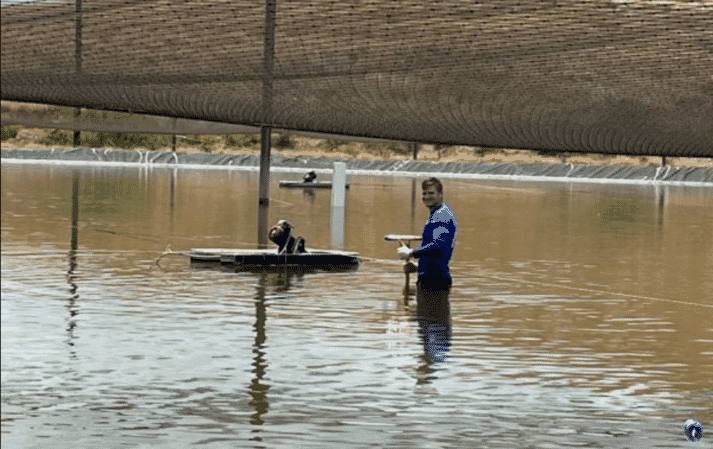 Our trial partnership programme will provide BRS-1 devices at a 40 percent discount with six months of free biomass readings included. Once selected, each trial partner will need to purchase a minimum of five devices. During the trial, Minnowtech technicians will deploy the devices, begin taking biomass readings and posting all the results to an online dashboard. The information gained will be essential for forecasting harvest dates, tracking survival rates and drastically improving feeding efficiency.

How do you see things evolving for Minnowtech?
We've been doing our initial trials with Kauai Shrimp and their team. They produce shrimp in round ponds with polyurethane liners and source their water from a saltwater aquifer. They've really helped us refine our approach and we're looking to expand to other shrimp production hubs like Vietnam and Indonesia. We're looking for new trial partners and we're excited to see where we can go next.

As we expand, it's a scaling game. We want to be strategic about how we roll out in different countries. We're playing close attention to every shrimp farming region across the globe and keeping track of individual farmers' needs. Shrimp farms are different from location to location – so their needs and pain points change. We're listening to farmers as we enter new regions to see how we can make the best impact.
We're also keeping a close eye on the BRS-1. We're putting hardware and electronics in water – that's always going to be a challenge and it's a mistake to underestimate that!