Using AI help to predict harmful algal blooms
A project that aims to develop artificial intelligence (AI) tools to predict harmful blooms (HABs) of marine algae has been awarded £200,000 funding.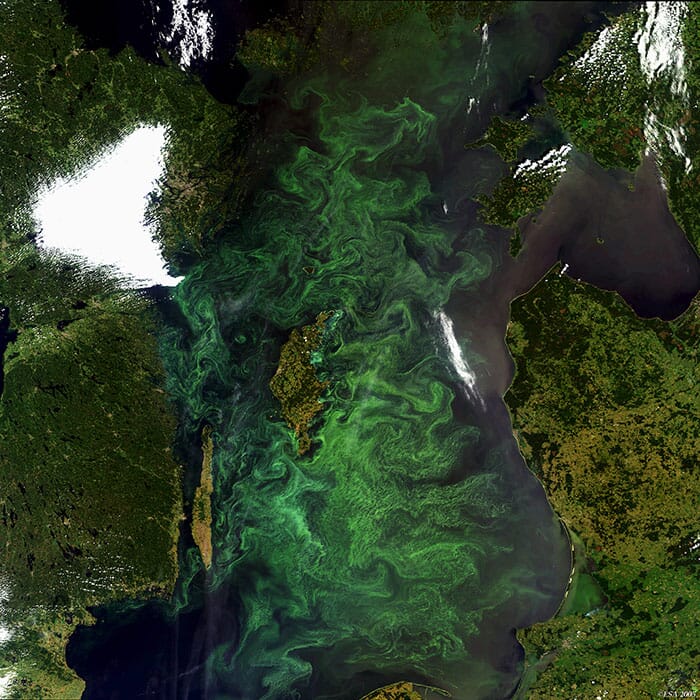 HABs produce biotoxins, which can accumulate in shellfish and poison human consumers and can also severely lower oxygen levels in water, potentially killing fish and other marine life. A global problem with huge economic consequences for sectors, including both shellfish and finfish aquaculture, HABs are increasing in frequency and impact, apparently in conjunction with climate change and increasing coastal development.
The new project is being led by Cornwall Port Health Authority and supported by the University of Exeter, University of Glasgow, the National Oceanography Centre (NOC) and the Centre for Environment Fisheries and Aquaculture Science (Cefas). It has been made possible by a grant from the Department for Business, Energy and Industrial Strategy (BEIS).
Through the Centre for Sustainable Aquaculture Futures and SWEEP, University of Exeter researchers will work to develop and trial a range of innovative technologies for monitoring and modelling the development of HABs.

Dr Andy Turner, from CEFAS, said: "This project will help develop a predictive approach for assessing natural toxin occurrence, which can ultimately benefit business in the region, aiding the safe supply of shellfish and reduced risks to the health of human consumers of shellfish."
Innovations that will be developed include molecular detection methods for quantifying HAB cell abundance in seawater and lateral flow devices for quantifying HAB toxins in shellfish, as well as data-driven models for predicting HABs incorporating machine learning and statistics.
These are expected to assist regulatory authorities, such as Cornwall Port Health Authority, to target and schedule shellfish monitoring campaigns and harvesting closures more effectively, to better manage risks of HABs to human health and shellfish businesses.
Dr Ross Brown, from the University of Exeter, said: "This work is particularly pertinent to hotspots in south-west Cornwall, where the frequency and duration of seasonal blooms of warm water HABs species could increase substantially with climate change."
Predictions will allow aquaculture businesses to plan the siting and timing of operations, to minimise the impact of HABs, and in turn improve the viability of shellfish aquaculture in the South West.
Dr Oliver Stoner, from the University of Glasgow, said: "This work will exemplify the positive impact scientific innovation and statistical modelling can have on the sustainability agenda."