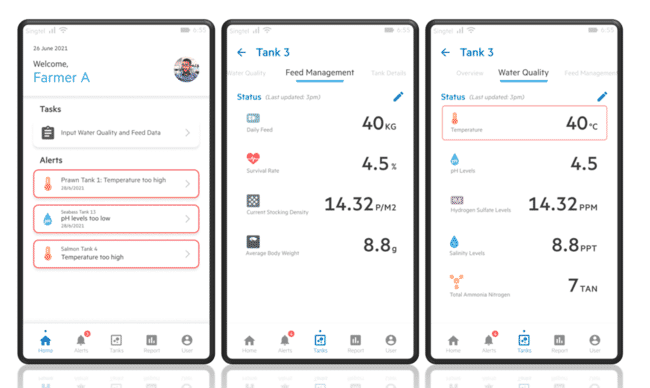 The trio's AI-driven solution will include a mobile app that is powered by the SAS Viya platform, enabling farmers to gain insights into critical parameters in aquaculture, such as water quality, feed management and animal health through real-time data analytics technology.

The application is specifically designed for farmers in Asia – taking into consideration common species grown, farm infrastructure, weather and insights on common disease challenges in the region.

Farmers will also be able to receive alerts on the app informing them of any potential issues and the appropriate remedies needed. The constant collection of data can also help generate dashboards to provide users with analytical insights on the quality of their farms.

"The solution will help in monitoring the culture environment and provide the insights that will support our productivity and yield goals for our smart aquaculture farms. With our extensive network and expertise, we are also able to bring this solution to the aquaculture sector to the Asia region. Partnering with a leading technology innovator like SAS to help the local fish and shrimp farming industry get smart is a great move forward. With food security a key priority, analytics can help in providing the critical insights that bring us to the next level in sustainable and efficient farm production to meet local demand," said Dr Farshad Shishehchian, group president, CEO and founder of Blue Aqua International, in a press release.

"Developing AI capabilities is critical to the long-term success of the region's smart farming programme," said Remco den Heijer, ASEAN vice-president at SAS. "Farmers have an amazing opportunity to evolve their methods and adapt to technology solutions that can help them be more efficient and achieve higher yields through smart farming. We are proud to be collaborating with Blue Aqua in this," he added.

"As a global technology leader, HPE firmly believes that technology can be leveraged to help solve many of society's biggest challenges. By partnering with Blue Aqua and SAS to build this platform, we aim to help farmers draw insights from data in order to help boost product quality, drive efficiency, lower costs, and increase capacity, while maintaining a commitment to sustainable high-quality farming," said Kong Hoe Chan, managing director of HPE Singapore.

The app will be available for download on the app stores by August 2021.