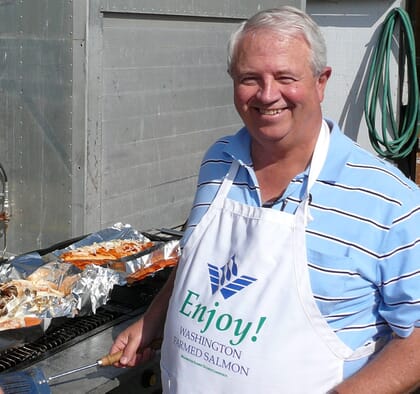 Swecker, a military veteran who earned a Purple Heart, Bronze Star, and 25 Air Medals for his valour as a helicopter pilot in Vietnam, was executive director of the Washington Fish Growers Association (WFGA), an organisation he helped launch to promote fish farming in the state.
From 1993 to 2013, Swecker also served in the Washington State Senate, representing the people of the 20 th District. He was vice-chair of the Agriculture and Environment Committee and served on the Natural Resources & Parks and Ways & Means Committees.
After retiring from WFGA in January 2019, he became a senior advisor to the Northwest Aquaculture Alliance (NWAA), where he was honoured with a Lifetime Achievement Award in December 2019 for his tireless advocacy of the aquaculture industry. In addition to testifying on many contentious issues, Swecker authored numerous opinion pieces about the need for the voice of science in the debate about aquaculture.
"Dan Swecker viewed aquaculture as both a job creator and as a way to produce local seafood that people could afford, and tirelessly fought to streamline the permitting process," noted former WFGA lobbyist, Jim Zimmerman. "In his 26-year tenure at WFGA, Dan advocated for streamlined permitting for both freshwater and marine aquaculture, as well as a more rational approach to governance of an industry that was expanding in other countries but lagging in the United States.

"Dan once joked that fish farming took more courage than it took to earn the Bronze Star and Purple Heart," recalls industry consultant and former president of Stolt Sea Farm Washington, Dr John Forster. "Against all odds, Dan and his wife, Debby, started their own intensive salmon farming operation in Rochester (WA), which was a very impressive operation, given the level of development in the aquaculture industry at that time,"
"Everyone who worked with and learned from Dan Swecker knew him to be a man of his word—highly ethical and absolutely generous and kind."
Former Washington Farmed Salmon Commission executive director, Pete Granger, concurs, remembering Dan Swecker as "a true gentleman," who, in his dual role as state senator and WFGA leader, "was imperturbable in the face of critical issues and unfair criticism of the industry." According to Granger, Swecker "never got discouraged during these contentious times. He was such a steady influence on all the salmon farmers."

Bill Dewey, director of public affairs for Taylor Shellfish Farms, described Dan Swecker as "an aquaculture visionary, a true gentleman and effective statesman". He noted that, while Dan was "a fish farmer at heart, he always had the success of the entire aquaculture industry on his mind". For example, Dewey pointed out, "When the legislature eliminated funding for the State Aquaculture Coordinator, Dan stepped up to fill the position on a volunteer basis. If there was legislation Dan thought might harm or help shellfish growers, I could always count on a call from Dan to give me a heads-up," he said.
Industry leader Kevin Bright, who currently serves on the NWAA board of directors, and who served for many years on the WFGA Board, recalls Swecker as being "a diplomat who could bridge gaps and reach across the aisle".
Bright, currently the permit coordinator for Cooke Aquaculture Pacific, said he was fortunate to have worked in the past with both Dan Swecker and Jim Zimmerman on initiatives that included streamlining the permitting process for fish farming to changing cumbersome and outdated regulations.
"We always referred to Dan Swecker as the 'foster father for our industry' because of his tireless efforts in the state legislature to help this fledgling industry grow and succeed," Bright said.
Bright recalls attending meetings in Olympia in the '90s with then-Senator Swecker: "He knew how things worked in Olympia. I wanted to grow fish and not be involved in politics. Dan wanted to grow fish, too, but realized he needed to get into politics to help make aquaculture happen in Washington state."
Zimmerman remarked that one of Dan Swecker's most effective lobbying efforts was the orchestration of a salmon barbeque - where, armed with grills and high-quality farmed salmon from WFGA members, "Dan would put on his chef's apron and cook salmon the way it should be cooked."
Zimmerman added, "Dan was a true gentleman and statesman who served his country, his community, and the State of Washington with utmost respect."
A memorial service will take place at 2 pm, Friday 17 September, at the Centralia (Washington) Community Church of God, 3320 Borst Avenue, Centralia. An outdoor reception will follow.