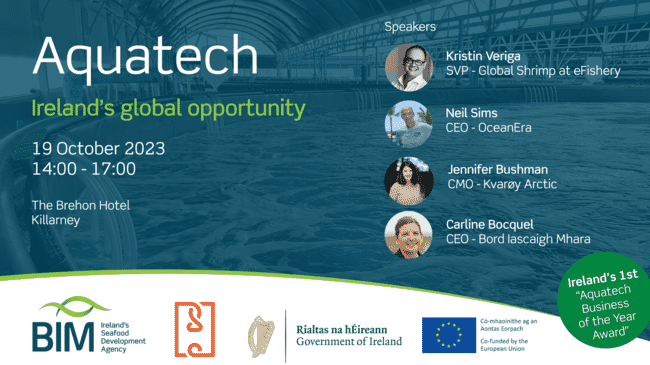 Called Aquatech: Ireland's Global Opportunity, the conference is taking place on 19 October at The Brehon Hotel in Killarney.

The event is organised by Bord Iascaigh Mhara (BIM) and Hatch and it coincides with the sixth edition of the BIM aquatech innovation studio – a programme developed by both organisations, which has supported Irish entrepreneurs within the aquaculture and aquatech sectors to scale and develop their businesses.
The event, which runs from 2-5 pm, is an opportunity for key stakeholders in Ireland's aquaculture innovation community to network, share ideas and hear from some of the most influential and exciting figures in the aquaculture industry.
It will be kicked off by Caroline Bocquel, chief executive of BIM, Ireland's Seafood Development Agency, which oversees the development of a sector worth €1.26 billion.
BIM's chief will be followed by Jennifer Bushman, a sustainable seafood expert, communicator and strategist. Bushman has been championing ethical aquaculture for more than two decades, having worked with such companies as Pacifico Aquaculture, Blue Ocean Mariculture, Riverence Trout and – most recently – Kvarøy Arctic. Her talk will be on sustainable aquaculture in general, and will include insights into how, over three generations, Kvarøy has driven innovation through technology, feed and a unique market strategy - an example that she believes is easily applied to the growth of aquaculture in Ireland.
Neil Sims, founder and CEO of Ocean Era, the Hawai'i-based producer of marine finfish and seaweeds will follow. Sims will be discussing his career and the essential nature of diversifying the aquatic species that are being farmed, in order to widen the number of sustainable sources of protein.
Veriga will be next up and, following eFishery's recent $1.4 billion valuation, will be discussing what helped to inspire the startup's meteoric growth and what they intend to do to ensure their trajectory continues apace. Initially founded to provide automatic shrimp feeders that were affordable by even smallholder farmers, he will talk about how the Indonesian startup has since diversified its offerings, and the new opportunities that this has created.
The initial presentations will be followed by a panel discussion on the global opportunities awaiting aquatech companies.
Wayne Murphy, co-founder and partner at Hatch Blue, who will also be speaking at the event, noted: "This conference is a culmination of over five years of building, developing and working with almost 50 Irish aquatech projects and companies. Aquaculture is the fastest growing food sector in the world today and Ireland is well positioned to play a major role in its future development. This event is a chance to hear from global speakers as they share their experiences and insights into key opportunities. I am excited to get together a roomful of relevant stakeholders and supporters to help kickstart the conversation as to how to seize that global opportunity."
Caroline Bocquel, chief executive of BIM, adds that she is particularly pleased with the significant number of Irish companies already grasping the opportunity.
"We have a host of Irish based companies providing products and services to the global sector in areas such as instrumentation, feed additives, health diagnostics and vaccine development to name a few. Given the scale of the market in areas such as Norway and Asia there is a constant demand for new technologies to meet the challenges faced by industry and we are really looking forward to discussing these prospects at Aquatech-Irelands global opportunity," she said.
Click here to reserve a free ticket to Aquatech: Ireland's Global Opportunity.