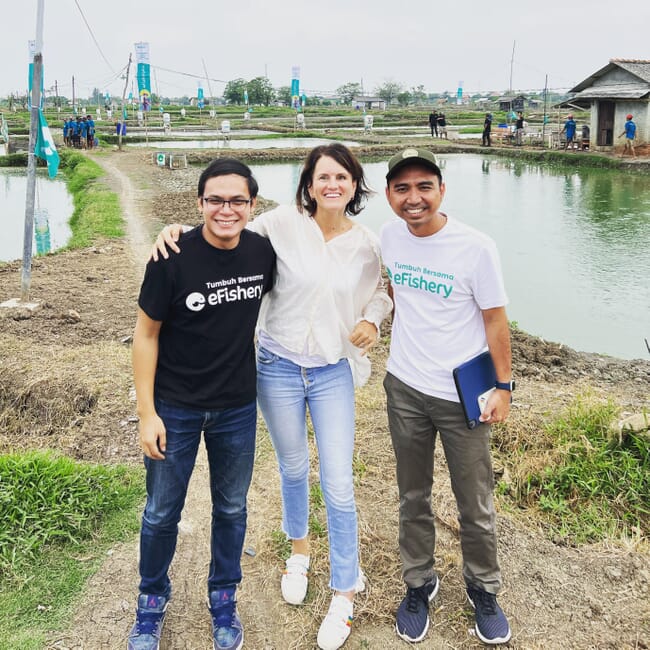 Finally, the news is official, Indonesia-based aquaculture technology company, eFishery, has successfully raised USD$200 million in its Series D fundraising round, making it the first startup in the global aquaculture industry to reach a valuation of over USD$1 billion.
eFishery's rise is an awe-inspiring story of the role technology can play in transforming aquaculture into a cleaner, greener and more transparent industry, while also changing the lives of farmers by reducing stress, improving production and increasing profitability. This large, digitalised community of farmers behaves in many ways as the world's largest farming cooperative, bringing access and affordability to small-scale farmers, who account for over 90 percent of the sector's employment.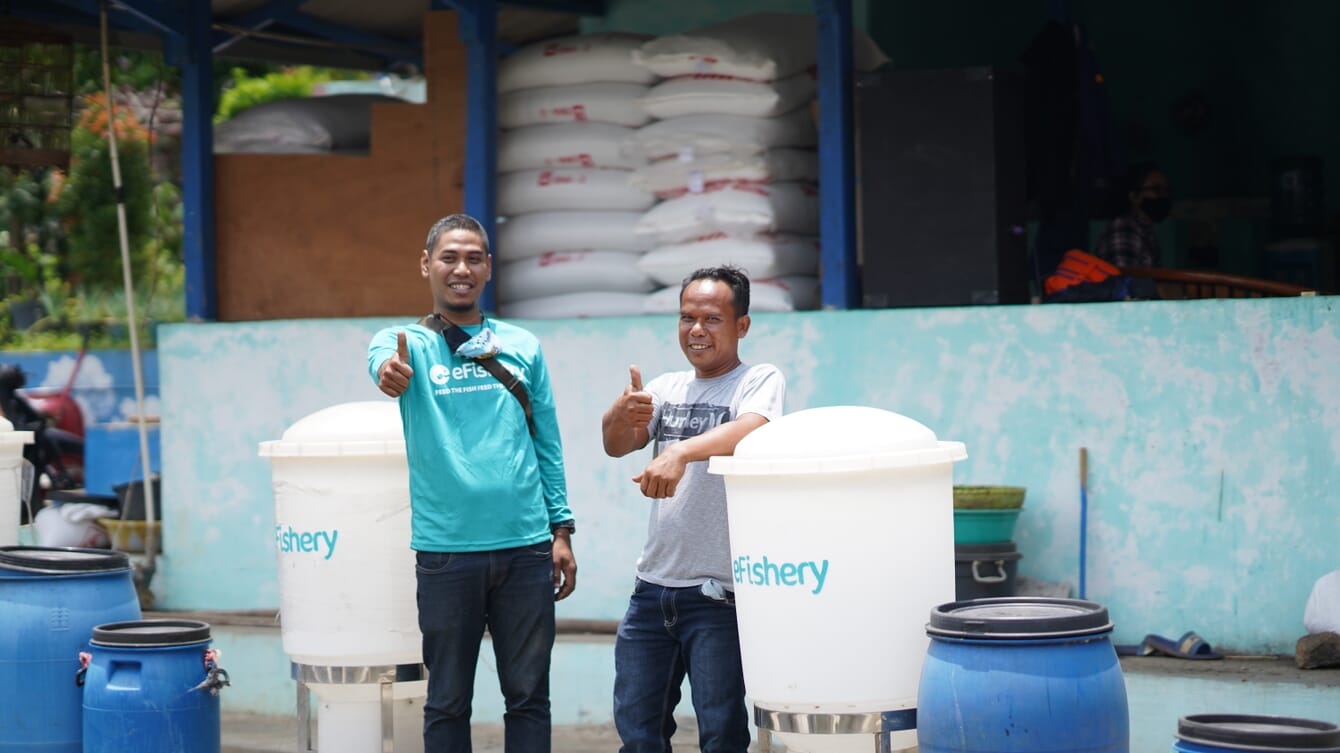 eFishery, which developed one of the first affordable technology solutions for fish and shrimp farmers, started as an Internet of Things (IoT) smart feeder company in 2013, using sensors to measure water movement for fish and acoustics for shrimp to optimise feeding, fish health and water quality whilst reducing waste – one of the biggest challenges in aquaculture, where feed makes up 70 percent of carbon emissions. eFishery uses data and technology from its IoT smart feeder device to improve the farming operations of smallholder fish and shrimp farmers. This is achieved through better data-driven insights into farm-level productivity; improved access to local and global fresh and feed markets for better pricing; improved visibility for farm inputs and outputs; and improved access to financing. All of which contribute to farmers improving their practices, production volumes, profitability and livelihoods.

Initially focused on optimising feed and gathering farm data, eFishery soon realised that 98 percent of their farmers lacked access to affordable feed. With their data, they were able to make accurate predictions about how much of a specific feed their farmer network would need in the future and could pre-order those volumes directly from the feed manufacturers to offer competitive prices. As a result they are able to offer feed at around 5 percent below the prices farmers would pay before and hope to increase this to 10 percent, as volume and efficiency increase. This feed marketplace, eFisheryFeed, became the largest feed distributor in Indonesia within months of being launched. They have a similar story with selling their farmers' fish and shrimp harvests directly to the ultimate end buyers.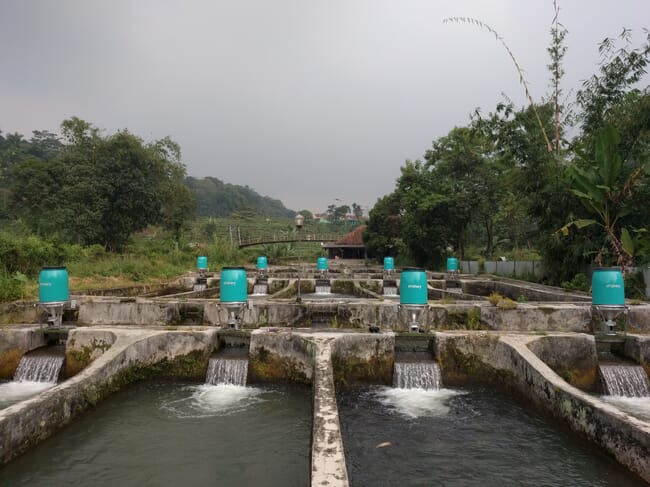 This is why we feel this company is so deserving of its recent valuation – and worth every bit of hype. In fact, the EBITDA multiple to get to the series D valuation is very modest, given the company's demonstrated revenue and growth performance. eFishery is working with hundreds of thousands of aquaculture ponds in Indonesia, where the farmer pays a monthly subscription fee, meaning the company can offer fair financing for inputs, which can be up to 80 percent of the cost of production, and the company gets a cut from selling the farmers' production either domestically or through their export platform.
This valuation is caused by a combination of current market dynamics and, to some extent, investors beginning to wake up to the aquaculture opportunity but lacking familiarity with the industry. eFishery's D valuation leaves room for growth and continued interest in the company, which we are confident about. eFishery has barely penetrated Indonesia's aquaculture sector, which has 3.7 million aquaculture farmers, while the company is also planning to enter other markets in Southeast Asia. Aside from expanding their farming community, there is more they can offer each farmer – like access to additional inputs, early disease detection and treatment options – further increasing the value for farmers. They've also launched a branded shrimp product and built the necessary infrastructure to grow their exports to the US. eFishery is just getting started.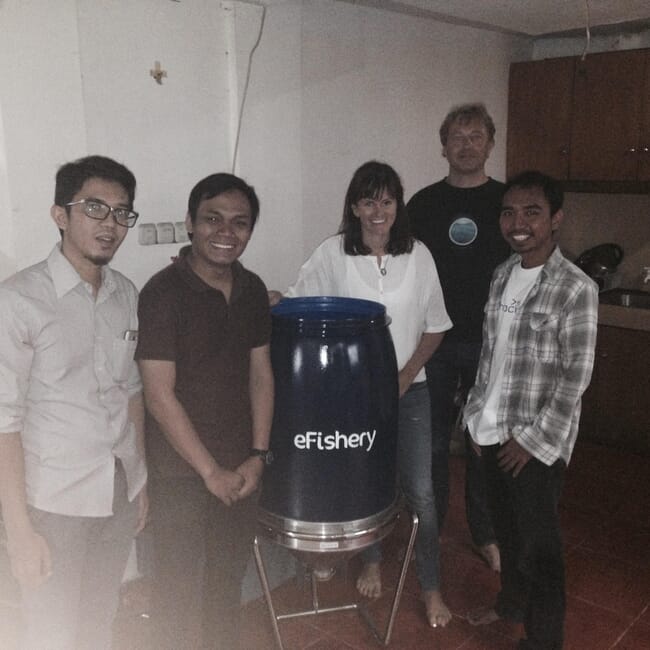 eFishery's milestone valuation is not only a big win for the company but for aquaculture at large. There's been increasing investor interest in sustainable aquaculture over the last few years, but the action of investing in this space has not matched the interest. Investors still seem to think of it as a complex, unknown industry. And there's been no example of how a company goes from startup phase, bringing a new solution to the industry, to a profitable growth stage company, until now. eFishery's success finally highlights the ability of a company to perform at this level environmentally, socially and financially in the aquaculture industry. And the company's story, backed by real data and a transparent shrimp product, helps showcase who the farmer is and how it works – illustrating both the market opportunity and its massive potential for positive impact.

At Aqua-Spark, we have already seen the ripple effect of eFishery's impact on the industry. Starting with an influx of calls from investors looking for "the next eFishery," during which we remind them of the myriad solutions and further innovation required to continue to refine aquaculture's potential to be the healthiest and most sustainable, efficient and transparent protein production system.
We look forward to this story growing in awareness, showcasing why aquaculture is such an incredible ESG investment opportunity, where production performs better in a healthier environment, making it clear that these environmental and social solutions improving our global aquaculture industry aren't just good for the planet and people, they also bring better returns to the farmers and – ultimately – to the investors behind them too.
*Hatch is part of Aqua-Spark's investment portfolio, but The Fish Site retains editorial independence.