The search for a site manager's successor on Muck
As she prepares to hand over the manager's role at Mowi's salmon farm on Muck, Clara McGhee looks back fondly on the farm – and the island – where she learned the practical side of aquaculture.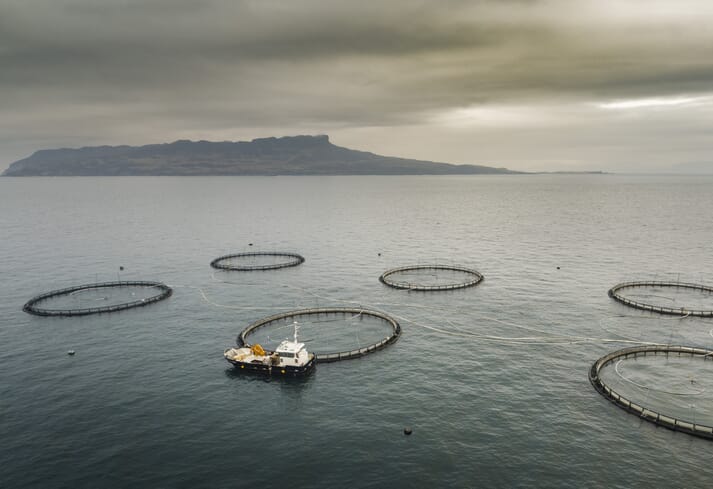 In the autumn of 2018, Clara McGhee – fresh out of an MSc in aquaculture at the University of Stirling – decided to dive into the hands-on business of fish farming, signing up as an aquaculture technician on Mowi's recently established salmon farm on the island of Muck. One of the most exposed sites in Scottish aquaculture, it was a challenging introduction for the young graduate, but one that she revelled in – quickly picking up new skills and new friendships, as she documented in her Notes from a small island series on The Fish Site.
After two years on Muck as a farm technician, she moved to the trainee manager's role on nearby Rum for a year, before returning to Muck as the manager, 14 months ago. But a recent move to an expanded role within Mowi means that she's now looking to recruit her successor for a job that she's relished.
"It's been a steep learning curve, but I've learned a lot in a short space of time. I'd like to stay longer and reap the rewards of all the hard work that the team has put in this year – things are going well here after quite a demanding year – but that's for someone else to enjoy now," she reflects.
The Muck site is one of the most exposed in Scotland – a location that has been very good for the growth of the salmon but can make working there challenging, especially in the winter.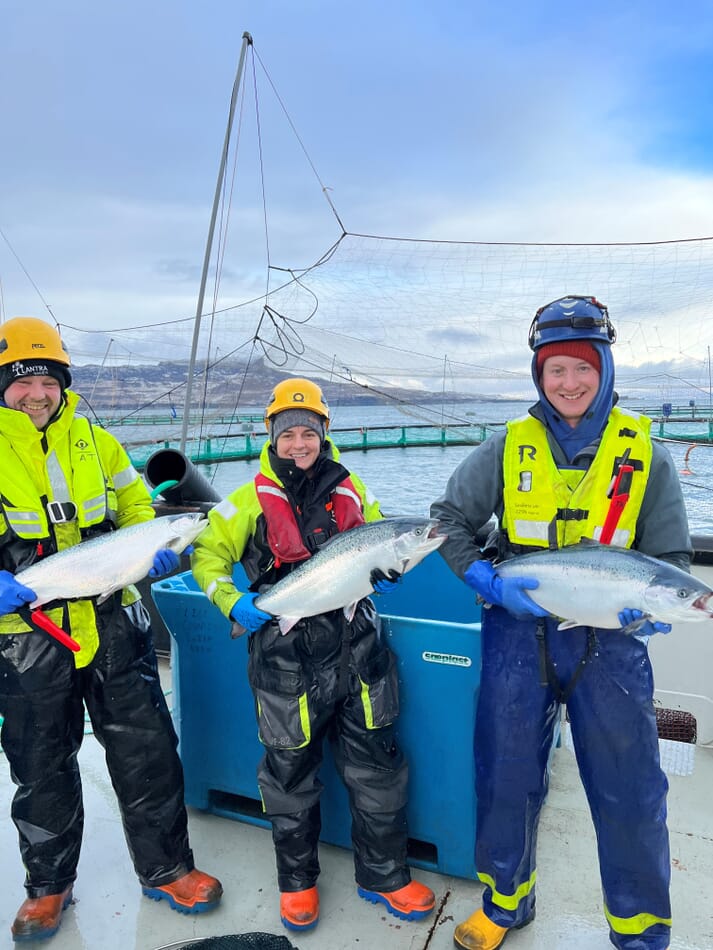 "You get stormed off a lot in the winter, so you often have to feed from the shore base. Feed pipes are dislodged in bad weather and need to be repaired. But on the other side we have such good water exchange and strong tides that we've recently been given consent to increase our biomass to over 4,000 tonnes, which will make us the single biggest site in Scotland. The fish are really rocketing now after a difficult summer and we have no lice burden. For growing fish it's a good place to be," she explains.

As manager McGhee is in charge of two five-person teams and a shared net washing boat with a crew of two, who work shifts of two weeks on / two weeks off.
"As well as juggling the site and the fish and the people and the boats I also have responsibility for the Mowi staff housing on the island. There's a lot of organisation and logistics as well as making sure the site is ticking over and the fish are OK. It's demanding and there are a lot of elements to the job, but that's part of the reason I enjoy being here," she explains.

It is also a fantastic opportunity for anyone looking to advance their career.
"Muck's managers have all gone on to do bigger and better things – Sean Anderson, who was the first manager here is now production director for the whole of Mowi Scotland. The two subsequent managers went on to COO and farm manager positions in Tasmania – everyone has gone on to exciting things," McGhee explains.
"There's a lot to the job here – not just farming fish – that I think prepares people for more senior positions. Everything I've learnt here is a transferable skill that I know I'll be able to bring forward in whatever job I go on to in the future," she adds.
Another perk of the job, as far as McGhee is concerned, is how welcome the farm and staff are on the island.
"I love Muck and will be very sad to leave. The community here are very special and there is something nice about knowing all your neighbours. We do whatever we can to help them – whether it's taking children back from high school or collecting food and parcels if a ferry's been cancelled or helping them move things with our fork truck. And it's a two-way street – they are very helpful, kind and welcoming to us too," she reflects.
As well as providing an employment opportunity for the islanders, the children of Mowi employees have also helped to swell the primary school roll in the past, helping to keep it viable.
"We would hope to attract a family if we can, or at least people that want to be here and be involved in the community. Having people like that is why Muck voted to have the farm in the first place and I think we've achieved that previously and I hope we will be able to do so again," she explains.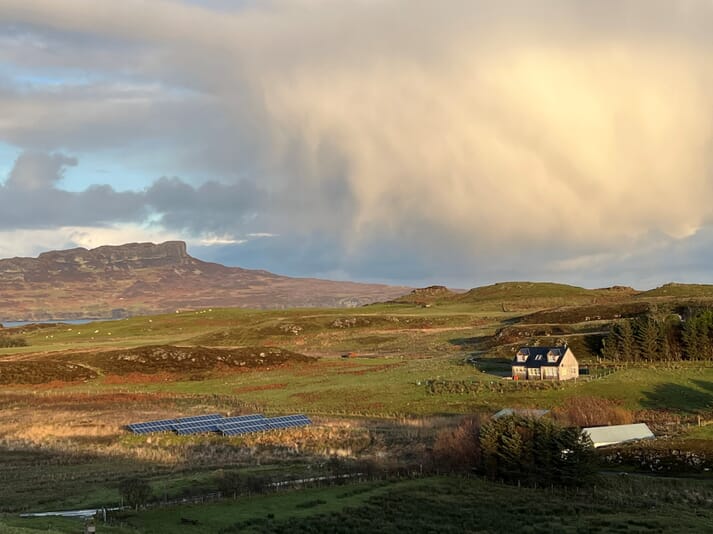 Living in a community of only 40 residents is not for everyone, but it does have its charms.
"There's not the same amenities on Muck as on the mainland, but there are lots of events – Burns night, bonfire night, ceilidhs – and we are only two hours from the mainland by ferry. It's also a beautiful part of the world, with stunning scenery. It's a great place to raise young children – it's safe and no one needs to lock their doors. The people – both the people I work with and the community on Muck – are what I'll miss the most when I go," McGhee notes.
And she believes that the job would suit either someone looking to move up in the sector or to settle down in the community for longer.
"For the right person I honestly believe that this could be a job for life – it's a good job, a good house, a good salary. Equally someone who's up for a challenge and wants to progress their career and settle down here it would work well," she explains.
Skills required
In terms of skills required by her replacement, McGhee list the following.
"We're looking for someone who's resilient, adaptable and up for a challenge. It's a challenging place to work – there's no point beating around the bush – and if problems arise you can't just get an engineer to turn up half an hour later, so you need to be able to think on your feet. But it's definitely do-able and it has its rewards. Thinking about the last year it's the highs that I remember," she observes.
McGhee also notes that – despite the isolation of the island – she's been impressed by the level of support she's received.
"I didn't get here of my own accord – it's been a team effort from the company – you work with and learn from a lot of good people. The area and regional managers have been fantastic. They've left me to do it my own way but are also very supportive. I speak to one of them most days and they are very forthcoming with advice. There's a wealth of knowledge that is just a phone call away," she explains.
And her advice for her successor?
"Number one is that you can't do everything at once – I learnt that the hard way. When I arrived there were all these things I wanted to get done, but I soon realised that it wasn't possible – you need to prioritise and accept that things do take a bit longer out here.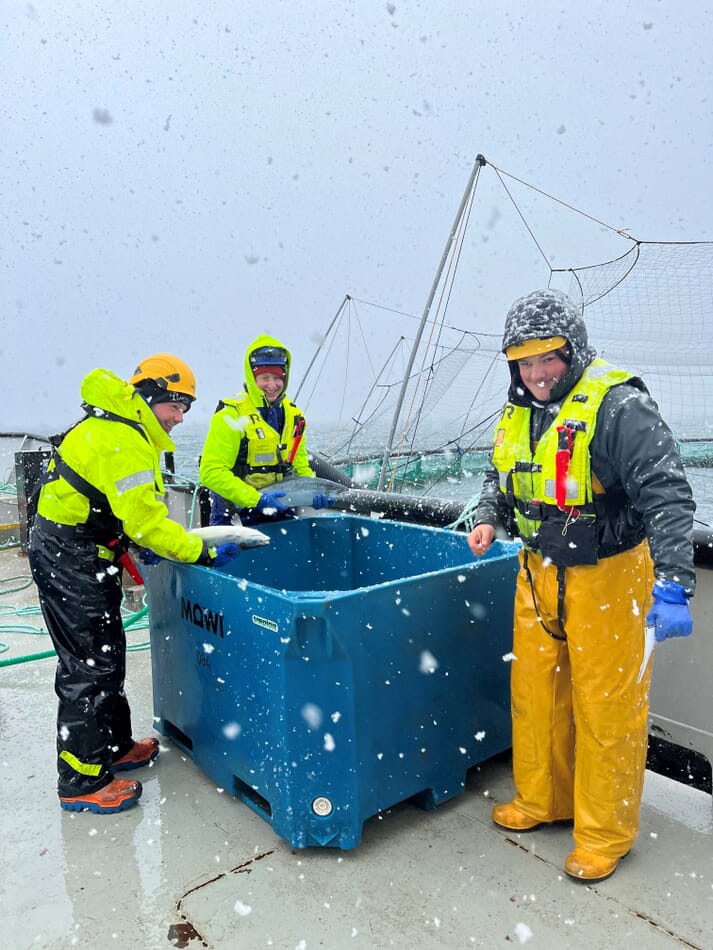 "Second is that you can't beat the weather. There's nothing you can do about it and, at the end of the day, the safety of the staff is a priority.
"Third is that it's farming, so there will be difficult days, but that's what makes you as a person and I have learnt so much in my short time here as a manager and a lot of that is from having to problem solve in tricky situations, which makes you more robust. You just need to prepare for some tough times, but that is true of any job," she adds.

McGhee is also quick to point to how far – and fast – she has come since her initiation due to the career progression opportunities within the company.
"If I had been told on my first week here as a farm technician that in four years' time I'd be back here as the manager I would not have believed it for a single second. I was so green and pretty useless at a lot of things, like driving boats. But I now know that every site needs people with different skillsets – you don't need five big strong men who can lift heavy things. You might need one or two people like that but you also need someone who's good at computers, someone with an eye for details to do the environmental sampling – it took me a while to figure that out for myself, but I then realised that I did have skills that were very relevant – you need to find your niche and trust that you do have a place here," she reflects.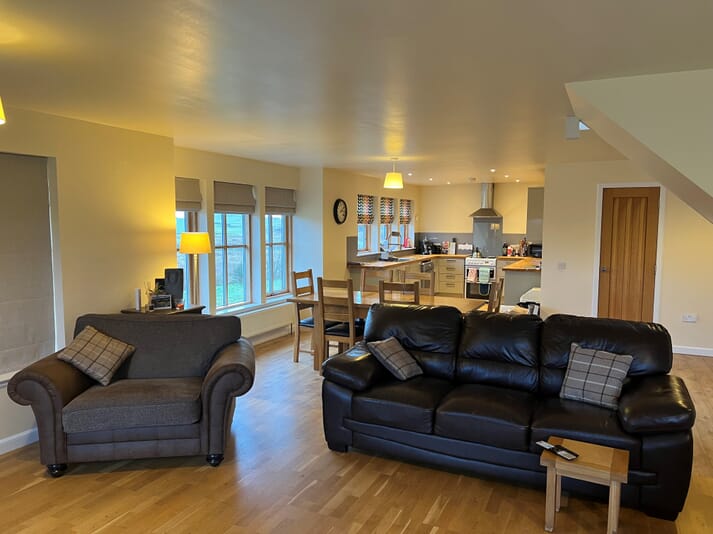 As she looks to her next step within Mowi, McGhee is focused on finding the next manager for Muck to continue to bring the farm forward.

"I'm sure there is someone out there with a passion for fish farming who fancies a new challenge in a beautiful part of Scotland. Having the house available as part of the job is a real bonus as affordable accommodation in rural Scotland can be hard to come by these days. I might be biased, but based on my own experience, I can't think of a better place to further your career or settle down as part of a brilliant community," she concludes
Applications for the manager's role are open online until Sunday 29 January, click here to find out more.