Nine months after announcing that it was going to move all its shrimp farms indoors, Charoen Pokphand Foods (CP Foods) says it has already achieved this for 30 percent of its operations. In a September 2018 statement, the Bangkok-based company's executive vice president for aquaculture business, Premsak Wanuchsoontorn, said that all of the company's farms would be indoors within five years. The move followed the successful building of prototype farms, which showed better yield, colour, size, disease control and quality.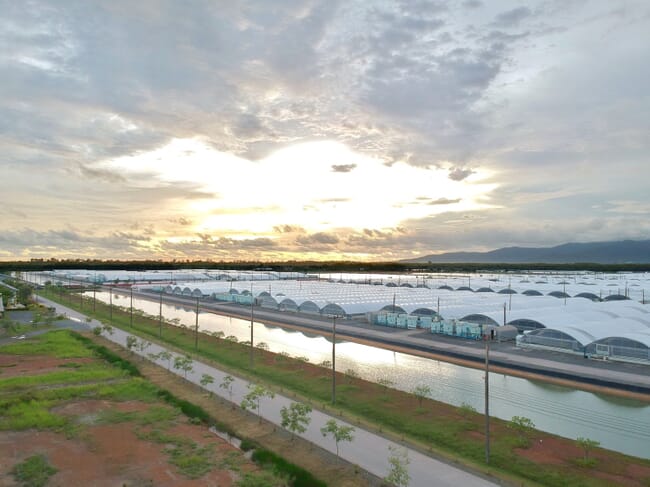 Nine months on, and progress is already underway, with 30 percent of total production in Thailand – up from 15-20 percent at the time Wanuchsoontorn made the pledge – already moved indoors. And work is now underway to build further RAS operations to complete the roll-out.
According to Wanuchsoontorn, the difference in production capacity is a significant factor in the decision. In a well-managed outdoor system, the yield is between 20 and 30 tonnes per hectare, per crop. This figure is more than doubled in a high-production RAS facility, where every aspect of production is controlled, leading to typical yields of between 60 and 70 tonnes per hectare, per crop.
"In Thailand we produce shrimp in a variety of sizes, up to 50g per piece depending on customer requirements. We find that they feed better and achieve higher growth rates in an RAS system than outside in ponds, which can be affected by seasonal weather conditions and temperature," he said.
"Optimum conditions can be provided 24 hours per day in RAS systems, with temperature, dissolved oxygen, water quality and feed tightly controlled, and this is reflected in the ability of the shrimp to maintain a steady growth all year round, with no seasonal variability," Wanuchsoontorn told The Fish Site.
His words were echoed by CP Foods' executive vice president, Robins McIntosh, at the World Aquaculture Society conference in New Orleans earlier this year, who also spoke about the thorny issue of disease.
"Indoor shrimp are the long-term solution for an industry that continually struggles with disease outbreaks such as vibrio, and indoor shrimp farming will become more successful as we get more farms built," he said.
Vibrio parahaemolyticus causes early mortality syndrome (EMS) in shrimp, also known as acute hepatopancreatic necrosis disease. It was first identified ten years ago in China, before spreading to Vietnam, Malaysia and Northern Borneo, then turning up in Thailand in 2012. The following year, EMS was identified in Mexico, brought in by infected live shrimp.
Disease-free broodstock and strict biosecurity measures are two essential factors in helping to prevent outbreaks, and the latter is more easily achieved in indoor RAS operations.
"The health status of our shrimp is carefully monitored and we have, so far, experienced no disease outbreaks in our RAS systems and use no antibiotics. Should problems be encountered, the affected animals can quickly be isolated and the outbreak contained," said Wanuchsoontorn.
RAS systems also offer major environmental advantages in terms of lower water consumption during production and zero discharge of waste.
"We can achieve a reduction of 60-75 percent in water consumption in an RAS system," said Wanuchsoontorn.
"For example, to produce 1kg of harvested shrimp takes 1m3 to 1.5m3 of water in a RAS system, whereas the outdoor farms use more than 5m3. This is a major saving in terms of cost and it's better for the environment," he added.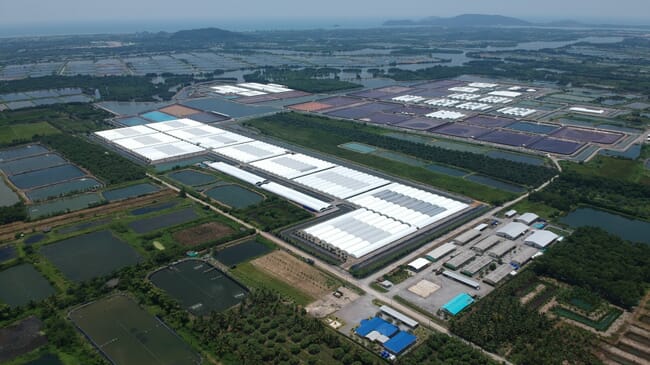 Looking at the main challenges of converting all the company's production facilities to indoor systems, Wanuchsoontorn identified cost, construction time, logistics and staff retraining as the big issues.
"The company is confident that the large investment budget the project needs will have a positive impact on production. We are also investing heavily in upskilling staff to work with the new technology, and the overall project will improve local habitats, making the project a very positive move," he said.
CP Foods is also entering the shrimp farming arena in Sri Lanka, through the acquisition of a 75 percent share in Lotus Aquaculture.
Meanwhile, in Brazil, CP Group recently bought a 40 percent share in shrimp producer Camanor Produtos Marinhos.