Since its inception in 2001, the annual Global Outlook for Aquaculture Leadership (GOAL) conference has built a reputation for quality content. The organisers promise that this year's virtual event will deliver the same quality programme but with much greater reach and versatility, as well as "a more interactive experience between speakers, moderators and the audience".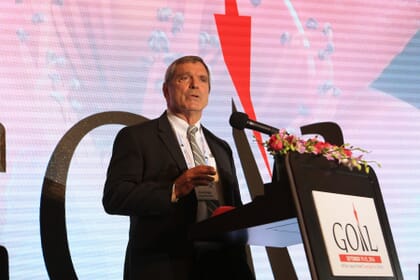 "The silver lining of this terrible COVID-19 cloud is the unifying force of virtual meetings. This presents new opportunities to broadly share the latest information and advances to accelerate progress toward our collective goal of responsibly producing more healthful seafood," said GAA founder and president George Chamberlain.

Individual and corporate members will be able to access to the functionality of the conference platform and application, including livestreaming, live Q&A and polling, and virtual meetings. They will also be able to access PDFs of presentations and reports, as well as recordings of the livestream on-demand. Corporate members will be able to access virtual networking and matchmaking opportunities, with the ability to "call" face-to-face meetings within the conference platform. To help unify the global seafood sector, Day 1 of the conference will be offered free of charge to members of seafood associations and other strategic partners worldwide.
GOAL 2020 will be held from 6 to 8 October, as previously scheduled, with six to eight programme sessions occurring throughout the week of the conference.
GOAL 2021 will be held at the Okura Tokyo in October 2021; dates are yet to be announced. Though GAA anticipates the return of the live event next year, today's announcement signifies a transition of the GOAL conference to a "hybrid" model with a cohesive live and virtual event.
"At GOAL 2019, we live streamed Day 1 of the conference to four shrimp-farming and -processing hubs throughout India as well as six Southeast Asian cities, and it was a big success, attracting hundreds of aquaculture professionals who were unable to join us in Chennai," said Steven Hedlund, GAA's communications and events manager. "The success of that virtual event, coupled with the travel and meeting uncertainties caused by the COVID-19 pandemic, inspired us to evolve GOAL beyond the traditional format. The in-person event draws 400 to 500 seafood professionals from 30-plus countries. But a virtual event held simultaneously has the potential to draw thousands. We're excited by what the future holds."
The GOAL 2020 conference programme will be published in June.