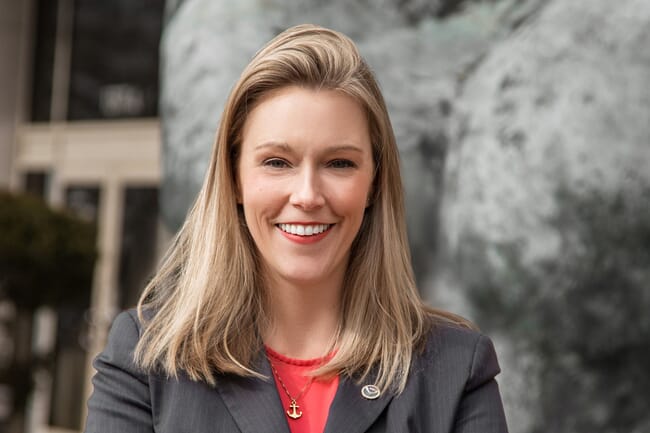 What inspired you to join the aquaculture sector?
In one way or another I have been involved with the aquaculture sector for over a decade. I worked as a professional cook as a way to put myself through school and I was drawn by the idea of growing something – raising a product tide to table. Working in aquaculture allows me to support several things I am passionate about, including coastal economies, increasing domestic seafood and feeding our communities.
Has US marine aquaculture – and attitudes to it, both from the public and from the government – evolved much during your time at NOAA?
Yes, marine aquaculture and attitudes toward it continue to change as research, best-management practices and awareness shape the industry. It is no secret that the global human population is rising, but the global abundance of wild fish is not. NOAA Fisheries and its partners have made good progress in ending overfishing in the United States, but wild-fish harvests cannot meet current seafood demands. We are seeing a growing sense of urgency and optimism around aquaculture and its potential to sustainably meet this growing demand while also supplying economic opportunities.
What are your key responsibilities in your new role at NOAA?
As director of the Office of Aquaculture, I oversee the aquaculture component of NOAA's sustainable seafood portfolio. Working with our staff and stakeholders, I am leading the development of a strategic vision to foster a strong marine-aquaculture industry in the United States. Key to these efforts are increasing permit efficiency, improving public perceptions and supporting research to address industry barriers.
Are there any particular species or production systems that you are hoping to encourage?
I am excited to see the wide array of production systems and species being explored by aquaculture producers. We are going to need seafood produced from a range of technologies: wild harvest, net pens, mussels on a line and recirculating facilities, sometimes in combination. The next decade will be interesting as new technologies continue to be tested at commercial scale, advancing our production potential and sustainability.
Can the US learn from the experience of other countries?
As part of an NOAA leadership programme I was able to join the Food and Agriculture Organization of the United Nations (FAO) aquaculture branch as a visiting scholar. During my six months at FAO I had two focus areas: first, to work on the development of Global Sustainable Aquaculture Guidelines, and second, exploring other nation's marine-aquaculture governance systems and policies. Through this work I learned more about other nations' approaches to industry management and I am now bringing back these new perspectives to the US.
Did you come across some projects or methods that you can apply to the US?
During my time at FAO it was clear that intentional and strategic use of ocean space is paramount. The concepts of appropriate siting and area- or basin-wide management are not new to the United States. However, it was fascinating to see how ingrained into the legal fabric the use of space is in other nations. Many of the top marine-aquaculture producing countries have a deliberate use of space outlined in their laws or regulations. In the past few years, NOAA's NCCOS [National Centers for Coastal Ocean Science] team has dramatically increased our ability to understand ocean neighbourhoods and to engage in multi-sector planning.
With their siting tools OceanReports and the AquaMapper, we can better explore area-wide management and increase intentional use of space here in the US. Stakeholders – including seafood farmers, commercial fishermen, coastal managers and regulators, and environmental organisations – can now minimise user conflicts and ensure sustainable aquaculture development. Using spatial analysis and the data sets contained in these tools, a user can query a sea of data and examine current area uses, vessel traffic and even sensitive habitats.
Is there anyone in the aquaculture sector that you've found particularly inspirational?
I find aquaculture farmers to be inspirational. In the US the public has a sentimental reaction when they think of the heartland and agricultural farming. They think of hard-working folks that battle the elements and long days to feed their neighbours. Aquaculture farmers are no different. They work at all hours in all conditions, with weathered hands flipping oyster cages, plucking fresh kelp from their lines and tending net pens. These aquaculture producers are also committed stewards of the environment, managing their farms with sustainability in mind. Their stewardship and the care that goes into keeping their crop as well as their businesses alive – that's inspiring to me.
Have you encountered any gender-related obstacles to your own success in the sector?
This is a difficult question. I think that most women, including myself, have either witnessed or experienced some level of gender-related challenges professionally. There is, however, a strong cadre of women in ocean science and natural-resource management. I think the dynamic is different today than it was perhaps 30 years ago. This is in part because of agency commitments to equality, but also a lot of credit is due to the women that came before us, those who challenged the status quo. Today, at NOAA there is a strong culture of prevention and awareness. Our leaders are committed to a culture of safety and equality for all.

What advice would you give to people in the US who are considering joining the aquaculture sector?
I would encourage those interested in joining the aquaculture industry to explore the variety of opportunities out there. The industry needs farmers, hatchery technicians, researchers and engineers. NOAA has a variety of resources for those interested in starting an aquaculture operation. These resources include a dedicated network of Sea Grant Extension agents and NOAA Fisheries regional aquaculture coordinators who can help guide current and potential aquaculture industry members.

Do you think there's an imbalance between the excellent aquaculture research being undertaken in US universities and the opportunity to apply it on a commercial scale?
As a nation we have advanced sustainable feeds research, best-management practices and even disease-resistant shrimp broodstock. University and industry research efforts have been supported by a variety of NOAA grant opportunities, including Sea Grant aquaculture funding, the Small Business Innovation Research Program and the Saltonstall-Kennedy Grant Program.
For the past three years we have sought to address this imbalance by increasing our efforts to link this research to production by supporting pilot projects through the Interstate Marine Fisheries Commissions. Through these pilot projects, emphasis is placed on promising but less commercially developed technologies for finfish, shellfish, seaweed and other relative newcomers to the domestic aquaculture industry. These pilot projects are connecting US research to real-world applications and are getting more farms in the water.
What are the major issues to overcome before the US can have a thriving offshore aquaculture sector?
In the US we need to address the challenge around acceptance of offshore aquaculture. The public still encounters information that is often out of date, incomplete or inaccurate. Misinformation or bias can make it difficult for an aquaculture business to obtain the social licence needed to operate.
Another challenge facing offshore aquaculture development is the uncertainty of permitting. NOAA has been working with our partner agencies to increase permit efficiency that can offer potential growers a more defined path toward getting farms in the water. By working through existing authorities, we hope to foster offshore opportunities that are economically, environmentally and socially sustainable.
What lessons can be learned from the pioneers of offshore aquaculture in the US, such as Catalina Sea Ranch?
Being on the frontier of a new industry is going to take pioneers. There are both benefits and potential pitfalls of entering a new industry like US offshore aquaculture. Success will be a matter of passion and innovation. Successful entrepreneurs will continue to improve upon what came before, whether it is business models or cage design. Like in any industry, the newest innovations are built upon the lessons of the past. As more growers explore offshore potential, innovation and a community of practice to share ideas will be critical to expanding a sustainable industry. Coastal managers and federal agencies are also an important part of this community of practice. As these pioneers invest in offshore ventures and technologies, state and federal entities are also improving ways to manage and support the industry's sustainable development. Two-way communications with a shared goal of sustainable production is how we foster a sustainable offshore aquaculture industry.
Have you set any targets regarding production volumes?
The Office of Aquaculture is not currently setting new production volume goals. We are focused on fostering marine aquaculture as a complement to wild-capture fisheries. Our goal is to have a sustainable, healthy, and profitable industry to increase US domestic seafood production and economic opportunities.
How is the COVID-19 pandemic affecting the sector?
The impacts vary across seafood type, but most companies are reporting significant losses. It is clear that the seafood industry is going to need help to rebuild from the impacts of COVID-19. Right now aquaculture producers are not focused on industry growth. They are figuring out how to keep staff employed and how to keep their businesses running during this unprecedented event.
Has NOAA been allocated a role in helping seafood businesses get through the current crisis?
One of our short-term goals for the office includes supporting the existing US aquaculture industry through the challenges and impacts of COVID-19. NOAA recently stood up a team of experts from across the agency to collect and analyse COVID-19-related impacts on the US commercial seafood industry, including wild harvest and aquaculture. As part of this team, my colleagues and I are focused on working with our stakeholders to provide guidance and assistance during this difficult time.
Recently, the Secretary of Commerce announced the allocation of $300 million in fisheries assistance funding provided by Section 12005 of the Coronavirus Aid, Relief, and Economic Security Act, also called the CARES Act, to states, tribes and territories with coastal and marine fishery participants who have been negatively affected by COVID-19. Privately owned aquaculture businesses growing products in state or federal marine waters of the United States and the hatcheries that supply them may be eligible for these assistance funds. This includes all molluscan shellfish and marine algae as well as non-salmonid marine finfish grown in marine waters not covered by USDA.