Snails and algae offer hope for novel tiger prawn production method
The addition of certain species of benthic algae and snails to aquaculture systems can help to improve the growth and survival rates of giant tiger prawns, as well as boost the profitability of their production.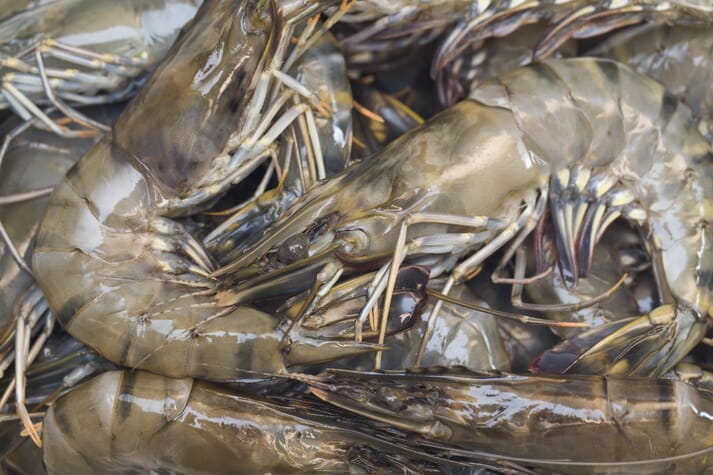 So claim the authors of a new paper, which details how a novel culture setup for giant tiger prawn (Penaeus monodon) was established in King Mongkut's Institute of Technology Ladkrabang (KMITL) in Thailand.
Two benthic organisms – a filamentous green alga (Chaetomorpha sp.) and a microsnail (Stenothyra sp.) – were placed in a number of the shrimp ponds shortly after being collected at an abandoned brackish pond in Thailand's Samut Sakhon Province.
The researchers note that these species "have no market value as fishery products, but are considered promising candidates as supplementary feeds for tropical Penaeidae. Both benthic species have been shown to promote shrimp growth, thrive in a wide range of shrimp pond conditions, particularly in terms of salinity and temperature, and grow abundantly in stagnant waters and/or channels in mangrove areas along tropical coasts".
They were propagated together with P. monodon post-larvae during an early culture stage in a group of outdoor concrete ponds, providing a comparable experimental scale to the usual culture scale in such terms as numbers of cultured shrimp and water volumes, with statistical replication.
Culture conditions
For the experiment, shrimp post-larvae (approximately 33 individuals per m-2) were cultured in outdoor concrete ponds (9 × 9 × 1.2 m) under either control (fed only artificial feed) or experimental (fed artificial feed and benthic organisms) conditions until they reached marketable size (15 weeks).
The prawns in each pond were fed Profeed pellets, produced by Thai Union, three times per day. The volume of artificial feed provided was determined via the feeding tray method, in which the feed was adjusted to minimize the amount remaining after each feed. Chaetomorpha sp. and Stenothyra sp. were freely consumed by the shrimp in the experimental treatment ponds.
Results
The researchers note that the final mean weight of individual shrimp and SGR at week 15 in the experimental treatment ponds were 113.4 percent and 103.7 percent, respectively, of the values obtained in the control ponds.
Both the mean total number of shrimp produced and survival rate were 117.5 percent of the values recorded in the control ponds, while the mean total shrimp production was 133.1 percent of the values found in the control ponds.
All of the Stenothyra sp. was consumed and disappeared from the experimental treatment ponds during the first four weeks of culture as a result of active shrimp consumption, whereas a small amount of Chaetomorpha sp. remained.
Production costs were higher in the experimental ponds, as the artificial shrimp feed cost was significantly higher (98.59 USD) than for the control (83.55 USD), while miscellaneous costs, including those associated with the hiring of personnel and fuel for benthos collection, were also higher for the former. However, the mean shrimp sale price was significantly higher for the experimental treatment group (215.97 USD) than for the control group (155.73 USD).
The researchers note that the quantities of benthic organisms provided in the experimental treatment ponds were designated to minimise the possibility of all shrimp being consumed within 1–2 month(s), to lessen the need for additional labour. However, they suggest alternative ways of providing these benthic organisms would be beneficial.
"The addition of more benthic organisms would have likely led to further improvements in growth and survival. However, the efforts that would be required to collect additional organisms would not be feasible in a real facility owing to the added time, labour and financial costs it would bring to small-scale shrimp farmers. Therefore, simple techniques to increase the number of benthic organisms are required, such as the self-propagation of benthos in shrimp ponds," they explain.
Approximately 44 kg of giant tiger prawns were produced in total from an initial weight of 5.4 g of post-larvae when fed Chaetomorpha sp. (initial wet weight of 6.81 kg, which is 8.37 percent to total feed consumption; estimated protein weight of 0.35 kg) and Stenothyra sp. (initial wet weight of 1.96 kg, which is 2.43 percent to total feed consumption; estimated protein weight of 0.16 kg) as supplementary feeds.
Conclusions
"The productivity, feed efficiency and profitability for the group fed benthic organisms were approximately 133 percent, 113 percent and 146 percent, respectively, of the values recorded for the artificial feed only group. Moreover, the effort and costs associated with the provision of benthic organisms could be restricted to an acceptable range," say the researchers.
"The application of Chaetomorpha sp. and Stenothyra sp. as live feeds at an early stage of intensive aquaculture will improve initial shrimp growth performance, which will subsequently lead to the promotion of shrimp productivity, feed efficiency, and profitability. This innovative technique may enhance the efficiency of intensive aquaculture for the giant tiger prawn, and it is technically feasible using earthen shrimp culture ponds," they conclude.
.
Further information
This research was funded by the Japan International Research Center for Agricultural Sciences (JIRCAS).