Why labs are crucial for Indonesia's shrimp farmers
Though diagnostic laboratories provide essential support for Indonesia's shrimp farmers, only 10 percent of producers use them regularly, making sustainable growth goals harder to achieve.
Laboratories hold an essential place in shrimp farming. Labs are valuable for shrimp farmers for two reasons. First, they provide measures for detecting and identifying diseases with different diagnostic tools, like DNA probe and polymerase chain reaction (PCR). Second, they shows the pond's condition through water quality analysis, which equips farmers with the necessary information to make informed decisions regarding shrimp health.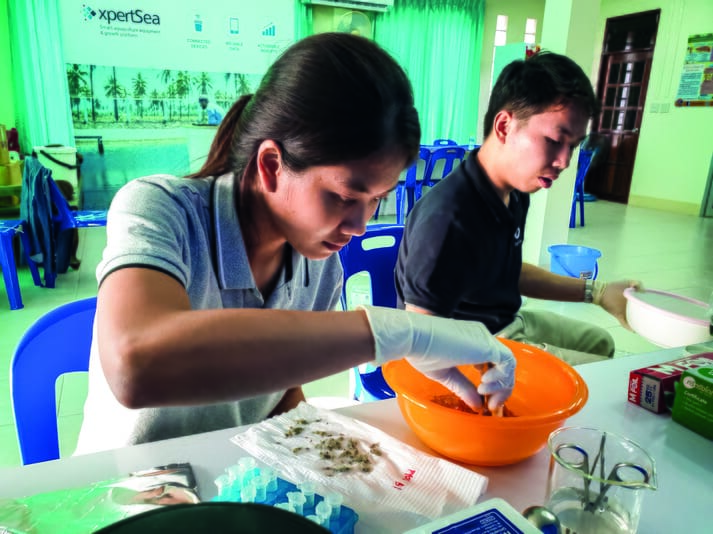 Considering their importance, high quality labs should, ideally, be available in multiple locations – especially near shrimp farming clusters. However, this is not necessarily the case in Indonesia. Although most cities or regencies have at least one government laboratory, according to Zaenal Arifin, a specialist engineer at the Brackishwater Aquaculture Development Centre in Jepara, Central Java, most of the labs have limited facilities.
Why is Indonesia's laboratory infrastructure lagging behind?
From Alune's* experience, different labs can produce variable results when testing water samples from the same source. False positive and false negative cases may occur, where a sample was diagnosed with disease X but when checked by another lab the result showed otherwise and vice versa. Shrimp producers must conduct thorough control checks with all labs to ensure that the results are reliable.
Proximity between the labs and the farms is also a big challenge. Since a significant number of farms are in remote areas, getting a sample from the farm to the lab is not an easy task.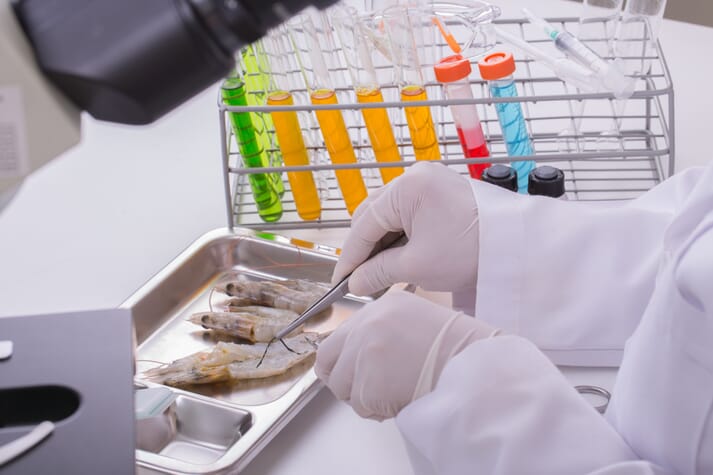 Mochamad Agus Kurniawan, a shrimp farmer in Lampung, for example, has to drive three to four hours from Tulang Bawang to Bandar Lampung, the nearest available lab, to get his shrimp samples tested. He then has to wait a week for the results. In the meantime, his farms will be vulnerable to white faeces syndrome (WSF) and myonecrosis (myo/mio). Since waiting is too risky, Agus usually conducts a partial harvest at the first sign of disease.
Another challenge, as Hardjono, an expert technician in Madura, Indonesia, explained to Trobos Aqua in 2017, is that most farmers do not use laboratory facilities in their farming operations. He claimed that less than 10 percent of shrimp farmers are using laboratories. For many traditional and extensive farmers, sending samples to labs is costly. It's also seen as adding unnecessary expense to the already high production cost.
Why lab access matters
History has taught us an important lesson on why laboratories play an integral role in the shrimp industry. Indonesia's black tiger shrimp (P. monodon) industry, which was thriving in the 1990s, was significantly impacted by the white spot syndrome virus (WSSV). The economic impact is difficult to determine, but in 1999, only 20 percent of all the farms were estimated to be in operation. This huge loss was due to environmental degradation and the lack of necessary expertise and infrastructure, specifically laboratory facilities.

As the L. vannamei industry is facing various viral diseases, from white faeces syndrome (WSF), Enterocytozoon hepatopenaei (EHP), myonecrosis (myo/mio), to early mortality syndrome (EMS/AHPND), fully equipped laboratory facilities are one of the key factors that will maintain shrimp aquaculture's sustainability in Indonesia and across the world.

To tackle an issue this significant, the government and various stakeholders must collaborate to provide reliable infrastructure for farmers. However, this would take years to implement and farmers have to deal with this problem today.
What shrimp farmers can do when lab resources are scarce
Send carefully controlled water and shrimp samples (with a sufficiently large sample size) to two or three labs to verify lab quality.
Maintain clear communication with the labs so they can understand your goals and help you navigate difficult situations, such as mortality.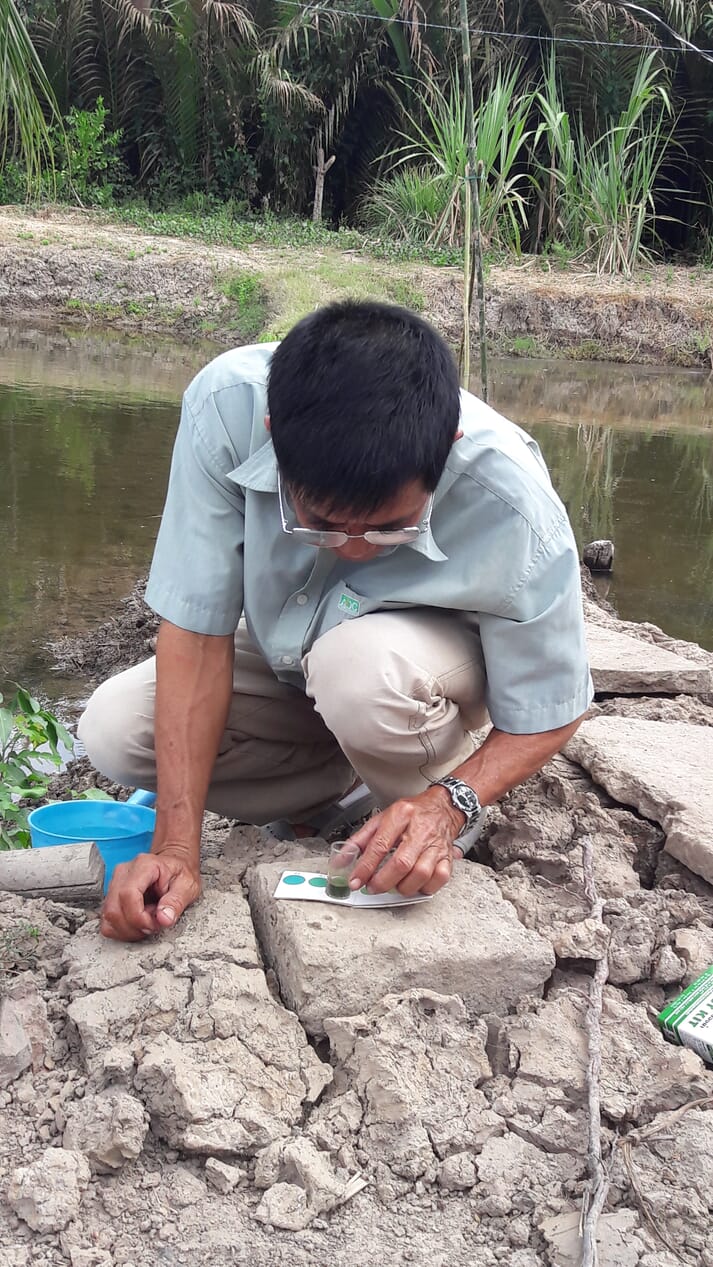 For water quality monitoring, Alune suggests setting up your own lab on the farm, using readily-available test kits. Some of the most important parameters, such as pH, DO, alkalinity, salinity, nitrite, nitrate and ammonia could be tested using simple test kits that you can buy online or locally. Having your on-farm team trained for basic water quality checking could go a long way towards maintaining the best water condition and preventing disease outbreaks.
For disease specifically, although not ideal, using water quality test kits and visual diagnosis could be a way to determine whether a disease outbreak is happening or not. For better diagnosis, there are various third party labs with expertise in shrimp disease that offer excellent services internationally, such as Genics and Ecto. They have top industry service, albeit with a relatively high price, plus shipping cost.
Going forward, there must be greater effort in establishing more laboratories outside urban centres. There must also be more investment in biosecurity measures. Taking these steps could create a more robust and sustainable shrimp industry in Indonesia. Beyond that, as shrimp becomes a vital part of global food supply, maintaining a healthy shrimp industry in Indonesia will be key in ensuring global food security.

*Alune is part of Hatch's portfolio, but The Fish Site remains editorially independent.