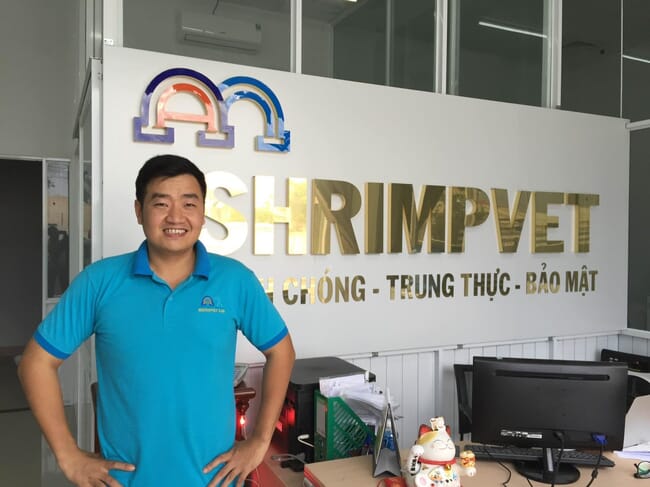 Tran was – famously – part of the team at the University of Arizona that discovered that Vibrio bacteria were the causative agent of early mortality syndrome (EMS) in shrimp and he moved back to his home country about 10 years ago hoping to emulate the success of the university's shrimp diagnostics laboratory.
There is little doubt that Tran – whose newborn son is named Donald after the late Prof Donald Lightner – is still justifiably proud of what his group achieved in Arizona, but he says that his record doesn't do much to impress his fellow countrymen, despite his open approach to farming.
"I have a lot of visitors, from India, Indonesia, Korea, Thailand, Japan… but in Vietnam people are a bit sceptical and conservative. People still look at me like I'm a junior guy in the industry – it's hard for farmers in their 50s and 60s to listen to a group of young researchers," he laments.
Tran says he has worked hard to implement best practices on his farm.
"We were probably the first farm in Vietnam to practice non-ablation, non-antibiotics, disease-free production, while minimising waste discharge into the environment. It takes a lot of effort to make it happen, to be honest, but after a few years we worked it out and consolidated our position into highly efficient and very low cost production," he reflects.
"We have been working a lot on water quality management and minimising the discharge – especially of phosphorous and nitrogen, which is why we don't need to do much water exchange," he adds.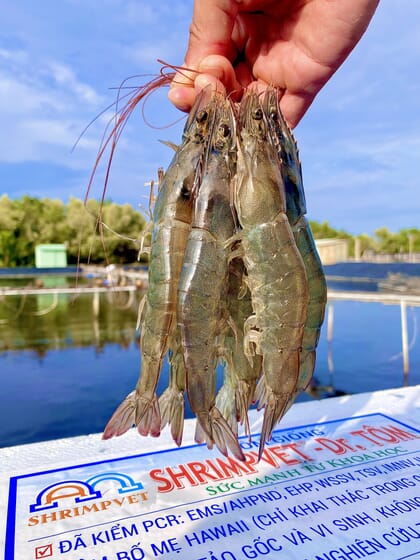 Despite the scepticism of his countrymen, Tran argues that shrimp farmers may soon be forced to follow suit, or face going out of business.
"Vietnam's shrimp farmers are screaming at the moment – in the past we all had high production costs but consumer demand was high and we were making money, but now the recession has meant that demand from North America, the EU and Japan is lower, so the price has stalled. So now, if we are not efficient we can not survive, so we're trying to introduce more efficient methods for farmers to copy," he explains.
This might help to explain why the methods that he's promoting are gaining more acceptance with the younger generation, and he is involved in several initiatives to help fellow farmers manage risk in their systems.
"More farmers now understand the need to do a two-stage farming process. They now understand that nursery stage is needed so that they can check the post-larvae that they buy. That, if juveniles are clean, then they can stock them in the grow-out ponds.
"They understand the need to check their ponds prior to stocking. They understand which are the important pathogens to focus on: EHP and then EMS. Forget about IHNN, forget about Taura syndrome, focus on the most important.
"They also understand that there are some good probiotics practices that they can apply to reduce the risk of Vibriosis; that there are some certain prophylactics in the feed that can reduce the risk of bacterial disease and so eliminate the use of antibiotics. Little by little farmers are changing their practices," he explains.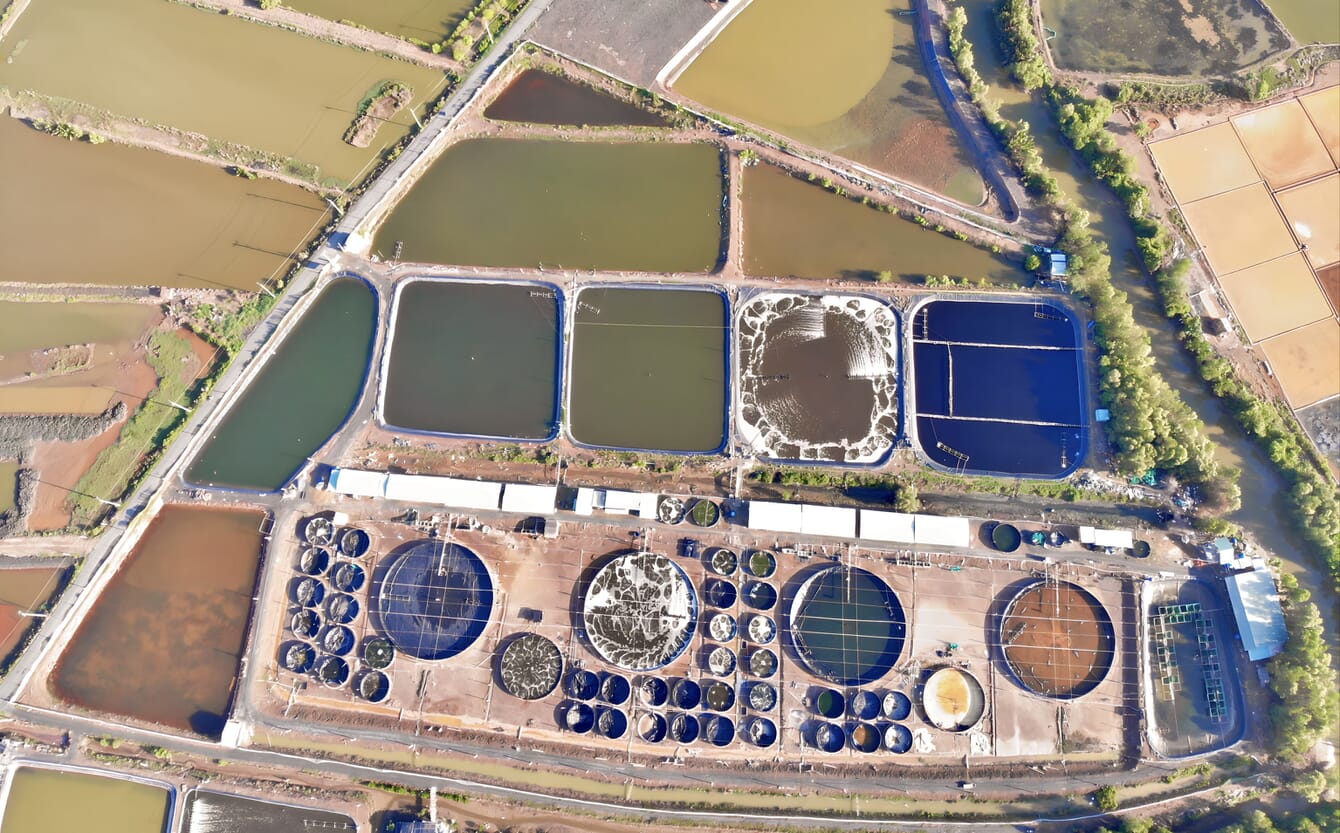 Diversification
Tran's crusade to improve farming methods is not, however, a big money-spinner.
"A lot of people are scratching their heads when they think about Loc's business model. To be honest I don't make any money from farmers – I provide diagnostic services at about 20 percent of the price of most diagnostics companies: just enough to cover my costs," he admits.
"We also provide diagnostics and consulting service free-of-charge to our customers who purchase our clean PLs, to increase the success rate," he adds.

As a result, in terms of revenues, he needs to rely on the other side of his business: running a testing centre for contract research into therapeutics, prophylactics, genetics, nutrition studies and beyond. This work has given Tran some remarkable insights into how the aquaculture sector is evolving.
"The advances in aquaculture over the last 10 years have completely blown my mind. Selective breeding programmes, for example, need to be given more credit. Growth rates have improved by 5 percent each generation and there are two generations every year, so they've improved vastly overall," he reflects.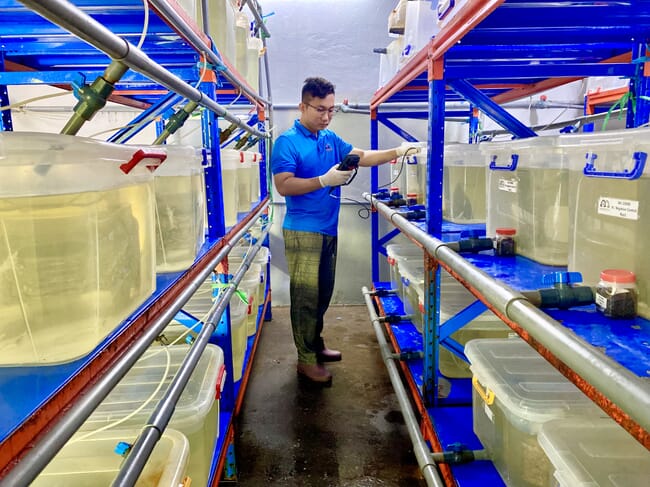 This increase in growth rates is essential, Tran argues, as otherwise Vietnam's shrimp sector, with its fairly high – and rising – production costs, will be destroyed.
He is also pleased to see farmers adjusting their practices, to avert catastrophe.
"Ten years ago, when I visited Vietnam with Don Lightner, and we saw a pond diagnosed with EMS, we knew that pond would collapse in 2-3 days. But now farmers know what to do: stop feeding, do some water exchange, throw in some probiotics, put some organic acid in the feed. They have a manual on how to deal with it and that's the beauty of research," he explains.

Staying ahead of the curve
Vietnam's shrimp sector is still dominated by small, family producers and Tran notes that they have little room for manoeuvre in the current economic climate.
"In the past, shrimp farming was like gambling – because the return is high, so people can take a high risk, and production costs were still below the revenue curve of even the worst farmers. But now the revenue curve is shallow, so we need to have a more efficient farming model," he observes.
"However, small farmers don't have the economies of scale, they don't have the capital – so they have to rely on creditors, who are usually small distributors of feed and pharmaceuticals. These creditors sell feed for 40-50 percent more, chemicals and probiotics for two times more than they would for cash buyers. So input costs are very expensive for smallholders," he continues.
"Small farmers also often rely on rumours about how best to operate – which often means that they buy many unnecessary inputs to treat their ponds, which increases their costs, often for no benefit," he adds.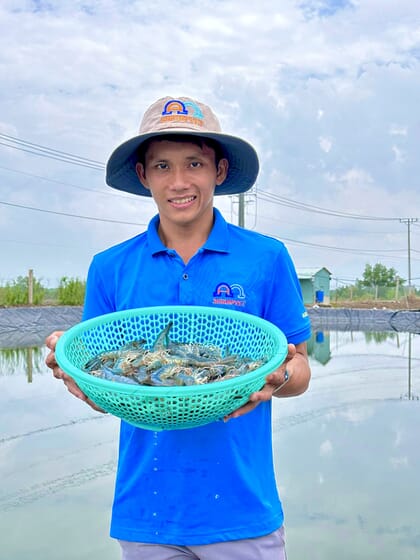 A new farming model?
As a result of the challenges facing smallholders, Tran has been in talks with the Vietnamese fisheries ministry to try to change the country's farming model, and he has also drawn up an alternative.
"They should team up to form co-operatives or SMEs which would give them more bargaining power and access to direct purchases from feed mills. If they are registered as a company and have a letter from the bank showing that they have the ability to pay back loans then the mills could give them three months credit on any feed they purchase," he suggests.
And, according to Tran, the mills would fully back the idea too.
"I've spoken to lots of feed mills and the majority of the CEOs say it's just what they need. And I think that's the only way that small farmers in Vietnam can remain competitive," Tran explains.

It's a model that he is currently looking to raise money to implement and he explains that he's in talks to close the first round of investment by August – which would cover the project's first phase, which aims to produce 2,000 tonnes of high quality shrimp annually over 40 hectares of (formerly extensively farmed) ponds.
If this proves successful he will then will be looking to raise additional funding in 2025, which would allow him to roll it out over 200 ha of ponds, producing 10,000 tonnes of shrimp annually.

According to Tran, the project will consolidate the know-how and technologies developed and tested at ShrimpVet on a commercial scale.
"These innovations have been well-proven at ShrimpVet farm. The project will focus on mass production of shrimp with: non-ablation, non-antibiotics, no pollutants in water discharged, applying circular economy, low production cost, and satisfying international standards," he explains.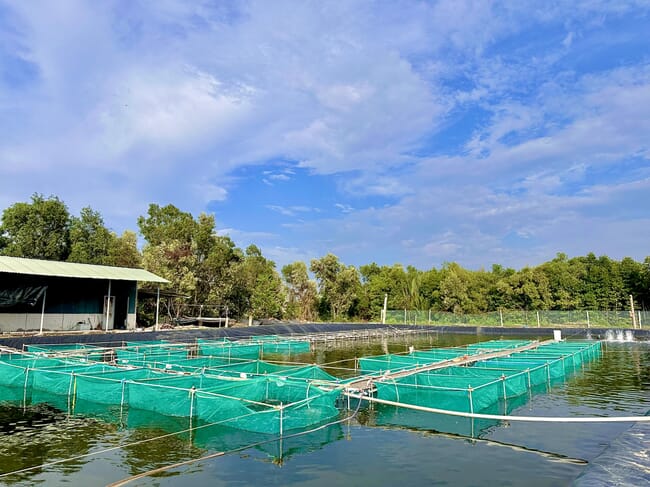 If he raises the funding it should keep Tran busy for much of his second decade since returning to Vietnam, although he reflects that he will also be looking at the bigger picture.
"We want to create a transparent, open source educational platform to accelerate the education as well as the transformation of the industry. I think it is very important to stick to the mission of promoting a healthier and sustainable development of aquaculture globally and we will keep working on innovations in aquaculture, in order to make the sector more sustainable, more scientific and more profitable," he explains.
"Our ultimate goal is to secure a plentiful future with farmers happy farming without damaging the environment, and consumers offered tasty, safe and affordable seafood," he concludes.