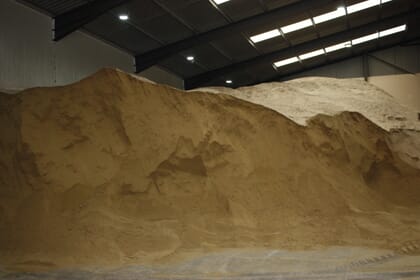 The report, released today, is the latest sector report focused on SFP's Target 75 Initiative, a global movement launched last year that seeks to encourage producers of 75 percent of the world's seafood to operate sustainably, or at least move toward sustainable production, by the close of 2020.
Many of the currently sustainable or improving fisheries lie in the Atlantic/Pacific reduction fishery sub-sector, meaning work to improve the global sector should focus more on other regions, according to SFP.
"While Target 75 (for the sector overall) can only be achieved by expanding improvement efforts in Asian reduction fisheries, the path to close the gap to T75 is not yet clear. Higher-volume multispecies trawl and small pelagic fisheries must be investigated to identify the most likely candidates to contribute to improvement in this sector," the report's authors wrote.
"Reduction fisheries in South America and the North Atlantic have made steady progress but there is a real challenge in achieving improvements within Asian fishmeal fisheries and that's where efforts need to be concentrated," said Blake Lee-Harwood, Strategy Director at SFP. "Improving the sustainability of mixed species trawl fisheries is not going to be easy but it's a journey that has to be taken."
To promote and effect greater positive change in the global sector, SFP highly recommends the use of supply chain roundtables (SRs) such as the European Sustainable Fishmeal, Latin American Reduction Fishery, and Southeast Asian Reduction Fishery SRs, which work to organize multiple FIPs in a sector, thereby streamlining the work required to improve sustainable seafood production.