The NSC, which is a trade body that works with the Norwegian fisheries and aquaculture sectors to develop markets for Norwegian seafood, arranged the talk to alleviate concerns in the Hong Kong market about the safety of salmon as a food product.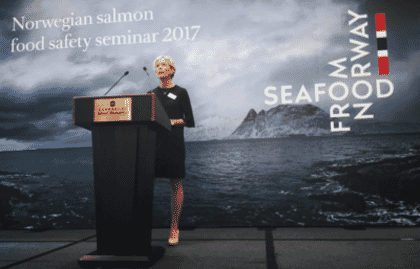 Marit Husa, Communications Manager at Skretting, was able to inform Hong Kong's suppliers of the robust security that is in place for Norwegian salmon so that they can in turn share details and further educate and reassure their customers. Other presentations at the seminar were made by Norway's National Institute of Nutrition and Seafood Research (NIFES) and the Director for the Norwegian Seafood Council in Hong Kong and mainland China.
Husa described what Skretting, as a global leader in aquaculture feed, does to ensure salmon food safety, and described the workings of the worldwide quality management programme, Nutrace. Developed and continuously being refined in such a way that all the risks associated with aquaculture feed production are minimised, Nutrace ensures that any irregularities are quickly found and acted upon, no matter where in the world they are discovered.
Husa also described Skretting's strong focus and significant annual investment in R&D that continues to yield a stream of innovative nutritional solutions that create more value for the global aquaculture industry. Attendees also welcomed details of the company-wide sustainability programme Nuterra, its alignment with the United Nations' Sustainable Development Goals (SDGs), and how it helps focus efforts towards fulfilling the mission of 'Feeding the Future'.