Seafood traceability has become a hot topic in the industry and was the opening panel discussion for SSW's Industry Day.
Five leading traceability advocates addressed the challenges and opportunities for seafood traceability. A major issue threatening the integrity of the seafood industry is seafood fraud.
According to Cheryl Dahle, the CEO of Flip Labs and the Executive Director of Future of Fish, 33 per cent of the seafood we eat is mislabeled or caught illegally. A flagrant example is red snapper said Ms Dahle, where only 13 per cent of red snapper are actually red snapper.
Aside from demanding to know the origins of their food, people are increasingly aware of how their choices impact the environment, as demonstrated in National Geographic's Greendex study.
However, the ramifications of fraudulent seafood stretch beyond misinforming the consumer. Ms Dahle explained how the sale of fraudulent fish legitimizes illegal markets and strips consumers of their purchasing power.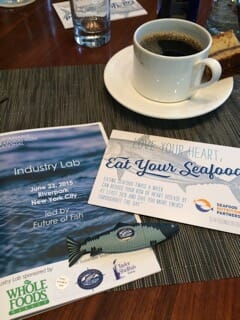 So how is traceability part of a solution to address growing mistrust and fraud in the seafood industry? Unfortunately, according to panelist Eric Enno Tamm, who is the team leader of Traceability Initiatives at Ecotrust Canada,"there's money to be made in misinformation."
But by making everyone along the supply chain responsible for where and how fish are caught, the market for fraudulent seafood will disappear.
Frankie Terzoli, the VP of Business Development and Sales of Seafood at Frequentz, echoed Mr Tamm: "Traceability, in essence, gives the consumer the tool to make a responsible decision."
When consumers easily understand where their seafood comes from, they can make an informed decision and support well-managed, legal and responsible fisheries.
Traceability has potential to be a valuable asset for the seafood industry for both consumers and producers, but integrating traceability along the entire supply chain proves challenging.
Ms Dahle introduced four pillars essential to a comprehensive seafood tracking system; internal company tracking, supply chain transparency, physical product and data pairing (a tracking device or tag) and data verification through the ability to cross check information.
Individually, each of these functions plays an important role in furthering traceability. However, the synergistic effect of all four is necessary for an honest and comprehensive fish tracking system.
Despite this framework, progress toward traceable seafood lags significantly behind terrestrial proteins. The vast variety of aquatic species offers one reason as to why fish traceability has yet to match the traceability levels of terrestrial counterparts.
On land, we need to identify and track 70 species. In the water, that number skyrockets to over 2,500 species.
Another reason is resistance of fishermen to new technology, who are "notoriously skeptical," said Mr Tamm.
Seafood traceability technology needs to "make the user experience easy so [fishermen] actually prefer to use it," said Thomas Kraft, founder of Insite Solutions.
Mr Kraft further explains the importance of minimizing technical and cultural barriers when implementing new traceability technology, like electronic fish measurement tools or the serialization of catches.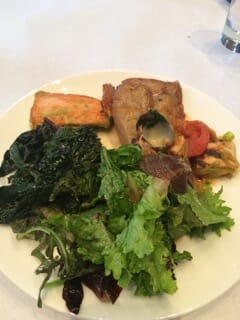 A further incentive for fishermen to commit to new traceability technology is if local and large-scale fishing operations can see the business sense in tracing their fish.
"The industry needs to tune into the value of data," said Jenny Walsh, Product Development Director at Point 97 who highlights that small-scale fisheries can "articulate local value" through traceability while larger operations can cater to the conscious consumer.
The seafood industry must rise the challenge to deliver traceable fish from stable, healthy fisheries.
A growing population demands sustainable seafood. Barton Seaver, the energetic Health and Sustainable Seafood Director at Harvard University, proposed the creation of "civic fisheries" as the answer.
Mr Seaver speaks of developing a "language of sustainability" where "storied seafood" comes from someone and somewhere, reminding people to pay attention to who and how and where their food is caught.
Civic fisheries consider the entire supply chain through chronicling the sea-to-plate journey of each fish. By adopting this holistic approach to seafood traceability, we can grow the value of the fish we already catch.
Seafood traceability is not a one-stop solution for the issues affecting our oceans; however it is an essential step toward empowering fishermen and consumers to responsibly enjoy the fight and flavor of the sea.