At the Shellfish Association of Great Britain's Annual Conference in London on 14 May, Marcus Coleman, CEO of Seafish, discussed his analysis of the UK's seafood supply chain - identifying three distinct trends that presented both opportunities for growth and unknown challenges.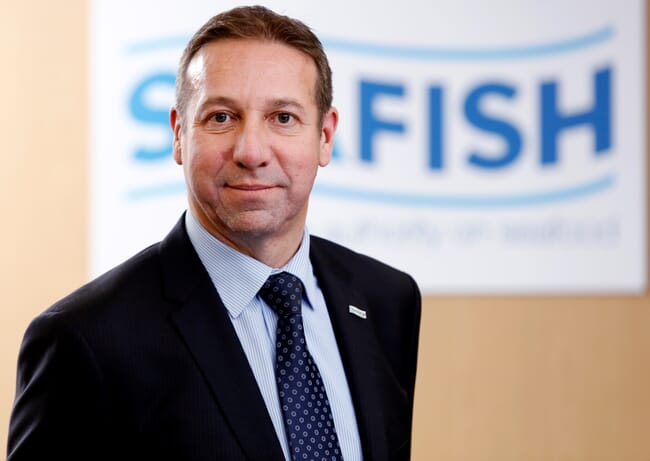 In his presentation, delivered in the stately surrounds of Fishmongers' Hall, he referred to these as the "known unknowns" that influence the success of the shellfish industry.
Protein pursuit
Coleman began his analysis by examining global data on seafood consumption. In general, aggregate consumption of seafood has increased, he noted, but certain geographic regions buck this trend. Recent data indicates that seafood consumption in Asia has declined. Meat is now the primary source of protein in Asian diets. This trend is expected to continue for the foreseeable future. However, recent outbreaks of diseases like African swine fever and classical swine fever have decimated China's swine herd. These diseases have been catastrophic for Asian pork producers; and have led to massive culls of livestock.
The protein shortage associated with these disease outbreaks could represent an opportunity for the UK's shellfish sector, Coleman explained. Since Asian countries receive the majority of Britain's shellfish exports, consumers may turn to these items in response to price surges or shortages in pork. Coleman encouraged producers to pay attention to export agreements lest they miss an opportunity.
Product protection
Recent economic trends have indicated that food prices are fluctuating. This price volatility, compounded by increasing rates of under-nutrition around the globe, could lead to situations of food fraud. Multiple sectors of food production have struggled with fraudulent products. Whether this is attributed to product substitution or adulteration, the general gist is that the item listed on the label does not match the contents of the container. Coleman emphasised that the UK's efforts to trace and correctly label its shellfish supply could be a strong selling point for global customers.
Coleman stressed that by strengthening the UK's traceability efforts and expanding control over fisheries, the UK could be a global leader in ensuring product efficacy. Mastering traceability means that consumers receive high-quality products and the end of industry supply chains. He used the term "inter-operable seafood traceability" and emphasised that traceable seafood was sustainable seafood.
Another key element of "inter-operable seafood traceability" was the adoption of 4.0 technologies - production systems that allow producers to gather, share and benchmark data - could decrease fraud in the fisheries and aquaculture industries.

Plastic pandemonium
The public has become more aware of the dangers of plastic pollution in recent years. Researchers have observed plastic and microplastic contamination in remote ecosystems and in various species. Shellfish, in particular, are vulnerable to plastic contamination since many species are filter-feeders. Also, since consumers don't remove the digestive systems of shellfish before eating them, they could inadvertently ingest the accumulated microplastics, warned Coleman.
As it stands now, he noted, it's too soon to say if there is a human health risk from ingesting plastics from seafood. However, plastic pollution appears to be in the zeitgeist. Coleman suggested that producers rely on traceability and technological advances to tackle the issue. Having complete control over the shellfish supply chain could let the UK remain competitive and be a global leader in the sector.