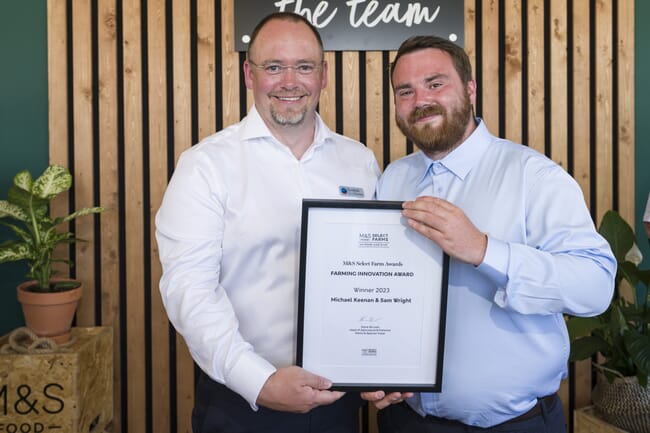 The pilot, at Scallastle in the Sound of Mull, involved replacing artificial kelp hides with natural kelp, resulting in improved health and welfare for the cleaner fish and salmon. The innovation award was presented to farm manager Michael Keenan and fish husbandry colleague with fish health specialism Sam Wright, who oversaw the day-to-day running of the project.
Scottish Sea Farms, the exclusive supplier of M&S Select Farms Scottish salmon, was one of four winners of the awards scheme, which celebrates leading UK food producers.
"We've always been very open to trialling new technologies and approaches at Scallastle, but particularly so this latest kelp initiative because of the potential benefits for the cleaner fish and wider marine environment," said Keenan in a press release. "To now have this ongoing improvement drive recognised by M&S is a really proud moment for all of the team who have worked so hard."
Studies have shown that seaweed absorbs CO2 and removes nitrogen and phosphorous from the ecosystem. And because kelp has a natural, anti-biofouling property, it is very low maintenance compared to plastic hides.
During the trial, conducted last year, not only did the seaweed do well, but the salmon and cleaner fish (wrasse and lumpfish) in the pens thrived too, said Keenan. "We had one pen with real kelp only, one with plastic hides, and one with both artificial and real kelp and we noticed a difference quite quickly. The cleaner fish, which we use as a biological control for sea lice, showed a clear preference for the natural kelp. What's more, this was the only crop we've had where we've required no sea lice interventions involving thermo-delousing."
He added: "Having someone with Sam's dedication was instrumental because he was on the salmon pens all the time, checking from a welfare point of view whether lice numbers were better than in the pens with synthetic kelps, whether the gills were better, and how the cleaner fish were feeding."
Keenan would now like to encourage seaweed in all 16 of the pens at Scallastle and Wright, who has since moved to neighbouring farm Bloody Bay, is keen to launch the scheme there too.
"It's amazing the effect that replacing plastic hides with natural kelp had on the cleaner fish and the salmon but also the versatility of it – we basically just put the ropes out and let it flourish," added Wright. "There are lots of different species of seaweed so there are plenty of possibilities if Scottish Sea Farms decides to roll this out to other locations."
Morna Marr, Scottish Sea Farms commercial manager, who oversaw a visit by M&S to Scallastle last year, said: 'It was great to be able to show customers the initiative in practice, and see first-hand the salmon and cleaner fish thriving."
This is the fourth occasion that Scottish Sea Farms has been presented with the Innovation Award, bringing the total number of M&S Awards received over the years to 12-strong, ranging from Plan A 'Future of Farming', Rural Communities and Low Carbon Farming, Pioneer to Outstanding Producer, Young Producer of the Year and M&S Champion of Champions.