What's the scale of this phenomenon?
Many of the biggest salmon producers are making investments in the whitefish sector. However, although it is attracting attention, the extent of this trend is not yet significant.
Cooke Aquaculture has acquired the assets of Fripur SA, Uruguay's largest seafood company, which added 16,000 tonnes of hake to their product mix. They also purchased Icicle Seafoods which, as well as supporting their salmon interests in the US, adds cod and Pollock (in addition to wild salmon) to their portfolio. Meanwhile, they also added Bass and Bream to their portfolio through their acquisition of Culmarex from Morpol.
Lerøy Seafood Group has made a full acquisition of Havfisk and bought additional shares in Norway Seafoods Group, which ensures access to more than 100,000 tonnes of raw whitefish. Whilst Lerøy had already been involved in marketing whitefish, this vertical integration shows a significant commitment to the sector.

Marine Harvest's attitude to whitefish has changed over time. When the group was initially formed through the merger of Marine Harvest, Fjord Seafood and Pan Fish in 2006 they owned several processing plants, including Peter's Seafoods in Belgium, where more than half of the produce was whitefish. However, the primary objective was to vertically integrate their salmon production rather than to focus on whitefish. Now they are investing in the growth opportunities and synergies in the whitefish sector . In March 2017 they signed a joint venture with Espersen to create a 'one-stop-shop' for a variety of seafood products.
Finally Salmar are using their investment vehicle Kverva to explore the whitefish sector and have recently agreed on the purchase of Finnish producer Apetite.
What's the main appeal of the whitefish sector?
Salmon producers have improved their profitability in recent years. However, it is more difficult to achieve the same level of growth and expect the same return on investment as it has previously been. It is also not in the nature of the sector to give focus only on high dividends – it is not a cash cow sector but instead a growth sector. As a result, they are looking for ways to invest in new areas of growth that have synergies with their current operations.
Salmon producers have observed that on the same shelves at retail level there have always been whitefish products but salmon has become a much more expensive product. Salmon producers feel that, by using their innovative tactics, distribution channels and packaging styles, they could lift the whitefish sector and create value.
Henning Beltestad, CEO of Lerøy Seafood Group reported that its integration with Norway Seafoods will in the short-term lead to a clear synergy potential and economies of scale. In the medium-term there will be a clear potential to create value through increased demand for whitefish.
This is still to be seen. The two sectors have their differences; salmon is consolidated, cash rich, innovative and growing, whereas whitefish is undervalued, price competitive and not growing. But the opportunity to create new demand and value is attractive.
What do the salmon companies brings to the whitefish industry aside from capital?
Innovation and marketing capability alongside logistical infrastructure, particularly for fresh product, are the key strengths. Logistically they are a good fit – salmon producers identify the synergy of bringing fresh whitefish alongside their existing salmon products.
However, where the salmon companies have been very successful is growing the demand for their product. Salmon sits on the shelf next to whitefish but is seen as the healthy, omega-3-rich, luxurious and high price product that dominates the market. The salmon companies with a stake in the whitefish market are looking to utilise their expertise in understanding customer demand by providing innovative products, and growing demand through successful marketing.
An example of product innovation is the use of modified atmospheric packaging (MAP). MAP has been around in the UK for decades but it is not common in the rest of Europe. In more traditional markets such as Spain, Portugal and Italy, it is far more common to go to the fresh fish counter. In Germany, smoked or frozen products have traditionally dominated, but some retailers' decisions to increase MAP options has brought convenient fresh salmon products to a large audience. The graph below shows the impact of fresh salmon sales in Germany following the introduction of MAP in 2013.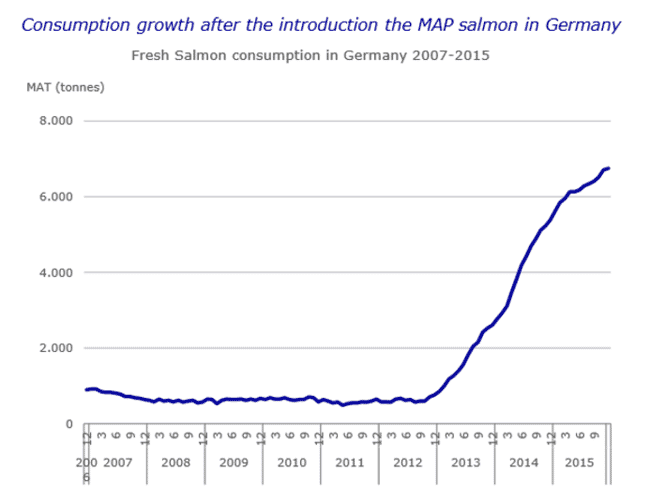 IGLO and Findus united to form Nomad Foods in 2016. Their renewed focus on core products and innovation around marketing and packaging has turned the company's fortunes around.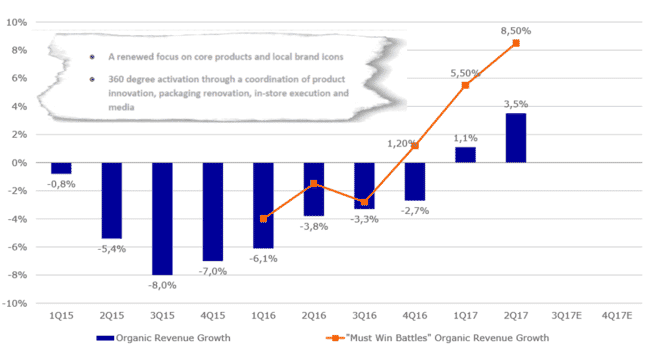 The more traditional markets of Germany and Italy have seen the biggest improvement in revenue growth for Nomad.

What is the overall impact of this trend on the seafood sector?
With the named salmon companies above, plus the likes of Nomad and Trident (new owners of the major private label processors of whitefish in Europe), we are seeing much stronger ownership of the whitefish producing and processing companies, as well as a longer-term view of and commitment towards the industry.
The ambition for the new entrants is to grow the market and create new demand. We should expect the trend will lead to new products, fresh innovation and better marketing of whitefish. It's an exciting time for the sector.