Salmon farming worth £2 billion to Scottish economy
Scotland's salmon farming sector is worth over £2 billion to the country's economy, according to a new report.
The report, which was commissioned by the Scottish Salmon Producers' Organisation, shows that the industry's turnover was just over one billion pounds in 2018, with gross value added (GVA) of £365 million. The industry also contributes £50 million in corporation tax and £76 million in wages, with the average wage for the 2,300 workers in the sector £34,000 per annum – 16 percent above the national average.
The latest data suggests international exports of Scottish salmon are over half a billion pounds each year – which equates to over half the value of the country's food and drink exports (excluding Scotch whisky).
The most recent version of the Scottish Government's economic impact model (based on input-output tables) shows that for every £100 of turnover within the Scottish aquaculture industry another £93 is sustained elsewhere in Scotland's economy through supply chains and high street spending from the wages paid to employees.
Given an industry turnover of £1,027 million, this suggests that the economic impact of the industry could support nearly £2 billion of turnover in Scotland's economy today and several thousand Scottish jobs.
The report also calculated that, for every £100 of income within aquaculture, a further £163 of income is sustained in the rest of Scotland's economy through supply chain effects and employee spending. Meanwhile, the total tax revenues generated were £216 million.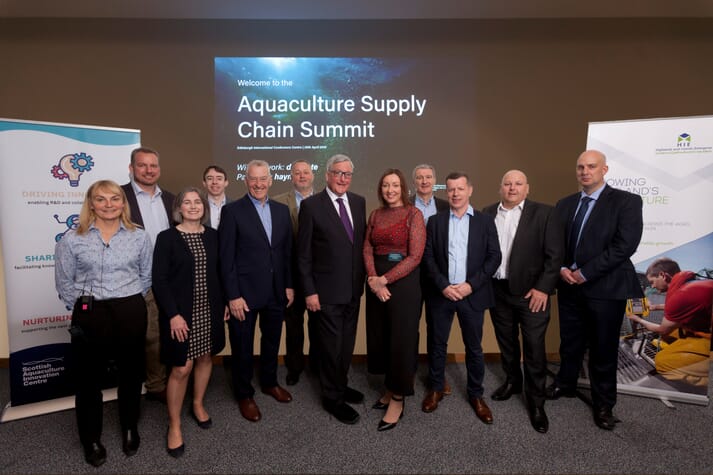 Supply chain summit
The report follows hot on the heels of the salmon sector's supply chain summit, which took place in Edinburgh last week with the aim of exploring how to accelerate the industry's growth.
The event saw around 90 delegates from producers, supply chain businesses and public agencies discuss growth opportunities and how best to overcome current constraints.
Organised by Highlands and Islands Enterprise (HIE), in conjunction with the Scottish Government, Marine Scotland and the Scottish Aquaculture Innovation Centre (SAIC), the event – which was not open to the media – reportedly focused on how to achieve commercial collaboration while safeguarding competitive advantage informed much of the debate.
Linking to the Aquaculture 2030 strategy and the Farmed Fish Health Framework the agenda also explored developing production and supply chain excellence to support increased exports and innovation.
Attending the event Rural Economy minister Fergus Ewing said: "The continuing uncertainty around Brexit means that it's more important than ever for those involved in the aquaculture supply chain to use opportunities like this to meet and share concerns, and agree on how we can work together to protect and enhance this important sector.
"I'm certain that by working collaboratively, we can continue to ensure a sustainable future for aquaculture in Scotland."