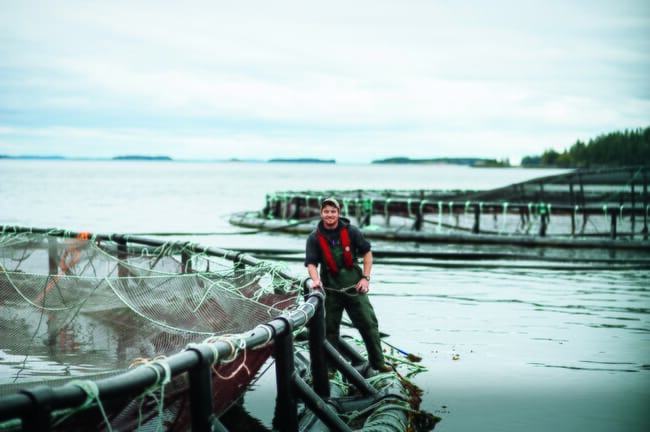 The FAIRR Initiative has released their 2023/2024 Coller FAIRR Protein Producer Index, where seven of the top 10 producers are salmon farmers, with Mowi and Grieg Seafood ranked first and third, respectively.
The Coller FAIRR Protein Producer Index assessed 60 of the largest publicly traded global meat, dairy and aquaculture companies on social and governance themes aligned with the United Nations' Sustainable Development Goals (SDGs).
"Raising healthy food while minimising our impact on the environment in a safe workspace is our top priority," said Diane Morrison, managing director of Mowi Canada West in a press release. "Mowi ranking number one for five years in a row is an important endorsement of our commitment."
The index assessed 10 risk and opportunity factors: greenhouse gas emissions, deforestation & biodiversity loss, water use & scarcity, waste & pollution, antibiotic use, animal welfare, working conditions, food safety, sustainability governance, and alternative proteins.
"As salmon farmers, we are environmentalists. We truly care about respecting wild salmon and the environment we work in," said Jennifer Woodland, managing director of Grieg Seafood BC. "Our employees live on the water while working on the farm; it's home."
Aquaculture supplies about 50 percent of global seafood consumption; in a world where food production will need to increase by about 60 percent to support the expected global population of over 9 billion by 2050. According to the United Nations FAO, wild-caught fish cannot meet demand as fish consumption is growing twice as fast as the global population growth rate.
"Salmon farming plays a key role in a healthy and responsible food system globally and domestically. Nearly 90 percent of Canadians regularly eat seafood, with 45.8 percent coming from British Columbia," said Brian Kingzett, executive director of the BC Salmon Farmers Association. "Within Canada, farm-raised salmon is the most popular seafood choice, and the demand for seafood is only rising. We need to support the growth of sustainable seafood production, including salmon farming."