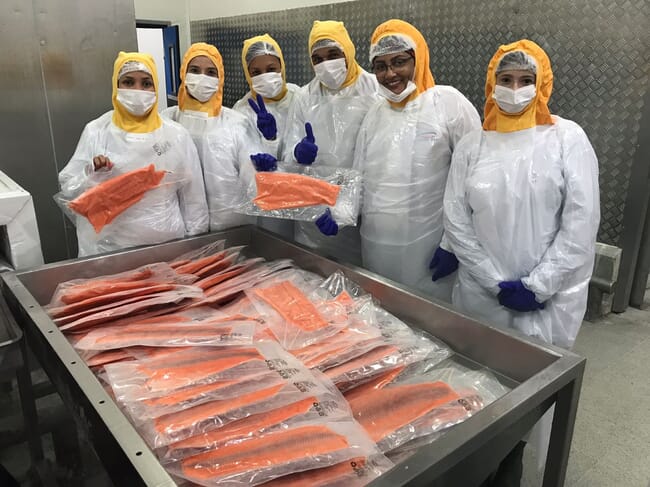 A World Bank survey conducted in 2010 suggested that 85.5 percent of fish processing workers worldwide are women, but there is little information on the contributions women make to the industry overall and they are rarely represented in media and communications about the sector.
As a result, Seafood and Gender Equality (SAGE) is launching a new campaign, #SeafoodSmize, to illuminate the millions of women who occupy the frontline and essential roles of processing and packing seafood.
As SAGE's founder, Julie Kuchepatov, says: "I wanted to think of something fun that we all can do to bring these women out of the shadows. In our industry, we visit processing facilities a lot and, if you're like me and my colleagues, the phones come out and we're taking selfies the minute we put on a hairnet, mask, uniform, and rubber boots. 'Smize' means 'smiling with your eyes' and I think by sharing these photos, and poking fun at ourselves at the same time, we can draw positive attention to the women behind our seafood."
Throughout the duration of the campaign, which runs until 1 December, SAGE will post on its social media channels photos from processing facilities shared by industry colleagues. While illuminating the hidden women in seafood processing is a key goal, this campaign also aims to promote the importance of mask wearing during the global pandemic.
"The beautiful thing about this campaign," Julie continues, "is that everyone can participate. If you don't have any selfies in a processing plant, share a photo of yourself in a mask, use the hashtag #SeafoodSmize, and don't forget to tag @seafood_and_gender_equality."
The #SeafoodSmize campaign also serves as a fundraiser for SAGE. Tax-deductible donations will help the organisation continue in its burgeoning effort to build a more inclusive, diverse, and equal seafood industry. Follow the link to donate: https://www.seafoodandgendereq...