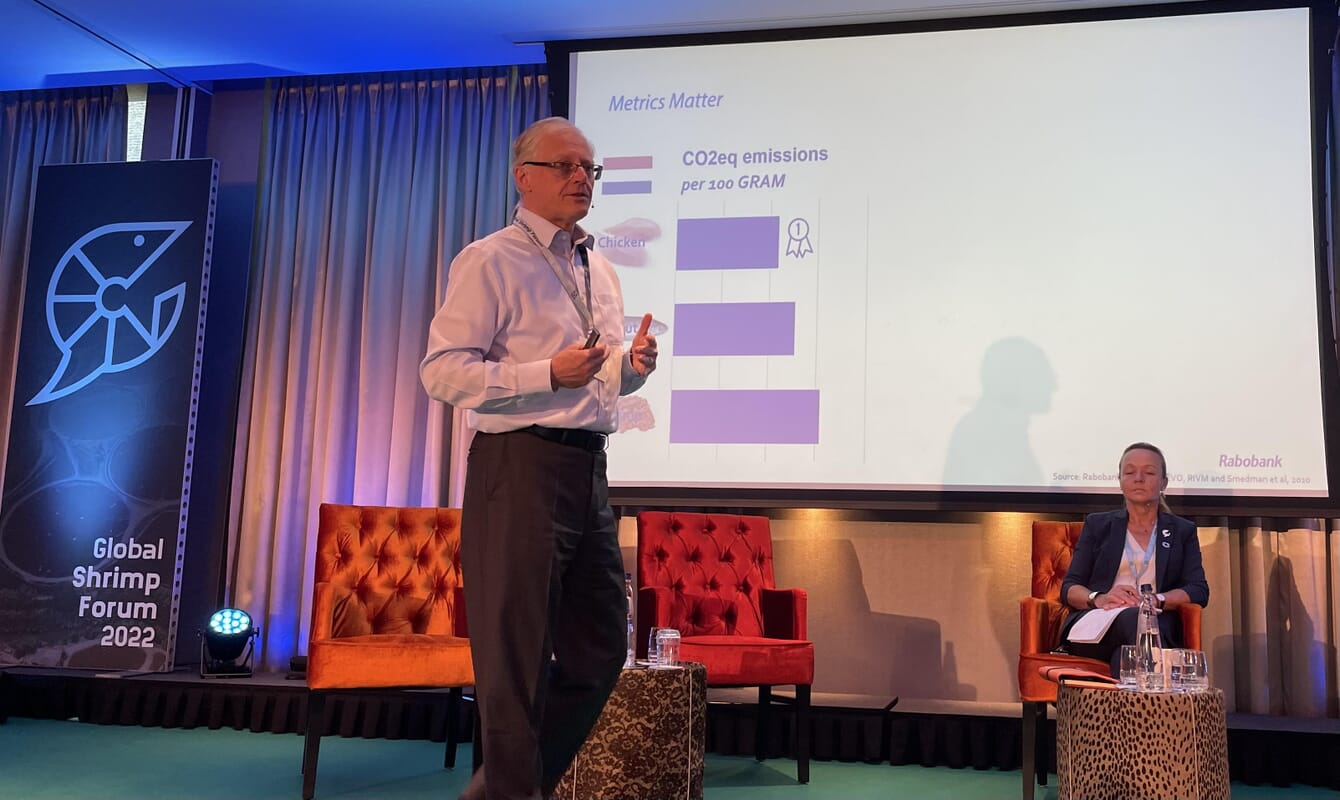 In a presentation titled "Feeding the world sustainably", which he delivered at this week's Global Shrimp Forum, Marttin emphasised the huge potential offered by blue carbon and how the shrimp farming sector is well placed to capitalise on this, through initiatives such as mangrove restoration.
"I didn't know so well until a couple of months ago the huge positive impact that blue carbon can have on your industry," he admitted, pointing to the fact that the most recent report by IPCC emphasises the possibility of carbon sequestration to absorb 4 billion tonnes of the food industry's carbon emissions through regenerative farming, but ignores blue carbon.
"But there was no rapping about the blue carbon – about the possibility in the mangroves, in the areas that your farmers are taking care of, of capturing carbon," he noted.

While terrestrial initiatives can achieve 1-2 tonnes of carbon capture a year, coastal ones – such as mangrove restoration – can achieve 5 tonnes per hectare, he observed. If this was monetised at a rate similar to terrestrial carbon capture projects, this could have a significant impact for small-scale shrimp farmers in particular.
"Five tonnes per hectare is an additional income of at least $500 per hectare," he explained.
Marttin also noted that most of the shrimp sector's emissions occur – surprisingly – at the farm level, rather than through feed. And pointed to the possibilities offered by using more solar power, for example, rather than diesel generators to power aeration systems.
"So, I could imagine that if you added lower emissions at the farm level by changing some of the practices and you add the 5 tonnes per hectare of emissions because you integrate with the blue mangroves. Wow! Basically, you produce a net positive shrimp. You can say to your consumer, that basically if you eat this shrimp you are contributing to the environment, not taking away from the environment. I may be dreaming, but I do think that I could try to make a case about that."
"I can only see your industry as an industry that is extremely important for the livelihoods of billions, an industry that has a low [carbon] footprint and industry that has a high nutritional density, as one of the winners of what we really need to do… we need to make this work," he concluded.