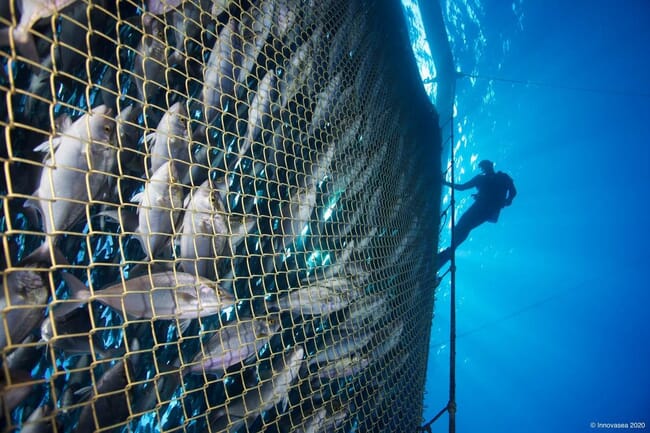 Innovasea, which is best known for its range of innovative offshore aquaculture pen designs, has recently embarked on a spending spree to integrate a diverse set of services into its portfolio, enabling it to become a full service provider.
Acquisitions
The company, which is which is part of the Cuna del Mar portfolio, was formed by the merger of Seattle-based OceanSpar and Maine-based Ocean Farm Technologies in 2015. Since then it has stepped up its plans to expand. In 2017 it acquired Amirix Systems – the parent company of Nova Scotia-based Vemco, Realtime Aquaculture and the Seattle-based HTI-Vemco. This added fish tracking and monitoring capabilities as well as real-time environmental monitoring to Innovasea's range of solutions.

In January 2019, Innovasea further bolstered its environmental monitoring capabilities by acquiring Norway's Nortek Akvakultur; the following month it acquired Louisiana-based Water Management Technologies, a leader in designing and building intake and effluent management systems and a leading designer of recirculating aquaculture systems.
The company is now able to provide farming hardware, consulting services and artificial intelligence (AI) platforms and other products for data management and analysis.
"Since being founded four years ago, we've strategically acquired a number of companies to help us expand the breadth of our expertise," said CEO David Kelly. "These companies were all leaders in their respective areas – with smart people, strong customer bases, compelling technology and great products. Now that we've successfully integrated them into the Innovasea family, we're able to offer unique, integrated solutions that are unrivalled in the marketplace."
Pioneering pen designs
One of Innovasea's first major pen designs was the SeaStation, a fully submersible pen with a volume that ranges from 6,400m3 to 14,500m3. The system uses a central spar to provide buoyancy. This is fully adjustable, so the pen can be lowered or lifted as needed. A central rim provides stability, specifically for when the system is surfaced. These pens are ideally installed in water of 60m to 100m depth.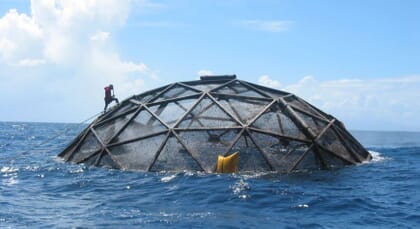 The system is normally kept fully submerged and is ideally suited to deployment in areas with year-round strong wave activity and storms. Fish can be bathed using a tarpaulin system, but the pen seems initially more difficult to work with and pricier compared to standard floating cages. However, the company argues that its enhanced efficiency should, over time, reduce repair and manpower requirements. Moreover they point out that their SeaStations have survived numerous Category 3 and 4 hurricanes and typhoons over the last two decades and are engineered and constructed to handle the daily pounding of relentless choppy seas, the kind of wear and tear that over time will destroy a traditional surface pen.

In contrast, the Aquapod is a spherical structure which has become an icon for offshore aquaculture. As this pen system eventually turned out to be too costly to scale up, the company developed newer models.
The company's latest offering is the Evolution Pen, which is a floating system that can sink using a pendant weight system when needed. This system is available in a number of models, ranging from one with an 8m net depth with a volume of 2,860m3 up to version with a net depth of 20m and a volume of 22,390m3. The buoyancy of the system is fixed using foam padding in the piping, with variable buoyancy regulated through pressurised air in a floodable chamber.
Floating cages are generally easier to work with and, in areas where large storms only occur sporadically, the company suggests that the Evolution Pen is probably a better alternative.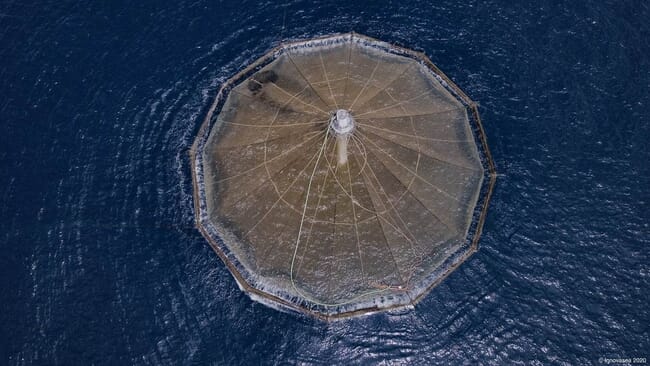 Net gains
Besides these innovative pen designs, the company has also developed a new approach to netting. A few years ago they developed a brass netting product that better protects cultured fish from large predators like sharks and dolphins. These copper-alloy nets also help against biofouling and the nets no longer need to be changed regularly, as they stay free from algae and barnacles.
A third unexpected advantage is the dramatic reduction of external parasites when using these nets. Cultured kingfish, for example, are often plagued by external parasites and require regular bathing in hydrogen peroxide for treatment. This is time-consuming, expensive and stressful for both the fish and their farmers.
Brass netting creates a much cleaner and healthier environment for fish to grow in, and Innovasea wanted to independently confirm its viability. For this purpose, the company initiated a new study, the results of which were recently published in Aquaculture.
During the study the environmental impacts of brass mesh nets on open-ocean aquaculture pens in tropical marine environments were investigated over the course of two years. Innovasea's Tyler Sclodnick and Langley Gace were co-authors for the study, which revealed that dissolved copper levels at two fish farms stayed below 1 micrograms per litre at all times, and that there was no significant difference in dissolved copper levels between the reference site and other measurement sites at either location.
Most countries have yet to develop guidelines on heavy metals in sediments around aquaculture farms, specifically for copper. The EU, for example, has not yet set any guidelines or maximum limits. However, the provincial government of British Columbia, Canada, already has in place one of the strictest sets of guidelines on metals in sediments. Its "Water quality criteria for copper" (1987) set the interim sediment quality guideline for copper at 18.7 mg/kg and the probable effect level at 108 mg/kg. The sediments of the sites investigated for this study stayed well below these thresholds.
Farm management
With the integration of Realtime Aquaculture and HTI-Vemco into Innovasea, the company is also gaining traction in the development of digital farm management and monitoring systems that are based on AI.
This relatively uncharted region of aquaculture offers significant potential for improvement, as farm monitoring and management are still mostly based on human instinct and gut feeling.
Feeding, for example, constitutes the largest operational cost in the farming of finfish, and Innovasea has developed a monitoring system consisting of cameras in and below its pens. The system uses AI to track both the feeding behaviour of cultured fish and to track excess pellets, which pass through the nets on their way to the sea floor, greatly reducing and potentially eliminating excess feeding and wastage in the near future.
As part of overall monitoring, the company has also developed a self-learning algorithm that can analyse incoming video streams to calculate standing stock and the overall biomass in a pen, thereby improving feeding and treatment regimens, as well as farmers' production projections.
The system is species-specific and needs about six months to properly familiarise itself with a new species. It is already fully functional for cobia, kingfish, snapper and salmon.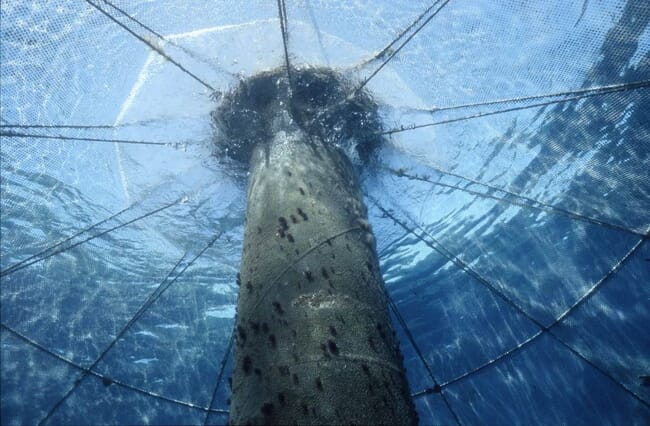 Current projects
The company insists that it uses very strict selection procedures to ensure that new clients have similar standards on environmental and social responsibility and is currently working on a number of new projects.
In the Azores, Innovasea is helping to develop a kingfish hatchery and growout system. In South Korea, it has delivered a number of pens for a local Pacific bluefin tuna farmer. The company is also working with potential clients in North America, Asia, Africa and the Caribbean on a variety of open-ocean aquaculture projects.
Closer to home the company is excited by legislation, such as the forthcoming Aquaa Act, which could enable more aquaculture in US waters.
In the words of David Kelly: "Innovasea has been working with several companies interested in open ocean aquaculture in the US, many of them start-ups. We assist them with engineering and consulting work, including site and species selection, while also helping them navigate the country's byzantine permitting process."
"It's hard to overstate how important these actions will be for existing fish farmers, aquaculture entrepreneurs and their investors," he adds.

Conclusion
Although Innovasea's products might initially be pricy, they present a host of opportunities – particularly for farmers focusing on high-value species.
With sustainability becoming a top priority in western supply chains and with offshore aquaculture operations finally starting to take off, we are bound to hear more from this exciting company in the near future.