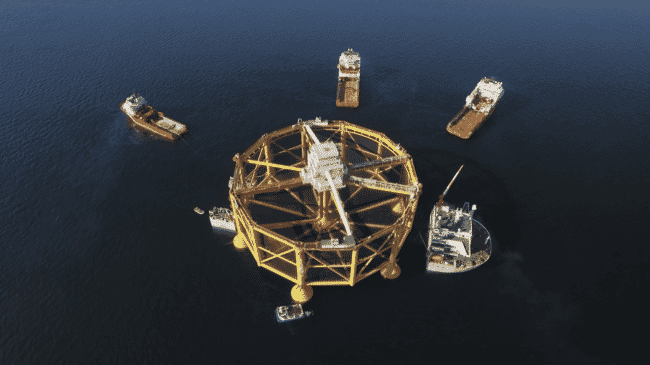 Called SalMar Aker Ocean the partnership aims to operate purely in offshore and semi-offshore locations.
"By combining Aker and SalMar's industry experience, leading competence in salmon production, software, and cleantech the aim is to create the world's most reliable and intelligent offshore farming operations with the highest requirements for fish welfare and a zero-emissions value chain ambition," announced SalMar in a press release.
SalMar has already grown 10,000 tonnes of salmon in Ocean Farm 1, the world's first offshore salmon farm. The new company will initially continue to focus on the establishment of offshore salmon farming in Norwegian waters, which will require establishment of a regulatory framework for offshore farming. The company plans to collaborate with the Norwegian authorities, the aquaculture industry, and other interested parties for the establishment of a regulatory framework.
Atle Eide will chair the board of directors of SalMar Aker Ocean and Gustav Witzøe, Kjell Inge Røkke, Øyvind Eriksen and Torger Rød will join the board.
The company has started a process for the recruitment of a new CEO, as the current CEO of SalMar Aker Ocean, Olav Andreas Ervik will step down from the position during the spring 2022, but continue as an advisor to the company.
"SalMar Aker Ocean and its owners look forward to join forces developing offshore aquaculture as an important contributor to the future supply of healthy seafood globally," said Gustav Witzøe, CEO of SalMar.