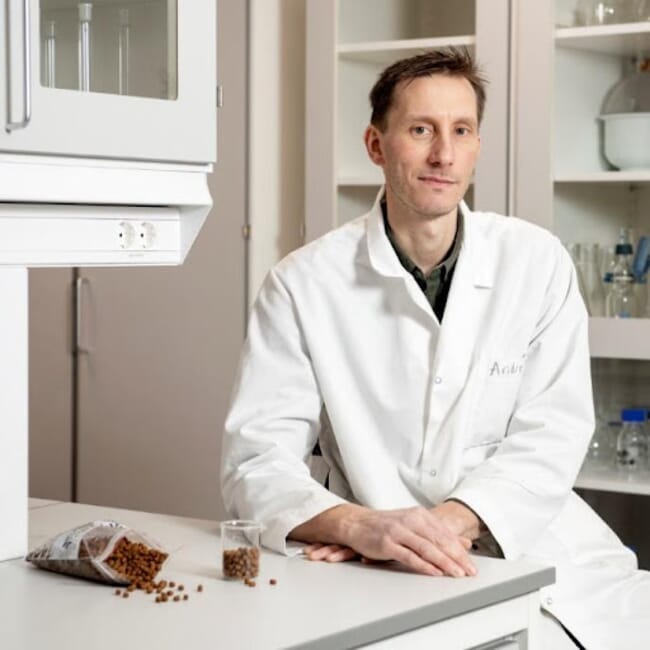 Insects can be found towards the bottom of many food webs and require little area to thrive, making them an attractive type of feed ingredient in the search for more sustainable fish feed.
In a new study into the use of black soldier fly larvae as an alternative aquafeed, the Norwegian research institute Nofima investigated the effects of stickwater - a water soluble, nutrient rich ingredient produced during insect processing - on the growth of salmon parr.
The Nofima researchers produced trial feeds in which they added 10 percent insect meal and different levels of stickwater from black soldier fly larvae. The trial feeds were fed to salmon parr held in trial tanks at Nofima's Sunndalsøra research station, and the salmon growth rates under trial and control regimes were compared.
The trials showed that salmon parr grew just as well and had just as good digestion when their diet contained stickwater from insects when compared to fish on the control diet. With 10 percent insect meal in the feed, the fish also grew just as well as fish that received the control feed.
"The trial shows that there is no problem in salmon having at least 10 percent insect meal in their feed. Based on the positive effects of the stickwater fraction from fish meal, we cannot rule out that this fraction from insects would have had a positive effect under other conditions. In any case, it is an important side stream to safeguard for the optimal utilisation of insects as feed for fish", says Nofima's Andre Sture Bogevik.
The project also investigated the effects of the different feeds on the level of the manganese in the salmon. The EU has threshold values for the content of manganese in the finished feed for farmed fish, and insects contain naturally high levels of this. The trial showed that the fish excrete the mineral and do not absorb more in the body than if the meal did not contain high levels of manganese. Nor did the mineral lead to any deformities or have a negative impact on growth.
"We are delighted to observe results aligned with the internal research we have carried for the past years at Innovafeed. The growth results pave the way for the widespread use of insect protein in the salmon industry, as a sustainable, traceable, and performing ingredient," said Elin Kvamme, aqua director at Innovafeed, the producer of the black soldier fly larvae used in the study.