The project is being led by North Carolina Sea Grant and NC State University,

"We're extremely excited," said Eric Herbst, North Carolina Sea Grant's coastal aquaculture specialist, in a press release. "I think it speaks to the real potential for commercialisation of the striped bass aquaculture industry in the US."
NC State's Russell Borski, StriperHub's southeast regional coordinator, said taste is part of what makes striped bass a prized species for aquaculture.
"A candidate species has a premium price, high consumer demand, and adapts well to localised production," Borski says. "Among white-fleshed marine fishes in the US, there aren't many of these. But striped bass meets all the criteria."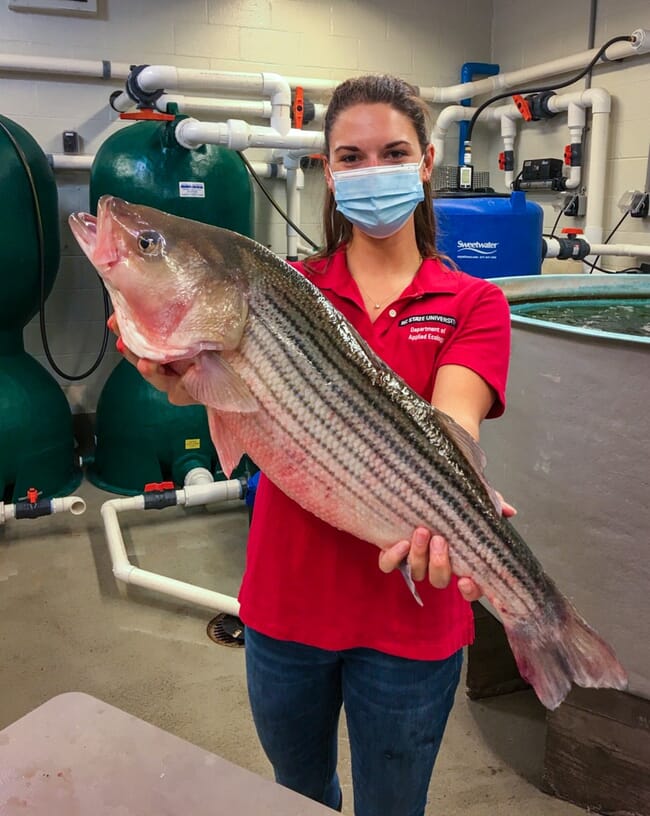 StriperHub also received National Sea Grant funding in 2019 for a project that includes commercial partners and fish farmers in North Carolina who have dedicated a portion of their operations to growing striped bass. Farm-raised striped bass species has proven to be highly marketable in recent years, appearing on menus at local restaurants and sushi bars in the Research Triangle area — but according to researchers, the market is still in its infancy.

The new funding expands the project from the Mid-Atlantic and Northeast regions to include the Midwest; will further the research and production of commercial striped bass; and will create a consistent distribution network to help develop the striped bass aquaculture industry.
NC State's Ben Reading is the director of the Pamlico Aquaculture Field Laboratory (PAFL), where a team has selectively bred striped bass for over 30 years to improve growth rates, stress tolerance, disease resistance, and to optimise feed efficiency. The team believes these advantages, in addition to their ability to spawn the fish naturally and without hormones, have primed striped bass for commercial success.
Reading and colleagues are working closely with industry and commercial partners to increase state-wide production by supplying larval and juvenile striped bass to farmers. Farmers have been eager to add striped bass as a complementary species to their operations, as many are already equipped to grow the similar, yet smaller, hybrid striped bass that are a cross between white bass and striped bass.
As of 2022, StiperHub has produced about 14.25 million striped bass fry and 851,000 striped bass fingerlings. To date, StriperHub has supported bringing roughly 89,000 pounds of farm-raised striped bass to North Carolina markets.
Some commercial aquaculture companies are also shifting towards recirculating aquaculture systems (RAS) resulting in faster growth and the ability to harvest fish year-round.
"We see a lot of potential for RAS production of striped bass, and we really want to make sure that we can have a year-round supply of fingerlings for commercial operations to stock their grow-out facilities, on almost a monthly basis," said Herbst.
Research crucial to this will focus on "phase shifting" or out-of-season spawning of the StriperHub broodstock at PAFL. Striped bass naturally spawn in spring, but by altering certain environmental conditions, the team can control the time of year the fish spawn, and thus ensure they have enough supply for commercial farms.
Additionally, the StriperHub team will continue to develop education and training programs, clarify regulatory permitting and licensing procedures, and promote comprehensive outreach and visibility among striped bass producers and consumers, including releasing a revised edition of the industry standard manual: Culture of Striped Bass: 21st Century.
Wider NOAA funding

The project is part of NOAA Sea Grant latest $14 million round in federal funding across four strategic areas for improving US aquaculture – namely advance early-stage propagation strategies for various aquaculture species, marine finfish juvenile production technologies, aquaculture collaboratives, and the establishment of an aquaculture information exchange.
"These investments demonstrate Sea Grant's commitment to sustainably growing US aquaculture throughout coastal and Great Lakes communities," said Jonathan Pennock, director of NOAA's National Sea Grant College Program. "The funded projects, which address a variety of challenges, will ensure that growth of the aquaculture sector will be informed by the latest science and community needs."