Sustainable Seafood Week National (SSWN) aims to further the sustainable seafood agenda through educational programming and by celebrating delicious gifts from the sea.
Core SSW events in each city include an opening Gala, an invite-only Industry Lab, a Dine Out program, and Local Flavor events that vary by city. This summer and fall, local residents in Seattle, San Francisco, and Washington DC can look forward to these events that foster a national level seafood conversation and also cater to each city's own food culture.
Beginning in NYC three years ago, SSW was created to be inclusive. The week offers hands-on experiences for diners and food professionals ranging from those well-versed in sustainable food sourcing, to those just beginning to ask questions about it.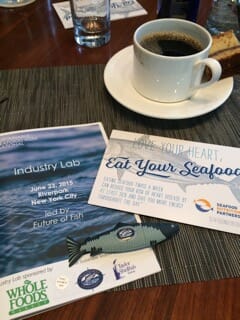 "We're spreading the word about "storied" fish, and encouraging people to explore the responsible seafood that's available to them," explains Wendy Weisman, City Manager of SSW in NYC.
SSW National kicked off in NYC in late June, with the opening Gala hosted at top New York seafood restaurant, Blue Water Grill. Renowned chefs served an intimate five-course tasting – each seafood dish created by a different chef. Attendees mingled with local NY and NJ fishermen, as well as special guest Paul Greenberg, NYT best-selling author of Four Fishes and American Catch.
A one-day Industry Lab gathering for invitees in the seafood business and related industries was led by Future of Fish, a non-profit systems change incubator addressing ocean challenges.
The event was held at Riverpark, a farm-to-table restaurant owned by sustainable food advocate and restaurateur, Chef Tom Colicchio.
A lively international panel of seafood advocates, scientists, and chefs dived into traceability topics, followed by lunch featuring True North Salmon, clams and mussels from Taylor Shellfish farms, and local swordfish. Afternoon sessions explored responsible aquaculture and the role of seafood in a healthy diet, and ended with a reception overlooking the East River.
Over 50 top NYC restaurants participated in the Dine Out program, offering a sustainable seafood special on their menus throughout the week.
"The Dine Out program is a great opportunity for chefs and restaurant owners to empower their staff to talk about seafood sustainability and how the restaurant contributes." SSW National is enhancing the training component of Dine Out for restaurants, using tools like this video.
Throughout the city, Local Flavor events ranged from a "Maine vs. NY" seafood throwdown hosted by Luke's Lobster, to a local catch cooking class with the Natural Gourmet Institute and Sea to Table; proceeds from both events were donated to local non-profit NY/NJ Baykeeper.
The Grand Banks restaurant, a restored schooner, hosted a "Bait to Plate" tasting, to expand appreciation for local, abundant species.
Capping off the week's line-up was a collaboration with GrowNYC at Union Square Greenmarket, which was transformed for a day into a Seafood Festival: fish dishes served up by top NYC restaurants for the lunch and dinner crowds, a beer and wine garden, live music and cooking demonstrations.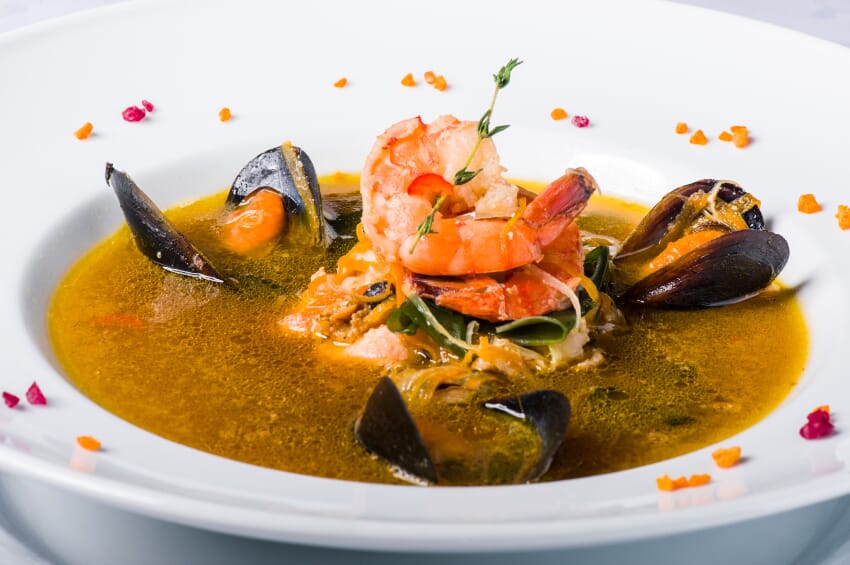 "The Greenmarket event highlighted how many New Yorkers already feel confident about how to buy responsibly grown vegetables, meat and dairy," said Ms Weisman.
"Much less so with seafood. There is such diversity in fishing and seafood farming practices, and consumers are starting to understand that the nuances matter, like the specific environment in question and the timing. There can be more than one right way to do things. That might not be the simple guideline many people are seeking, but it's a great reason to be optimistic and enjoy exploring responsible seafood options more freely."
A key purpose of SSW is to showcase success stories and achievements locally and beyond, and empower people to be curious and persistent in asking questions. SSW advocates for greater traceability, and encourages people to use whatever tools are helpful -- guides, apps, web sites, trusted labels and vendors.
"The most important thing is to keep having this conversation and asking for the story to go with the fish."
Read more from Sustainable Seafood Week: