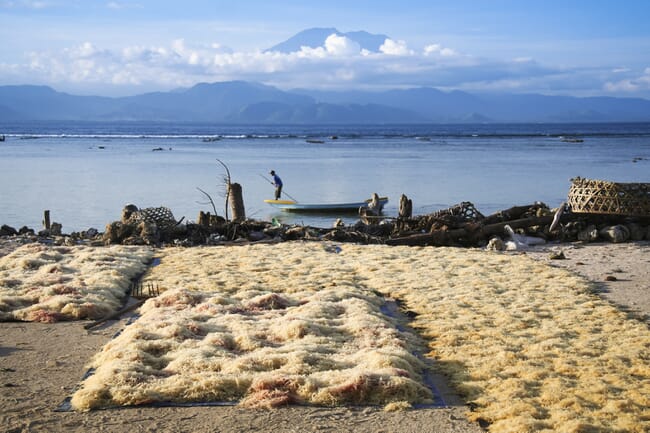 The collaboration between tech startup Oceanfarmr – a provider of ocean farm operations management solutions – and Coast 4C will centre on developing mobile technologies to accelerate the development of improved farm operations performance, finance, and ESG monetisation for seaweed farmers.
The first phase of this collaboration will involve capturing and verifying seaweed condition through the development of scoring methodologies based on photos and manager reviews. This will enable future AI scoring and allow more efficient and rapid collection of data on Coast 4C's R&D program on seaweed strains and methods.
As part of the collaboration, Oceanfarmr will scope and develop a scoring methodology for encoding seaweed condition within a farmer app, which will be used as the basis of an AI algorithm to be incorporated in the Oceanfarmr automated farm management app in future phases. The company will also scope, develop, test, and maintain the customisation and configuration to enable the methodology and test sensor data to aid quantity and quality analysis.
Coast 4C will manage and maintain nurseries and field sites, provide prompt input to develop seaweed condition scoring, and source seedstock of known haplotypes and farming equipment and methods. The enterprise will also provide training of nursery managers, oversee implementation, and report back learnings from field tests and perform basic carrageenan analysis and data analysis.
Both Coast 4C and Oceanfarmr will review the requirements for a farmer app moving towards improved farm operations performance, farm finance, and ESG monetisation at the completion of each phase. The parties may also review the planned and achieved outcomes of the previous phase and scope out the next steps between the parties, which may include an incorporated joint venture.
"We are excited to collaborate with Coast 4C to develop technologies that will help small-scale seaweed producers in Southeast Asia improve their crop yields, financial security, and sustainability," said Ewan McAsh, CEO of Oceanfarmr, in a press release. "This collaboration aligns with our mission to use technology to promote sustainable ocean farming and will help drive positive social and environmental impacts in the region."