Morven Robertson, UK project manager for the Blue Marine Foundation, explained the million mollusc initiative to delegates that the Association of Scottish Shellfish Growers' annual conference last week. It's part of the marine conservation charity's plans to capitalise on the vital ecosystem benefits of this keystone species – which can aid water quality and support thousands of livelihoods.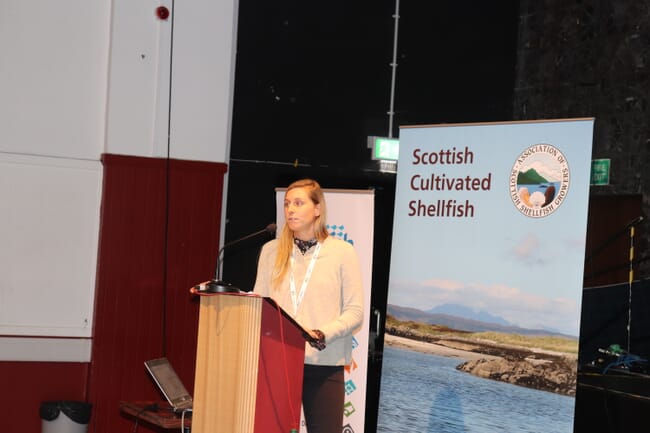 The projects are taking place in the Solent and are, Robertson explained, inspired by schemes in the US, where state and federal funding – and even, in some cases, help from the army and navy – have combined to deliver some impressive results.
Not least, noted Robertson, is a $27 million project in Harris Creek, Maryland, which has led to the hatchery production of over two billion eastern oysters to help re-establish the local reefs. A joint effort by the Nature Conservancy, the Oyster Recovery Partnership, Maryland Department of Natural Resources, the National Oceanographic and Atmospheric Administration and the US Army Corps of Engineers these oyster spat were planted over 350 acres of the seabed. The hope is that the oysters, once established, will be able to hugely improve the water quality of the area – part of Chesapeake Bay – and remove 48 percent of the external nitrogen input into the waterway.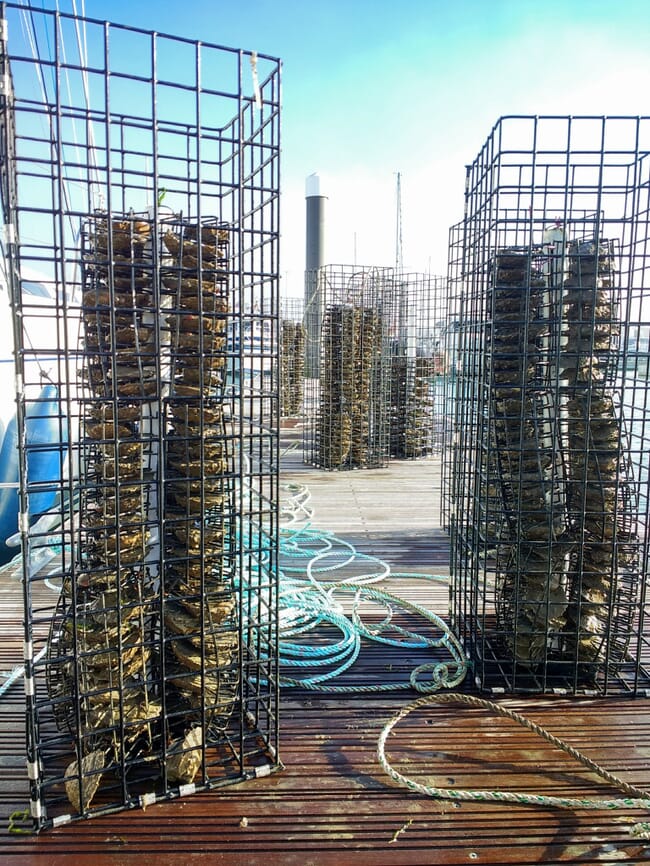 Meanwhile, she explanied, in Alabama a project is looking into using oyster beds – created by planting spat on specialist concrete structures – as a natural means of tackling coastal erosion.
"They've found that 3 acres of oyster reef protects 30 acres of marsh and seagrass," she observed.
She also drew the audience's attention to a project in Mata Gorda Bay, in Texas, which is looking into restoring oyster reefs for the benefit of commercial and recreational fisheries – with studies showing a 40 percent increase in biodiversity in those areas which have reefs with important economic as well as ecological benefits – with one hectare of reef supporting 3,200 commercially important crabs, while the new reefs have generated an estimated $690,000 dollars from recreational fishing.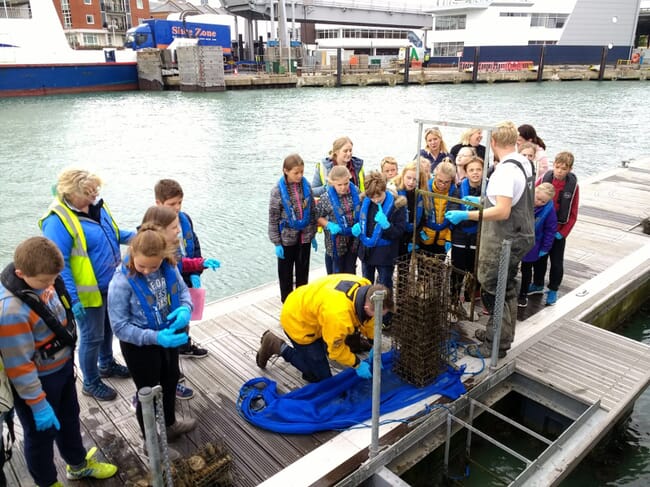 European oyster initiatives, she explained, have a long way to go before they reach such achievements, and are "20 years behind" what's going on in the US – in part due to the comparative difficulty of working with native oysters as opposed to eastern ones. However, the foundation is determined to close this gap and is currently focusing on restoring oyster reefs in the Solent, which was "the largest self-sustaining oyster fishery in Europe in the 1970s" – with as many as 15 million oysters landed in 1973 alone – but has since been closed following a severe decline in catches, which had fallen to a mere only 20 tonnes by 2013.
"We've now lost 85 percent of the world's oyster beds or reefs, making them one of the most imperilled marine habitats on earth – right up there with coral reefs… while for our own species Ostrea edulis it's thought that we've lost 95 percent of Europe's population," she explained.
The reasons behind this, she pointed out, are diverse.
"It's not just due to overfishing but factors such as habitat loss, pollution, disease – in Europe we've got a big problem with bonamia - and predation and invasive species, such as the slipper limpet," Robertson reflected.
Other issues that she has encountered in The Solent's are the lack of recruitment and the lack of suitable substrate for the oysters to settle on – two issues that she has been tackling.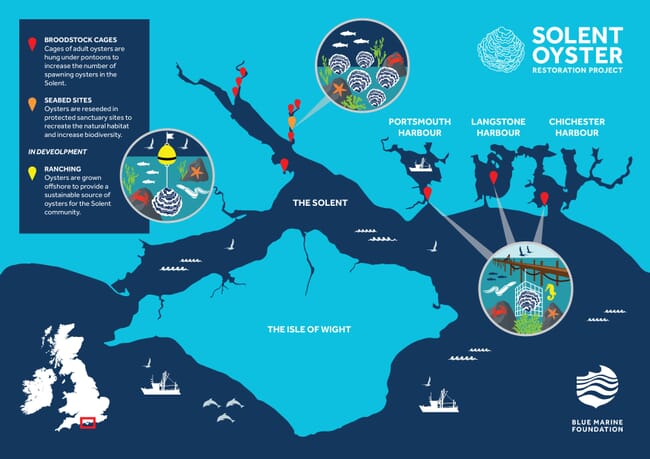 The first step involved 20,000 adult oysters in special 'microreef' cages under pontoons in marinas in a bid to increase the numbers of oyster spat – a project that is showing promising results – both in terms of spawning success and in terms of increasing biodiversity.
"All the oysters spawned across our 10 sites and it looks like one or two might be settling… it's an easy, cost-effective way of getting the numbers of larvae back into the system up.
"We've also been learning loads about all the animals that love oysters and oyster cages. We've seen some really amazing biodiversity and we're learning about the types of animals that are supported by a healthy oyster bed," she explained
Species found in the microreefs have included critically endangered European eels, sea bass and sea horses. While others – such as mussels – have settled on the oysters themselves, leading the project partners to think about what species can be restored alongside the oysters.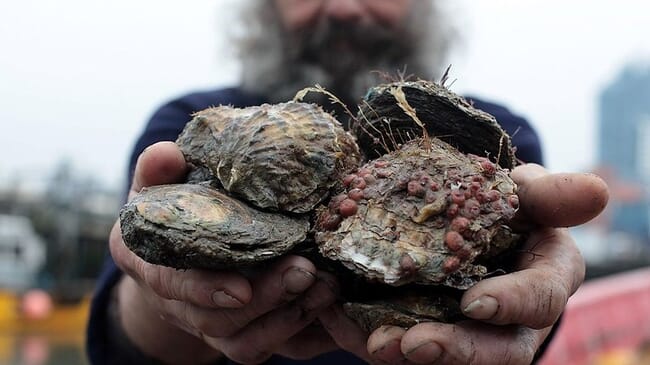 The project is supported by a team of 100 volunteers to help out with monitoring the cages and has spawned a schools' outreach element.
"We've also found that the cages are an amazing education tool. I love oysters because they open the door to pretty much any issue affecting our marine environment, and we can use the oysters to teach how we tackle the issues affecting the marine environment like water quality, habitat loss and biodiversity," she explains.
Meanwhile researcher Joe Holbrook is looking into different ways of growing the oysters, including experimenting with cages raised off the seabed in a bid to inform future reef restoration practices.
"We're now looking to put oysters directly on the seabed on a larger scale in the River Hamble over the course of the next year – in two weeks we're getting 30,000 oysters from Loch Nell and will have oyster fishermen and an army of volunteers re-laying them on the seabed in different densities for a new trial," outlined Robertson.
"We'll be looking at the results and, from March next year, are looking to put a million more down on the seabed," she added.
Other areas of research being covered include studies on microplastics and bonamia resistance. While the Solent projects are, Robertson observed, running in parallel to a number of other native oyster initiatives in Europe – some led by the newly-established Native Oyster Alliance.
"I think we need oyster restoration to be a national objective. We might not get the military or navy helping us but I do think we need support from the government if we're going to achieve anything like they've done in the US. We need to increase education and awareness of just how important native oysters are and we need knowledge exchange – forming partnerships with the industry – and that's what we're looking to do," she concluded.