Mr Gollapalli (pictured) joins National Fish & Seafood as Aquaculture and Sustainability Specialist, managing the company's BAP (Best Aquaculture Practices) certification and farm contracting programs in India and neighboring South East Asia.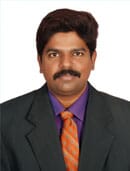 He will advance the company's mission to further increase BAP 4-star offerings by organizing additional shrimp societies for group certification and continuing its work to identify, train, and certify more IOM (integrated operating module) farm clusters, hatcheries, and feed mills.
National Fish & Seafood is the leading supplier of four-star BAP shrimp in the industry. The addition of Mr. Gollapalli is evidence of the company's continuing commitment to take their leadership in aquaculture sustainability to the next level.
Jeff Sedacca President of Shrimp and Aquaculture of National Fish & Seafood said: "Mr Gollapalli's experience makes him one of the most recognized and capable individuals in India's fast-growing sustainable shrimp farming industry. His expertise is an ideal complement to our rapidly growing commitment to environmental sustainability, social responsibility and aquaculture best practices. In addition to his role coordinating certification, Mr Gollapalli will also conduct training seminars throughout the country and implement farm improvements, traceability systems, legal farm registration, and NGO engagement to continue our work developing AIPs (Aquaculture Improvement Projects) in the region and increase the supply of available 4-star shrimp.
"Mr Gollapalli spent eight years the helm of India's National Center for Sustainable Aquaculture (NaCSA), providing technical training to the country's thousands of small shrimp farmers. Under his leadership, NaCSA developed the shrimp society model as a method of clustering smallholder farms for legal registration with the Coastal Aquaculture Authority, offered technical seminars on better management practices, and coordinated farming activities to improve biosecurity and reduce disease transmission."
To date, NaCSA has created over 800 societies, comprised of 18,000+ farmers covering 16,700 hectares of land, culturing both vannamei and monodon shrimp species by means of intensive and extensive practices.
As he did during his tenure leading NaCSA, Mr Gollapalli aims to pursue the following objectives as part of his critical role with National Fish and Seafood:
Promoting better management practices to improve aquaculture productivity and profits
Capacity-building and empowerment of primary producers
Facilitating improved service provision
Connecting farmers to markets to receive a better price for quality product
Technology transfer and diversification to other commercially important species
Supporting improved food security and sustainable livelihoods in aquaculture communities
Also of interest: