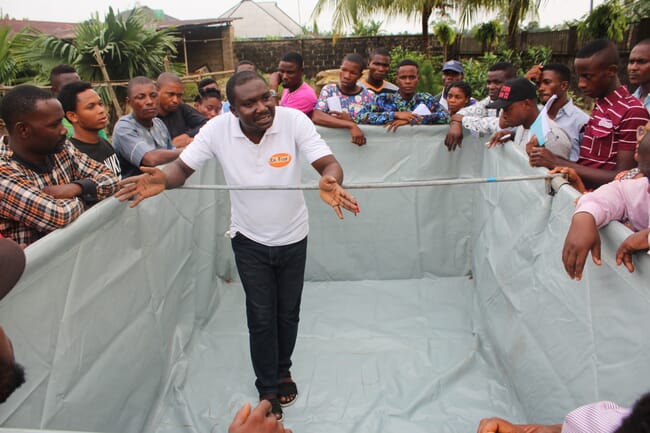 How long have you been farming for?

I have been farming for 16 years.
What size is your farm and what species do you produce?
I operate two business models. The first involves operating my own farm, rearing catfish on a 100 x 60 foot plot. We produce an average of 30 tonnes of catfish annually, using mobile ponds made of tarpaulin. Ninety percent of our fish are sold fresh (live) to fishmongers, while the remaining 10 percent is processed using our local smoking kiln.
The second involves running a consultancy firm that partners with investors to set up and manage farms. This has proven successful. A typical example is the Oshoroko fish city, which is currently being developed by our consultancy firm. We currently produce tilapia and catfish using floating cages in Oshoroko Lake and mobile tarpaulin ponds beside the lake.
Why did you decide to embark on a career in aquaculture?
I embarked on a career in aquaculture because of the gaps I observed during the New Partnership for Africa's Development (NEPAD) Fish for All Summit, which took place in 2005 in Abuja, Nigeria. I wanted to draw global attention to the vital role of fisheries and aquaculture in meeting Africa's development agenda. Before that time, I was a student of Animal Health and production at the College of Agriculture and Animal Science, Ahmadu Bello University.
During the summit, I realized that inadequate knowledge of aquaculture, lack of access to quality inputs and infrastructure, inadequately skilled labour, poor access to information, lack of quality fish seed and the lack of functional value chain structure were preventing the development of aquaculture in the country. I then decided to dedicate myself to research. All knowledge and new information gained has been passed on to farmers across the country.
What's your ultimate ambition in the sector?
To build an innovative aquaculture business, leveraging technology, in which research and transfer of knowledge to smallholder farmers will be the topmost priority, leading to an increase in the profitability of smallholders.
What's your biggest worry at work?
The inability to secure finance to continue some of my research work on alternative feed material, drug-free aquaculture, the use of herbs in fish treatment, as well as the inability to expand our existing farm to 10 acres to meet the rising demand of both quality fish and training by farmers as we seek to establish an aquaculture training institute.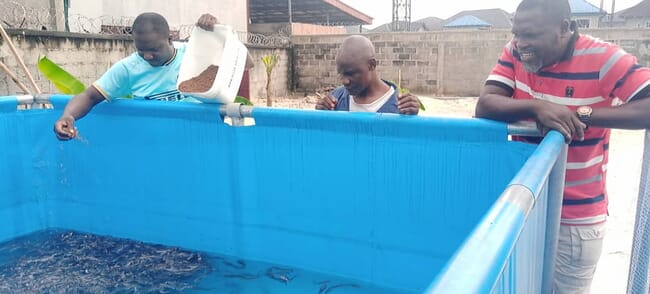 What's your greatest achievement to date?
The training of over 10,000 farmers on best management practices. I also designed a cyclical stocking pattern using clarias [African catfish] that enhanced productivity and profitability. Rather than stocking twice a year, farmers are taught how to stock monthly, using a template to calculate their stocking capacity that takes into consideration the resources at their disposal. This has enhanced the ability of farmers to secure a loan, as they start earning monthly income from the fifth month of operating the cyclical stocking pattern. My team and I designed a farm management template that makes forecasting, record keeping, and diagnostics easy. I've also empowered over 200 youths with the skills, network and resources required to start their fish farms.
What piece of equipment would you most like to have on your farm?
I would love to have a complete set of fish processing equipment, consisting of heat treatment equipment, salting equipment, filleting and cutting machines, skinning and scaling machines, portion cutting machines, packaging machines and cold storage.
What's your favourite seafood dish?
Shrimps.