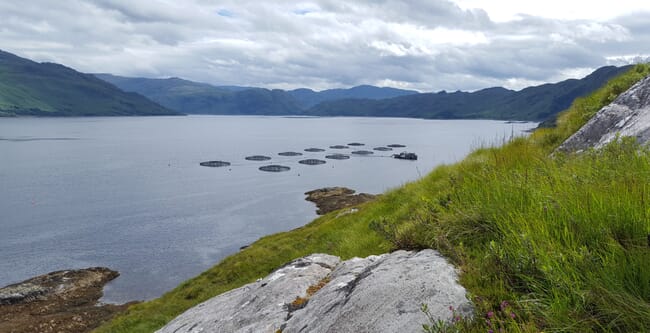 The two sites, Nevis A and B, owned by the salmon producer Scottish Sea Farms, will be upgraded to have fewer, larger pens at each location. A third site located in Loch Nevis will be temporarily fallowed.
Where once there were 12 x 80m circumference pens at each farm, there will now be five 120m pens, reducing the overall number of units from 36 to just 10 while maintaining the same overall biomass.
This will allow more space between pens, increase water exchange and oxygen flow in and around farms, and, in turn, enhance growing conditions further.
Additionally, with fewer pens for the farm teams and support vessels to get around, the new configuration will also help maximise operational efficiencies and response times.
"We've seen, at other farms that have been through the process already, that consolidating into fewer pens but of a larger size gives us the ability to better manage our resources, equipment, fish health and welfare, and water quality," said Innes Weir, Scottish Sea Farms' regional production manager for the mainland, in an announcement from the company.
"It also provides greater scope to minimise the impact of environmental challenges that can pass through farms, such as the acute micro-jellyfish event that affected Loch Nevis last autumn," he added.
Both sites will be stocked later this year and the farm team is feeling positive about the upgrade.
"There's a real appetite to see the new farm configuration in action and the benefits to fish health and welfare," said farm support manager Martin Ruddick.